Strawberry Meyer Lemon Trifle
June 5, 2013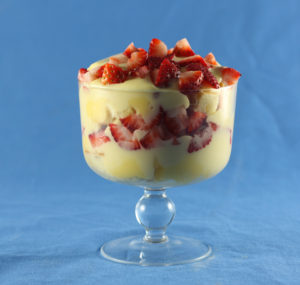 Trifle is one of those desserts that isn't one of the first things that comes to mind when I am planning dessert, but every time I do make it I wonder why I don't make it more often. Layers of cake, fruit, and custard blend seamlessly into a delicious and beautiful dessert that is better than the sum of its parts. Even better it can be made ahead and serves a large crowd which makes it perfect for entertaining.  Infinitely adaptable, trifle is a dessert that can be made year round (this roasted pear amaretto trifle is a fall favorite in my house), but this time of year I love to feature the amazingly delicious fresh strawberries in everything I can so this trifle contains a healthy amount of strawberries among the other creamy goodness. Traditionally trifle contains whipped cream. I am not a huge fan of the options for non-dairy whipped cream (as much as I want to I can't seem to love whipped coconut cream) so I substitute pastry cream for the whipped cream and the results are fantastic.
In this trifle I layered lemon pound cake, meyer lemon curd, strawberries and coconut pastry cream and it was delicious. I have a lot of desserts around from all my recipe testing and usually I pretty much ignore them, but this kept calling me back to the fridge for one more bite of the leftovers. The coconut flavor of the pastry cream is pretty subtle and was barely noticeable in the dessert as a whole (which was what I wanted for this particular trifle). That being said, the flavors coconut, lemon and strawberries go well together so if you want the coconut to be more prominent you can use a coconut pound cake instead of the lemon one. The coconut in the cake will bring out the coconut undertones in the pastry cream.
Recipe Updates – Delivered Fresh!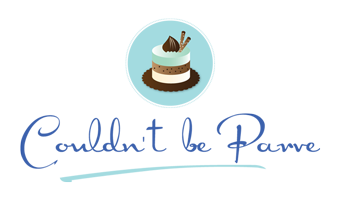 Strawberry Meyer Lemon Trifle
Ingredients & Instructions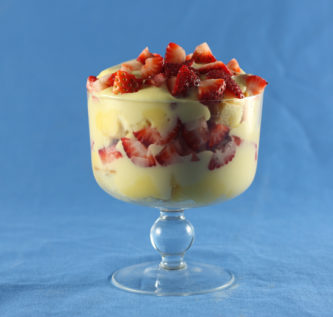 Preparation Instructions
Cut the pound cake into one inch cubes. Layer one third of the cake in the bottom of a 7.5 inch (3.5 quart) trifle dish. Top with a third of the lemon curd, followed by a third of the pastry cream followed by a third of the strawberries. Repeat layering two more times. Refrigerate the trifle for at least four hours and up to twelve hours to allow the cake to soften and the flavors to meld.
Ingredients
grated zest of 4 meyer lemons
3/4 cup fresh meyer lemon juice
3 yolks and 3 whole eggs
1 1/2 tablespoons cornstarch
1 1/4 cup (9.5 oz) sugar
1 1/2 tablespoons neutral vegetable oil
Preparation
Combine all the ingredients except oil in a saucepan. Whisk to combine. Cook, stirring constantly over medium-heat, until the curd thickens enough to coat the back of a spoon. Strain the mixture and stir in the oil. Place in the refrigerator to chill for 1-2 hours or until set. (Can be made up to 3 days ahead. Keep covered in the refrigerator)
Ingredients
2 (13.5 oz) cans Thai styl coconut milk
10 tablespoons (5 oz) water
1/4 teaspoon salt (increase to 1/2 teaspoon if using unsalted margarine)
6 tablespoons corn starch
1 cup (7.5 oz) sugar
8 egg yolks
1/2 cup (4 oz) margarine
2 teaspoons vanilla
Preparation
Place a fine mesh strainer over a large bowl and set aside.
Place the coconut milk, water and salt in a medium saucepan and bring to a boil over medium heat.
In a large mixing bowl, whisk the sugar, cornstarch and eggs until smooth. Slowly pour the milk mixture into the egg mixture while whisking constantly.
Return the mixture to the saucepan. Cook over medium heat, whisking constantly, until the custard thickens.
Remove from heat and pour through the strainer into the bowl. Let cool for 10 minutes and then incorporate the margarine, one tablespoon at a time, whisking gently just until smooth.
Cover the surface with plastic wrap, directly touching the cream, let it cool completely in the refrigerator.
Recipe Yield
10-12 servings
Thank You For Printing This Recipe! Visit Us Again Soon!
Recipe Page: http://www.couldntbeparve.com/recipe/strawberry-meyer-lemon-trifle/