Sticky Bun French Toast
January 19, 2013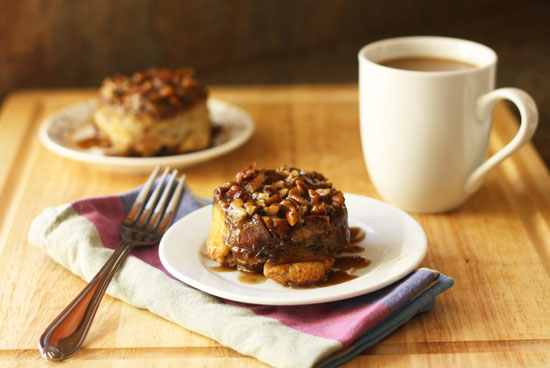 Most mornings breakfast around here is usually pretty rushed. With getting everyone up, dressed, and to school there isn't much time for leisurely breakfasts. That is why long weekends are the perfect opportunity to make special breakfasts that feel more like a special event rather than just a quick meal before we go about our day. (Houseguests are also a really great excuse to go all out with fancy breakfasts) Since I love making breakfast foods I jump at an excuse to make something that is really a decadent treat hiding behind a breakfasty name like "French toast". I have dreams of someday running a bed and breakfast, not in small part because I would be able to make indulgent over the top breakfasts everyday. Some bed and breakfasts have a signature breakfast item and I know that if I had a bed and breakfast this Sticky Bun French Toast would be one of mine.
It is inspired by this Creme Brulee French Toast that I have been making for several years now, but it takes it to a another level. I combined my love of this French toast with my love of fresh sticky buns and this is the result. The French toast is baked in individual ramekins and then inverted so the end result is rich decadent French Toast that looks like a sticky bun. I used Semifreddis Cinnamon Twist (which is basically a challah with a cinnamon swirl) to add the cinnamon flavor to the dish, but any cinnamon swirl bread would work well. The best part about this breakfast dish is that it is completely assembled the night before and left to soak overnight, which only leaves baking for the morning. You could even pop it in the oven while getting people ready on a school or work day of you were so inclined. While I probably will never actually have my bed and brakfast, long weekend breakfasts like these allow me to live out the dream in a small way, even if I am only serving family and guests in my own home. It is a breakfast to savor while all sitting around the table and that makes all the rushed mornings worth it.
Recipe Updates – Delivered Fresh!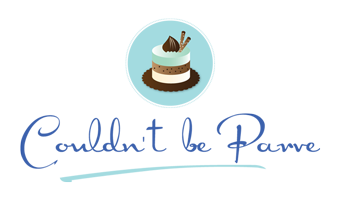 Ingredients & Instructions
Ingredients & Quantities
½ cup pecans, coarsely chopped
2 oz margarine
½ cup brown sugar
1 tablespoon corn syrup
4 1 inch slices cinnamon swirl bread (7.5 oz), cut into 1 inch cubes)
3 eggs
¾ cup canned coconut milk
1 teaspoon vanilla
pinch salt (increase to ¼ teaspoon if using unsalted margarine)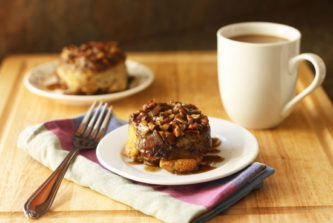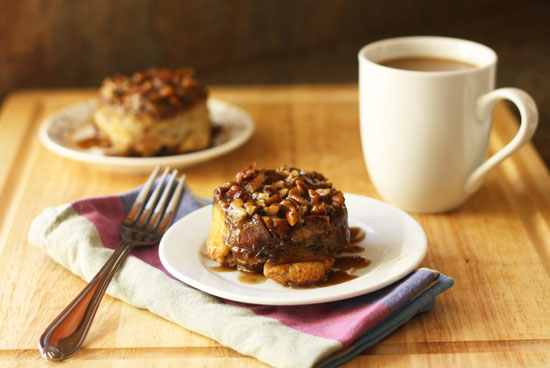 Preparation Instructions
Combine the margarine, brown sugar, and corn syrup in a small sauce pan. Cook over medium heat, stirring frequently, until the margarine is melted and the sugar is completely dissolved. Divide the caramel mixture between 4 (8 oz) ramekins.* Sprinkle the caramel with the pecans, place the ramekins on a cookie sheet and set aside.
In a large bowl combine the eggs, coconut milk, vanilla and salt. Whisk well. Stir in the bread cubes. Divide the bread mixture between the ramekins. Pour any remaining liquid over the bread. Cover and refrigerate for at least eight hours or overnight.
Preheat the oven to 350. Remove the ramekins from the refrigerator and bake for 20-25 minutes, or until the tops are slightly puffed and lightly browned. Remove the ramekins from the oven. Let stand for five minutes to cool slightly. Place each serving plate over one of the ramekins. Using a pot holder carefully invert the ramekins onto the serving plates, and serve immediately.
*This recipe can also be made in a single dish. Pour all of the caramel into an 8 x8 baking dish and proceed with the recipe. Bake for 35-40 minutes rather than 20-25 minutes stated in the recipe. Serve the french toast out of the baking dish rather than inverting it.
Thank You For Printing This Recipe! Visit Us Again Soon!
Recipe Page: http://www.couldntbeparve.com/recipe/sticky-bun-french-toast/