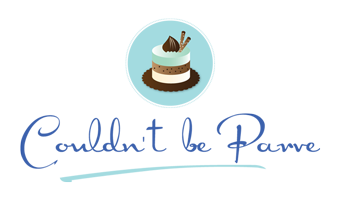 S'mores for Shabbat
October 28, 2008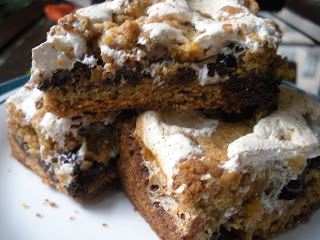 Ever since I made s'mores with a blow torch in my kitchen I have been trying to figure out how to capture the sweet, oozy, deliciousness of a s'more in a cookie form. The challenge is that I serve most of my desserts on shabbat, which means that the s'more qualities need to come through even when the cookie is cool, not just right out of the oven. I tried making graham cracker flavored cookies with marshmallows mixed in. I tried chocolate cookies with pieces of graham cracker and marshmallow. I tried pressing a marshmallow into the top of an almost cooked cookie. While all of these versions were certainly edible, the marshmallow flavor did not come through in the way I wanted, and they were lacking in gooeyness.


This week, I think I have my solution. These s'more bars were just what I was looking for. In retrospect I should have realized that marshmallow cream which is gooey at room temperature would be a better way to go since I wanted gooeyness in a cookie that was going to be served at room temperature. Layers of graham cracker flavored cookie sandwich a filling of chocolate and marshmallow cream and the whole thing is baked until golden and delicious. I didn't have the 8 inch square pan called for in the recipe, so I used a 9 inch pan instead. That meant there wasn't quite enough cookie dough to make a complete layer on the top, so I ended up with a swirl pattern.


It allowed some of the marshmallow cream to brown, which added the toasted flavor of s'mores to the bars. As a true lover of marshmallows I think the bars could have used just a bit more marshmallow, but other people thought they were good just the way they were.
S'More Cookie Bars
(adapted from Baking Bites)
Ingredients
1/2 cup margarine, room temperature
1/4 cup brown sugar
1/2 cup sugar
1 large egg
1 tsp vanilla extract
1 1/3 cups all purpose flour
3/4 cup graham cracker crumbs*
1 tsp baking powder
1/4 tsp salt
3 large handfuls chocolate chips (enough to make a scant layer over the cookie dough)
1 1/2 cups marshmallow creme/fluff (not melted marshmallows)
Preparation:
Preheat oven to 350°F. Grease an 8-inch square baking pan.
In a large bowl, cream together margarine and sugar until light. Beat in egg and vanilla.
In a small bowl, whisk together flour, graham cracker crumbs, baking powder and salt. Add to margarine mixture and mix at a low speed until combined.
Divide dough in half and press half of dough into an even layer on the bottom of the prepared pan.
Sprinkle chocolate chips over dough.
Spread chocolate with marshmallow creme or fluff.
Place remaining dough in a single layer on top of the fluff (most easily achieved by flattening the dough into small shingles and laying them together).
Bake for 30 to 35 minutes, until lightly browned.
Cool completely before cutting into bars
Recipe Updates – Delivered Fresh!
Thank You For Printing This Recipe! Visit Us Again Soon!
Recipe Page: http://www.couldntbeparve.com/recipe/smores-for-shabbat-finally/