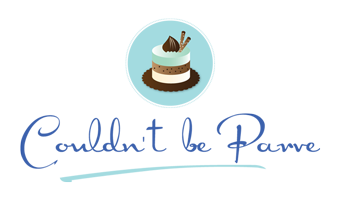 S'more Ice Cream Sandwiches
August 30, 2012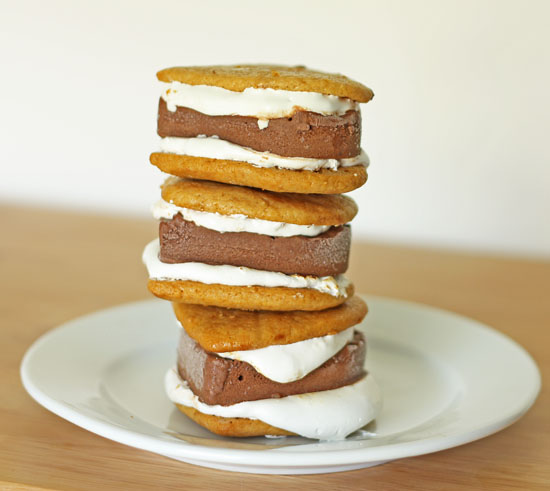 I always think a long weekend is the perfect excuse to take a little break from our everyday routines and do something extra fun as a family. We had wanted to go camping with some friends this weekend but by the time we tried to make a reservation all of the campgrounds within a two hour drive of our house were full. I guess Labor Day weekend is a popular weekend for camping! We are going to have a barbecue to celebrate instead, and I am going to try smoking an entire (packers cut) brisket. Every since we started talking about going camping I of course have been thinking about s'mores. Since we aren't going to be camping and making campfire s'mores, I wanted to make a new s'more creation to celebrate the end of summer with a bang.
Since I love marshmallows and s'mores there are s'more recipes in all different forms on this site. Any one of them would be a great way to satisfy a s'more craving, but I wanted to try something a bit different. Instead of warm and melty like the original, these ice cream sandwiches take all the flavors of a s'more and turn it into a tasty frozen treat. Homemade Graham crackers topped with toasted marshmallow fluff and intensely dark chocolate ice cream, these ice cream sandwiches are what dreams are made of. Whether served after a barbecue or stashed in the freezer for a quick treat these ice cream sandwiches are sure to be a hit with young and old alike.
S'more Ice Cream Sandwiches
Graham cracker dough adapted from Nancy Silverton's Pastries from the La Brea Bakery via Smitten Kitchen
2 1/2 cups plus 2 tablespoons (375 grams) unbleached all-purpose flour
1 cup (176 grams) dark brown sugar, lightly packed
1 teaspoon (6 grams) baking soda
3/4 teaspoon kosher or coarse sea salt (4 grams)
7 tablespoons (3 1/2 ounces or 100 grams) margarine, cut into 1-inch cubes and frozen
 (if using salted margarine decrease salt slightly)
1/3 cup (114 grams) mild-flavored honey, such as clover
5 tablespoons (77 grams) almond or soymilk
2 tablespoons (27 grams) pure vanilla extract
Marshmallow fluff for filling (do not use marshmallow creme, it spreads too much)
1 recipe (approximately 1 quart) dark chocolate ice cream (or in a pinch, purchased parve chocolate ice cream)
Combine the flour, brown sugar, baking soda, and salt in the bowl of a food processor fitted with the steel blade or in the bowl of an electric mixer fitted with the paddle attachment. Pulse or mix on low to incorporate. Add the margarine and pulse on and off on and off, or mix on low, until the mixture is the consistency of a coarse meal.
In a small bowl, whisk together the honey, soy or almond milk, and vanilla extract. Add to the flour mixture and pulse on and off a few times or mix on low until the dough barely comes together. It will be very soft and sticky. Lay out a large piece of plastic wrap and dust it lightly with flour, then turn the dough out onto it and pat it into a rectangle about 1-inch thick. Chill it until firm, about 2 hours or overnight.
Preheat the oven to 350.
Remove half of the dough from the refrigerator and roll it out to 1/4 inch thick between two pieces of parchment paper. If making circular or other shaped ice cream sandwiches, cut out circles or other shapes using the desired sized cookie cutters. Alternatively, to make traditional rectangular ice cream sandwiches, use a knife and ruler to cut the dough into even rectangles. Transfer the cutouts to a parchment lined cookie sheet. (If the dough gets too sticky while working with it place the parchment with the dough on a cookie sheet in the freezer for a few minutes)
Bake the cookies for 8-10 minutes, or until set and lightly browned. Transfer to a cooling rack and let cool completely before continuing with the recipe.
Prepare the ice cream according to the recipe. Line a 1/4 sheet pan with plastic wrap leaving enough of an overhang to fold back over the pan and cover it completely. When the ice cream is churned remove it from the ice cream maker and spread it evenly into the prepared pan. (If using store-bought ice cream soften it until soft enough to spread in the pan.) Fold the additional plastic wrap over the top and freeze until completely solid, at least two hours.
Place the graham crackers, flat side up, on a cookie sheet. Top all of the graham crackers with a generous layer of marshmallow fluff (the exact amount will vary depending on the size of the crackers). Using a kitchen torch carefully toast the marshmallow fluff. Transfer the cookie sheet to the freezer and freeze until firm, approximately 15 minutes.
Assemble the ice cream sandwiches. Remove the ice cream and the topped graham crackers from the freezer. Cut out the ice cream with the same cookie cutter used to make the graham crackers. If making rectangular ice cream sandwiches use a sharp knife to cut the ice cream into rectangles the same size as the crackers. Top half of the graham crackers with ice cream. Top with the remaining crackers (marshmallow fluff side facing in). Wrap each of the sandwiches in plastic wrap and store in an airtight bag in the freezer for up to a week.
Recipe Updates – Delivered Fresh!
Thank You For Printing This Recipe! Visit Us Again Soon!
Recipe Page: http://www.couldntbeparve.com/recipe/smore-ice-cream-sandwiches/