S'more Hamentashen
March 4, 2012
This past week many of my evenings have been filled with hamentashen. This year I need to make somewhere between twenty and twenty four dozen hamentashen so the freezer has been my friend. I have been baking about five doezen a night and stashing them in my freezer so I will be ready for next week. I have made a lot of different flavors of hamentashen, some more traditional and some less so, and I have a few more to try.
While I have pretty much gotten the system down to a science, every once in a while I put too much filling in one and it bursts open in the oven. Because that is the thing about hamentashen. There can only be a little bit of filling in each cookie or they will explode. This is why I think it is critical that the cookie part of the hamentashen is worth eating on its own and that the filling is intensely flavorful (this apple butter makes a fantastic filling, by the way).
But I got to thinking. What if I did something different with the next batch? What if the outside of the hamentashen was as integral to the flavor of the hamentashen as the filling? I knew I wanted to make s'more hamentashen. Rather than simply fill a hamentashen with marshmallows, chocolate and graham cracker crumbs I could make the outside of the hamentashen with a graham cracker dough and fill it with marshmallow and chocolate.
These hamentashen were a huge success. They certainly do not taste like traditional hamentashen, but they do taste just like a s'more. The dough isn't crunchy like a graham cracker but the flavor is spot on. Using marshmallow fluff instead of marshmallows keeps the inside soft and gooey for that delicious s'more like consistency. While these hamentashen certainly won't replace the more traditional flavors of hamentashen they are a fun addition to the assortment. I will be making another few batches of these to round out my hamentashen collection this year.
I have been making extremely tiny hamentashen (using a 2 inch cutter) this year so I don't know exactly how many normal sized hamentashen this recipe would make, but I got approximately 3 and 1/2 dozen.
Recipe Updates – Delivered Fresh!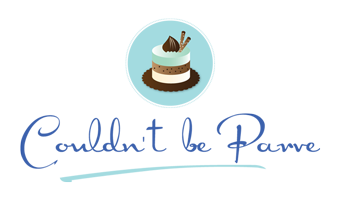 Ingredients & Instructions
Ingredients & Quantities
Graham cracker dough adapted from Nancy Silverton's
Pastries from the La Brea Bakery
via
Smitten Kitchen
3 cups (13.5 ounces or 375 grams) unbleached all-purpose flour
1 cup (176 grams) dark brown sugar, lightly packed
1/2 teaspoon (3 grams) baking soda
3/4 teaspoon kosher or coarse sea salt (4 grams)
7 tablespoons (3 1/2 ounces or 100 grams) margarine, cut into 1-inch cubes and frozen
 (if using salted margarine decrease salt slightly)
1/3 cup (114 grams) mild-flavored honey, such as clover
5 tablespoons (77 grams) almond or soymilk
2 tablespoons (27 grams) pure vanilla extract
12 tablespoons marshmallow fluff
2-3 ounces finely chopped chocolate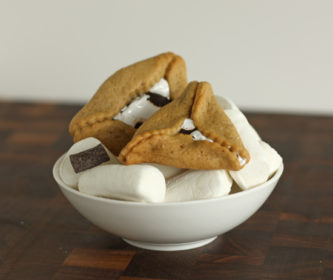 Cooking Instructions
Combine the flour, brown sugar, baking soda, and salt in the bowl of a food processor fitted with the steel blade or in the bowl of an electric mixer fitted with the paddle attachment. Pulse or mix on low to incorporate. Add the margarine and pulse on and off on and off, or mix on low, until the mixture is the consistency of a coarse meal.
In a small bowl, whisk together the honey, milk, and vanilla extract. Add to the flour mixture and pulse on and off a few times or mix on low until the dough barely comes together. It will be very soft and sticky. Lay out a large piece of plastic wrap and dust it lightly with flour, then turn the dough out onto it and pat it into a rectangle about 1-inch thick. Chill it until firm, about 2 hours or overnight.
Preheat the oven to 350. Remove half of the dough from the refrigerator and roll it out between two pieces of parchment paper. Cut out circles using a round cookie cutter or the top of a drinking glass and transfer the circles to a parchment lined cookie sheet. (If the dough gets too sticky while working with it place the parchment with the dough on a cookie sheet in the freezer for a few minutes) Fill four of the circles with a small amount of marshmallow fluff (less than a teaspoon) and sprinkle with a small amount of chocolate. Marshmallow fluff is very sticky so the easiest way to push it off the spoon onto the hamentashen is with a slightly wet finger. Use significantly less filling than might seem right because marshmallow fluff expands in the oven. For 2 1/2 inch circles use a scant teaspoon fluff. Fold up two sides of the circle and pinch them together. Lift the third side and pinch the remaining two corners closed. Repeat with the remaining circles. (It is important to fill no more than four hamentashen at a time because marshmallow fluff begins to ooze as soon as it is spooned out onto the dough an the hamentashen need to be folded before the filling has oozed too much). Roll out and fill the remaining dough.
Bake the hamentashen for 8-10 minutes, or until set. Transfer to a cooling rack and let cool completely before enjoying.
Thank You For Printing This Recipe! Visit Us Again Soon!
Recipe Page: http://www.couldntbeparve.com/recipe/smore-hamentashen/