Smoky Almond Chocolate Bark with Sea Salt
July 21, 2014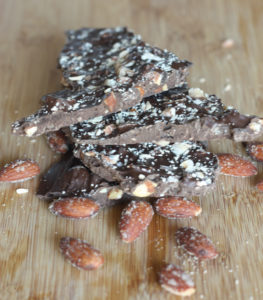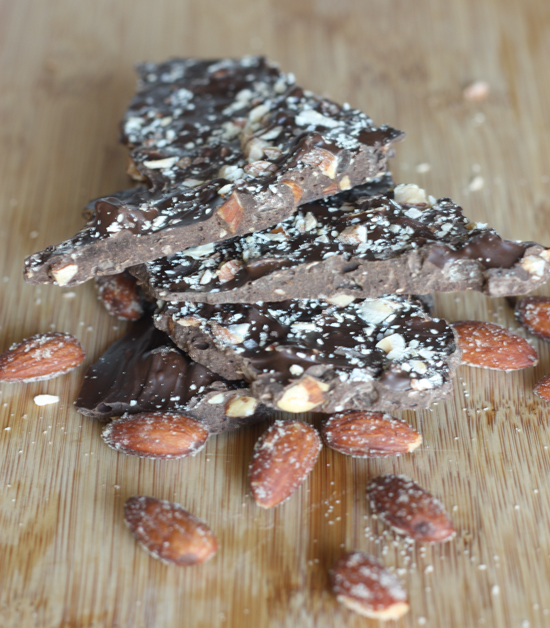 When I found out that this month's Kosher Connection Link-up was "Smoky" I knew I wanted to make a dessert that incorporated that smokey flavor. Since I don't have any fancy smoking devices like they have in some of the fanciest restaurants I couldn't make an elegant dessert with some kind of fancy smoke that wafts up from the plate as you eat it. Instead I decided to go with a simple, yet delicious, chocolate bark.
The popularity of bacon in chocolate bars makes it clear just how delicious that smoky savory note can be with the slightly bitter sweetness of chocolate. Since I keep kosher I have never tried any of the commercially available bars, but I wanted to capture a bit of that smoky flavor in this easy chocolate bark. It is utter simplicity, but the smoky almonds and sea salt make this chocolate bark something special. It is important to use almonds that just contain smoke flavor and salt. There are some brands that include onion and garlic powder in their smoked nuts which, although delicious as a bar snack, does not go well with chocolate.
This is a great quick treat that is surprisingly addictive, perfect for any occasion. For more great smoky recipes be sure to check out all these delights from the rest of the Kosher Connection.
Recipe Updates – Delivered Fresh!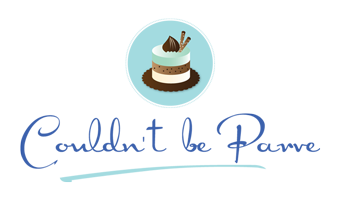 Smoky Almond Chocolate Bark with Sea Salt
Ingredients & Instructions
Ingredients & Quantities
3 ounces smoked almonds, coarsely chopped
18 ounces dark chocolate
scant 1/2 teaspoon fleur de sel or other flaky sea salt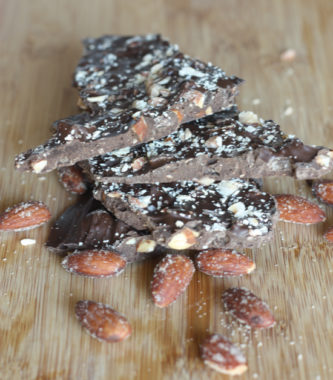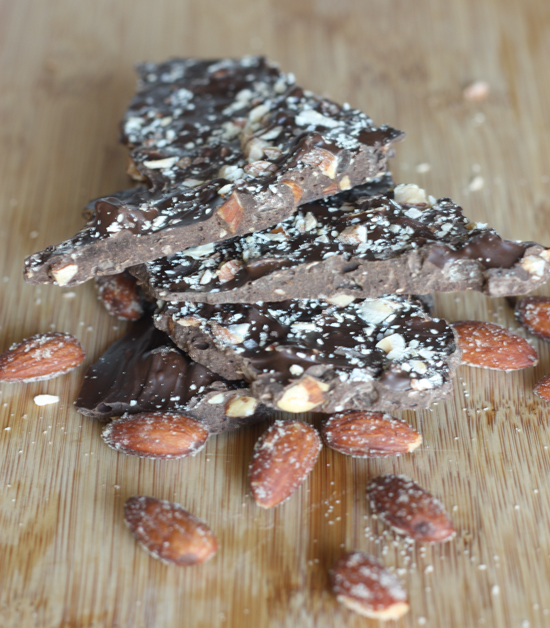 Preparation Instructions
Melt or temper the chocolate. Stir in 2/3 of the almonds. Pour the mixture out onto a baking sheet lined with parchment paper. Sprinkle with the remaining almonds and salt. If the chocolate is tempered let it stand at room temperature until set. If using plain melted chocolate place it in the refrigerator to harden. Break into pieces. Store at room temperature if tempered, refrigerated if using just melted chocolate.
Thank You For Printing This Recipe! Visit Us Again Soon!
Recipe Page: http://www.couldntbeparve.com/recipe/smoky-almond-chocolate-bark-with-sea-salt/