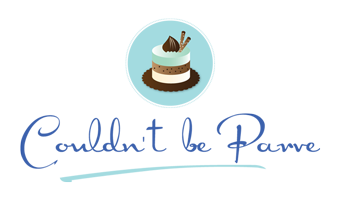 Rum Balls
December 21, 2010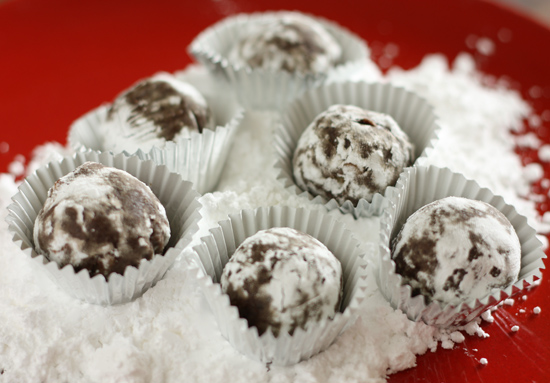 Rum balls are one of the most seasonal types of candy. They seem to make their appearance only around this time of year, even though there is nothing particularly wintery about rum and chocolate. Kind of like peppermint bark. While most other types of candies and cookies are welcome year-round, I fear that people would look at me strangely if I tried to serve rum balls in July. That is why I was glad to have a chance to make them this past week.
Rum balls are incredibly easy to make. They are simply a mixture of cookie crumbs, rum, sugar and nuts. Traditionally they are made with vanilla wafer crumbs, but I love the twist Jeanine from The Baking Beautiesput on the standard recipe by using chocolate wafer crumbs instead of the standard vanilla mixed with cocoa powder. I happen to love rum balls freshly made when the taste of the alcohol is more intense, but they do mellow as they sit so it is best to make them at least a few days in advance. I served these rum balls as part of a candy platter a week after I made them and they were delicious. In fact, I had trouble keeping everyone around here from eating them before I had a chance to serve them. I might have to make these again for New Years. We are planning a quiet evening at home since it is Shabbat and I will be 39 weeks pregnant by then, but these rum balls might be just what we need to make it seem more festive. Especially if I make a batch of eggnog ice cream too.
Rum Balls
(adapted from The Baking Beauties)
Ingredients
2 1/2 cups chocolate wafer crumbs (approximately 10 oz, this is the recipe I used for the gluten-free wafers, substituting margarine for the butter)
2 1/4 cups confectioners sugar
1/2 cup good quality rum or bourbon
2 tablespoons corn syrup
1 cup pecans or walnuts, finely chopped
Sift 2 cups confectioners sugar. Stir in the rum and the corn syrup. Add chocolate wafer crumbs and nuts. Mix thoroughly. If the mixture is too soft to roll, refrigerate for a few hours until firm.
Shape mixture into walnut sized balls and dredge with remaining sugar.
Store in an airtight container or tin. The rum flavor will mellow as they sit, so they are best made a few days ahead of serving.
Recipe Updates – Delivered Fresh!
Thank You For Printing This Recipe! Visit Us Again Soon!
Recipe Page: http://www.couldntbeparve.com/recipe/rum-balls/