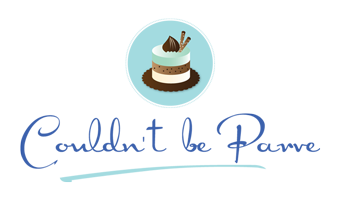 Rose Marshmallows
October 24, 2010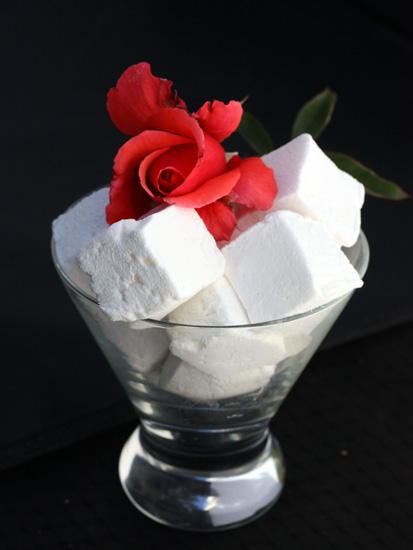 One of the reasons I love making marshmallows so much is that the flavor possibilities are virtually endless. They are a blank canvas of sweet fluffy goodness that I can flavor differently every time I make them. While passion fruit and cranberry marshmallows will always be some of my favorites, I wanted to experiment with a different flavor of elegant marshmallow. These rose marshmallows are the height of sophistication. Snowy white, they would make a great wedding favor. But they are good for everyday too, my three year old gave them his seal of approval. Rose marshmallows taste like traditional lokum, or Turkish delight, but have the soft fluffy texture of a marshmallow. Two of my favorite treats combined into one.
The strength of the rose flavor depends on the brand of rose water. Some are stronger than others, so if the rose water you are using isn't so strong add a bit more and reduce the water in the bloom by the same amount. I used Nielsen-Massey rose water which is quite strong and found that 3 1/2 tablespoons gave me a strongly rose flavored marshmallow. I liked it that way, but for a more subtle rose flavor I might use a bit less next time. Adjust the amount of rose water based on the strength of the brand you are using and how intense you want the rose flavor to be.
Rose Marshmallows
Ingredients
½ cup cold water
3 1/2 Tablespoons rose water
3 Tablespoons powdered gelatin*
3/4 cup cold water
1 ¼ cups corn syrup**
pinch of salt
1 1/2 cups granulated sugar
2 tablespoons + 2 teaspoons corn or potato starch
½ cup confectioners' sugar
*It is critical to use real gelatin in making these marshmallows. Kojel or other vegetable based gelling agents will not work.
**If you prefer not to use corn syrup you can use homemade invert sugar syrup instead. The recipe is here.
Lightly spray an 11 x 15 jelly roll pan or 9×13 baking pan with non-stick cooking spray, then rub gently with a paper towel to distribute the spray and leave just the merest sheen of oil on the sheet. Similarly, lightly spray a large offset spatula and set beside the prepared tray.
Combine the first three ingredients in a medium bowl and whisk until well blended and smooth. Set aside.
Combine second quantity of water, marshmallow syrup, salt and sugar in a 4-quart saucepan and place over medium heat. When mixture boils, brush down the sides of the pan above the upper surface of the syrup with a clean, moistened pastry brush, or cover the pot with a lid for two minutes to allow the condensation to dissolve any lingering crystals.
Place a candy or instant read thermometer into the syrup and continue to cook, without stirring, until syrup reaches 250F. Do not stir the mixture once you remove the lid. Remove pan from heat and carefully stir in gelatin mixture. Pour mixture into the bowl of an electric stand mixer fitted with the whisk attachment. Quickly cover bowl with loosely draped plastic wrap or a clean kitchen towel in order to avoid splatters, and gradually increase the mixer speed to "high". Whip mixture for 10-12 minutes.
Scrape mixture into prepared pan and spread out smooth with oiled offset spatula. Wet hands or a spatula work well too. Set marshmallow aside, uncovered, at room temperature for at least 4 hours or over night before cutting.
Before cutting the marshmallow, sift the corn/potato starch and confectioners sugar together into a medium mixing bowl. Cut marshmallows with a lightly oiled knife or pizza cutter and break into individual pieces. You may need to wash and re-oil the knife periodically if it gets sticky. Alternatively, coat the knife well between each cut with the corn starch/sugar mixture. Toss the finished marshmallows with cornstarch mixture to completely coat, shaking off excess as much as possible in a strainer. Store in an airtight container with the lid slightly ajar for up to two weeks (but they are best the first week). They can also be frozen for several months.
Recipe Updates – Delivered Fresh!
Thank You For Printing This Recipe! Visit Us Again Soon!
Recipe Page: http://www.couldntbeparve.com/recipe/rose-marshmallows/