Root Beer Float Marshmallows
January 23, 2012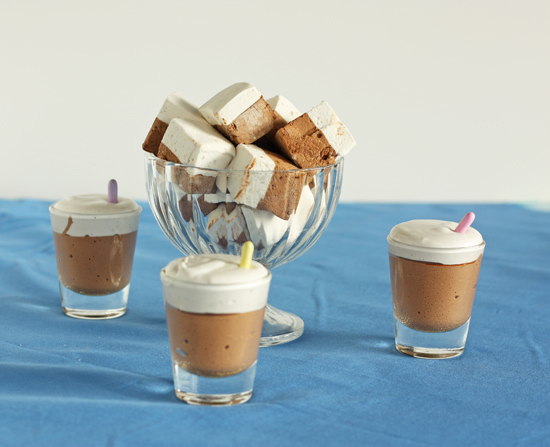 There is something about a nice cold root beer float the just screams "fun". Not only is it delicious, for me a root beer float also feels like a kickback to childhood. At my synagogue growing up there was always a full kiddush lunch after services. There was always plenty to eat but all the kids defined a "good" lunch as one that had root beer floats (usually that was only for b'nei mitzvah). Since then I hadn't had a root beer float in many years, probably because it seems silly to make it with diet root beer and we almost never have regular soda in the house. (They sometimes have them at shul, but between balancing my food and the kids' food and their drinks the last thing I need is another cup of something that could spill). However this past summer, while on vacation, I found myself with some amazingly good root beer and a carton of vanilla ice cream and knew that we needed to have root beer floats. As we all sat there enjoying our treat an idea popped into my head that I haven't been able to shake. The creamy vanilla ice cream in the root beer tasted almost marshmallowy and I knew that I need to make root beer float marshmallows.
It has taken me a while to finally get around to it, but I'm glad I finally got around to making them. The vanilla bean layer is creamy and full of vanilla flavor and the root beer layer tastes just like it should. While they don't have the cool refreshing quality of a real root beer float they do have all the flavor in a bite sized treat. And that is a wonderful thing.
Recipe Updates – Delivered Fresh!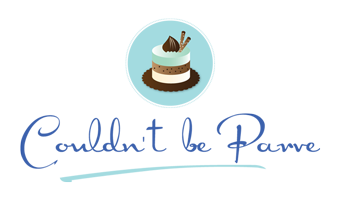 Root Beer Float Marshmallows
Root Beer Float Marshmallows
Ingredients & Instructions
Ingredients & Quantities
Root Beer Layer
2/3 cup water 3 tablespoons (27 g) gelatin* 3/4 cup water 1 1/4 cup corn syrup pinch of salt 1 1/2 cup sugar 1 dram
concentrated root beer flavor
brown gel food coloring (optional, but without it the whole marshmallow will be white)
Vanilla Layer
2/3 cup water 3 tablespoons (27 g) gelatin 3/4 cup water 1 1/4 cup corn syrup pinch of salt 1 1/2 cup sugar 2 tablespoons
vanilla bean paste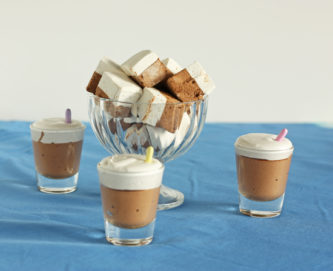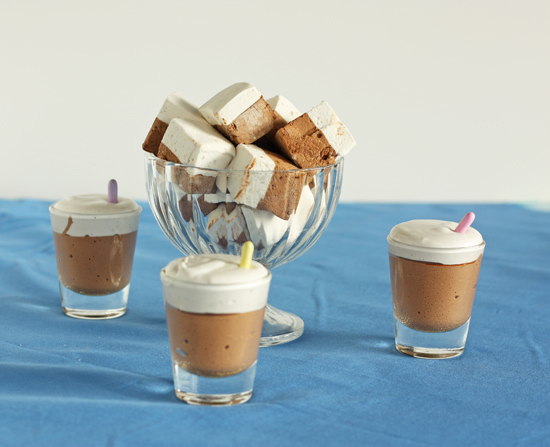 Preparation Instructions
Lightly spray an 11 x 15 jelly roll pan with at least one inch sides with cooking spray. Lightly spray a large offset spatula and set beside the prepared tray.
Cooking Instructions
Root Beer Layer
Combine the first 2/3 cup of cold water and the gelatin in a medium bowl and whisk until well blended and smooth. Set aside. Combine the remaining 3/4 cup water, corn syrup, salt, and sugar a 4 quart saucepan and place over medium heat. When mixture boils, brush down the sides of the pan above the upper surface of the syrup with a clean, moistened pastry brush, or cover the pot with a lid for two minutes to allow the condensation to dissolve any lingering crystals.
Place a candy or instant read thermometer into the syrup and continue to cook, without stirring, until syrup reaches 250F. Do not stir the mixture once you remove the lid. Once it reaches 250 remove the pan from heat and carefully stir in the gelatin mixture. Stir until the gelatin is completely melted.
Pour the mixture into the bowl of an electric stand mixer fitted with the whisk attachment. Quickly cover bowl with loosely draped plastic wrap or a clean kitchen towel in order to avoid splatters, and gradually increase the mixer speed to "high". Whip mixture for 12 minutes. Add the root beer concentrate and food coloring (if using) in the last minute.
Scrape the mixture into prepared pan and spread out smooth with a damp offset spatula. (wet hands work well too) Set marshmallow aside, uncovered while you make the vanilla layer.
Vanilla Layer
Follow the instructions above for making the root beer marshmallows, adding the vanilla in the final minute instead of the root beer concentrate. When the vanilla marshmallow has finished beating spread it on top of the root beer layer in the prepared pan using a lightly oiled or wet spatula. Let the marshmallow sit at room temperature, uncovered, for at least four hours or overnight.
Before cutting the marshmallows, place the cornstarch and powdered sugar in a large bowl. Cut marshmallows with a lightly oiled knife or pizza cutter and break into individual pieces. It may be necessary to wash and re-oil the knife if it gets sticky. Alternatively, coat the knife with the cornstarch mixture before cutting and when it starts to get sticky re-coat it. If using the food coloring the brown layer will smear onto the white a bit. If you want the white to stay pristine wash the knife and dry it between each cut. Toss the cut marshmallows with the cornstarch mixture to completely coat. Transfer marshmallows to a fine mesh strainer and shake as much of the excess starch off as possible.
Store marshmallows in an airtight container with the lid slightly ajar for up to two weeks. They can also be frozen in an airtight container.
Thank You For Printing This Recipe! Visit Us Again Soon!
Recipe Page: http://www.couldntbeparve.com/recipe/root-beer-float-marshmallows/