Red White and Blue Lollipops
June 26, 2013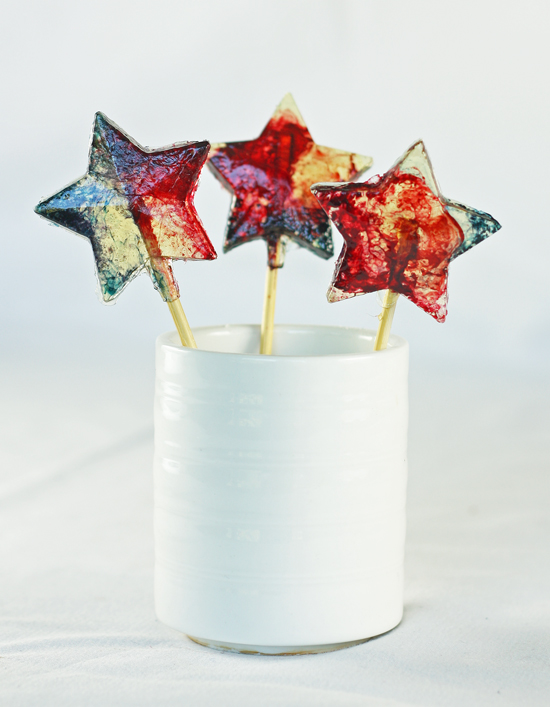 With the Fourth of July right around the corner I have been playing around with a variety of red, white, and blue candies. A couple of years ago I made these fun flag lollipops, so this year I wanted to try something a little bit different. Lollipops are always a big hit with the kids (especially since I don't make them that often) so I decided to use the star lollipop mold I had used in my a jelly belly experiments to make festive red, white, and blue lollipops. It might seem intimidating to make homemade lollipops but they are actually one of the easiest candies to make, as long as you have a candy thermometer and some lollipop molds. The fun of making them at home is that you can make them any flavor you want. I like to use Lorann Oils flavors because they hold up well under heat and the flavors are virtually unlimited. In general I tend to use the natural oils, like their wonderful variety of citrus oils, but occasionally it is fun to mix it up a bit with a cotton candy or bubble gum flavored lollipop.
I have to say I loved the way these lollipops came out. The food coloring swirls slightly differently in each one making each lollipop colorful and unique. They would be a great hostess gift to bring to a Fourth of July Barbecue, or something to keep the kids busy while waiting for the fireworks to start.
Recipe Updates – Delivered Fresh!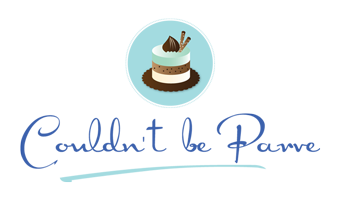 Red White and Blue Lollipops
Red White and Blue Lollipops
Ingredients & Instructions
Ingredients & Quantities
*Recipe adapted from
Lorann oils
1 cup (7.5 oz) granulated sugar
1/3 cup (4 oz) light corn syrup
6 tablespoons (3 oz) cold water
1/2 teaspoon super-strength flavoring (I used concentrated lemon oil)
Red and Blue food coloring (I use these natural ones)
lollipop sticks
lollipop molds
cellophane bags for wrapping the lollipops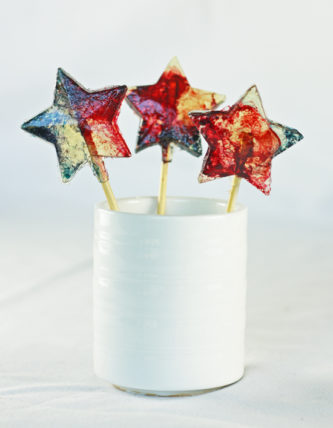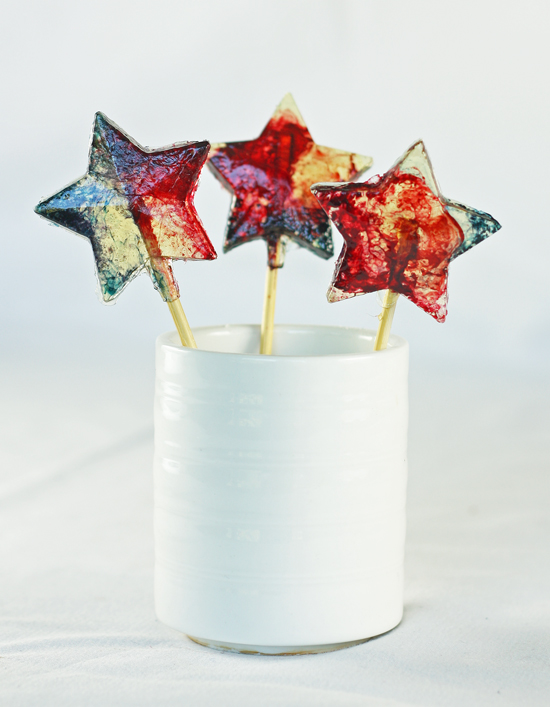 Preparation Instructions
Have all ingredients and tools assembled and within easy reach of the stove. The use of metal spoons and measuring utensils is recommended. Set two lollipop molds near the stove. Place a drop of red and a drop of blue food coloring in each of the cavities of the mold. Place a lollipop stick in each mold, making sure it comes at least half an inch up into the cavity.
In a medium saucepan, mix together sugar, corn syrup and water. Stir over medium heat until sugar dissolves. Insert candy thermometer making certain it does not touch the bottom of the pan. Bring the mixture to a boil, without stirring. Early in the cooking process, you can "wash down" any sugar crystals that form on the sides of the pan with a wet pastry brush.
Remove from heat precisely at 300° F (temperature will continue rising), or until drops of syrup form hard, brittle threads in cold water. After boiling action has ceased, add flavor and stir.
Carefully pour the syrup into the molds. Let the candy cool.
Wrap the finished lollipops in cellophane bags and secure with a twist tie.
Thank You For Printing This Recipe! Visit Us Again Soon!
Recipe Page: http://www.couldntbeparve.com/recipe/red-white-and-blue-lollipops/