Red Velvet Cupcakes
July 21, 2009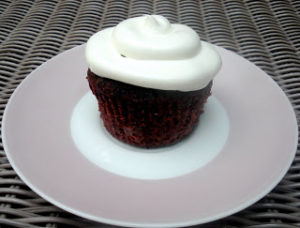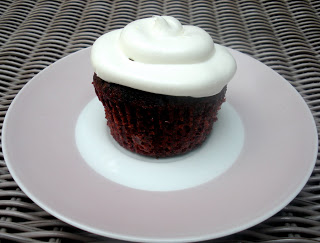 I got an email a few days ago asking about bakeries in the New York area that make good parve red velvet cupcakes. Since I tend to make most of my desserts I didn't have any good advice, so if anyone else knows of a good place please leave a comment letting me know. The email said that a simple substitution of soy milk hadn't worked so I decided to experiment with making parve red velvet cupcakes myself. I had never made red velvet cupcakes before because I never quite understood adding red food coloring to cake, but I have to admit I enjoyed these immensely. Something about the light texture with a hint of chocolate flavor and cream cheese frosting is quite alluring. While red velvet cupcakes will never be my favorites, I now think I understand their appeal.
In order to get the particular texture of red velvet cake the recipes all call for buttermilk. A good parve substitution is soymilk curdled with vinegar or lemon juice. I wouldn't want to drink it but it is a great substitution in baking.
Recipe Updates – Delivered Fresh!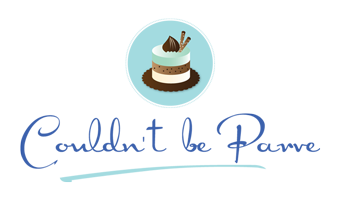 Ingredients & Instructions
Ingredients & Quantities
Red Velvet Cupcakes
1 1/4 cup soy milk
1 tablespoon vinegar
3 1/2 cups cake flour (do not substitute all purpose flour)
1/2 cup unsweetened cocoa (not Dutch process)
1 1/2 teaspoons salt
2 cups canola oil
2 1/4 cups granulated sugar
3 large eggs
6 tablespoons (3 ounces) red food coloring or 1 teaspoon red gel food coloring dissolved in 6 tablespoons of water
1 1/2 teaspoons vanilla
2 teaspoons baking soda
2 1/2 teaspoons white vinegar
Cream Cheese Frosting
1/2 cup margarine
1 oz solid vegetable shortening
5 oz toffuti cream cheese
3/4 lb 10X confectioners' sugar
1/2 teaspoon vanilla
1 Tablespoon lemon juice (more to taste)
1 1/2 teaspoon meringue powder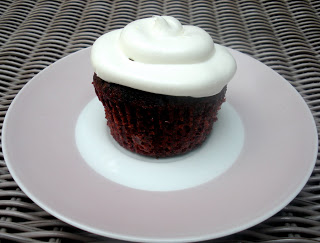 Preparation Instructions
Red Velvet Cupcakes
Preheat oven to 375 degrees. Line muffin pans with cupcake papers.
Combine soymilk and one tablespoon vinegar. Stir to combine and set aside. In a few minutes it should curdle and thicken.
Whisk cake flour, cocoa and salt in a bowl.
Place oil and sugar in bowl of an electric mixer and beat at medium speed until well-blended. Beat in eggs one at a time. With machine on low, very slowly add red food coloring. (Take care: it may splash.) Add vanilla. Add flour mixture alternately with curdled soymilk in two batches. Scrape down bowl and beat just long enough to combine.
Place baking soda in a small dish, stir in vinegar and add to batter with machine running. Beat for 10 seconds.
Pour batter into cupcake pans filling them ¾ full. Place cupcakes in the over and immediately turn the temperature down to 350.
Bake for 20-25 minutes or until a cake tester comes out clean.
Cream Cheese Frosting
Cream butter, shortening, and cream cheese together for 1-2 minutes. Stop and scrape the bowl. Cream for an additional 60 seconds. If the mixture starts to look oily it has beaten enough, even if it has been shorter than 2 minutes.
Sift the sugar. Beat sugar 1 cup at a time into the margarine mixture.
Add the lemon juice, vanilla and meringue powder.
Beat for a minute or two making sure the ingredients are throughly incorporated.
Add more lemon juice to taste to give the frosting the desired layer of tanginess.
Recipe Adapted from: Smitten Kitten
Thank You For Printing This Recipe! Visit Us Again Soon!
Recipe Page: http://www.couldntbeparve.com/recipe/red-velvet-challenge/