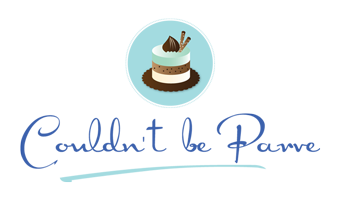 Raspberry Truffles
March 21, 2010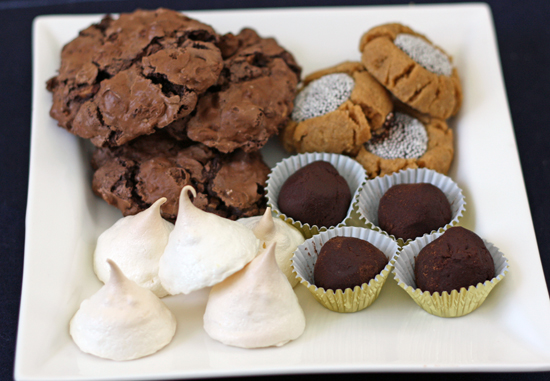 One of my favorite things to make for Passover is truffles. Even though Kosher for Passover truffles are easy to buy, homemade ones are worth the effort. They look much more complicated and impressive than they really are and make a stunning addition to any cookie platter or dessert buffet. (in the picture with the truffles are lemon meringues, almond thumbprints and chocolate hazelnut cookies) They can also be made in a variety of flavors. For delicious truffles it is critical to use good quality chocolate since the chocolate is the primary flavor. For more information about Passover chocolate see my FAQ page.
For these truffles I wanted a strong raspberry flavor so I used raspberry puree in place of the standard cream. Because of the fresh fruit they are not quite as stable at room temperature as other truffles. They should be stored in the refrigerator and taken out 15 minutes before serving so they can come to room temperature.
Raspberry truffles
6.5 oz chocolate
1/2 cup raspberry puree (see below for recipe)
1 oz (2 tbs) vegetable oil
cocoa powder for dusting
Finely chop the chocolate and place it in a heat proof bowl. Combine the raspberry puree and oil and heat it until almost boiling. (This can be done in the microwave or in a small pan on the stove. Stir frequently if using the stove) Pour the hot puree over the chocolate and let stand for 5 minutes. Whisk or stir gently until completely combined and smooth. If some chocolate remains unmelted microwave the mixture in 10 second intervals, stirring well each time, until all the chocolate is melted and the mixture is smooth. Pour the chocolate mixture into a shallow bowl or pan and refrigerate until firm, at least one hour.
Using a small scoop or spoon roll small balls of the chilled ganache. Coat the balls in cocoa powder and serve at room temperature. Store any leftover in the refrigerator.
Raspberry puree
12 oz raspberries, fresh or frozen (defrosted if frozen)
Blend raspberries in a food processor or blender until pureed. Strain through a fine mesh sieve, using a spoon to press as much of the puree through as possible. Discard solids. There may be more puree than needed for this recipe, save the rest for another use.
Recipe Updates – Delivered Fresh!
Thank You For Printing This Recipe! Visit Us Again Soon!
Recipe Page: http://www.couldntbeparve.com/recipe/raspberry-truffles/