Rainbow Challah
October 17, 2012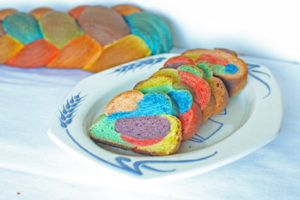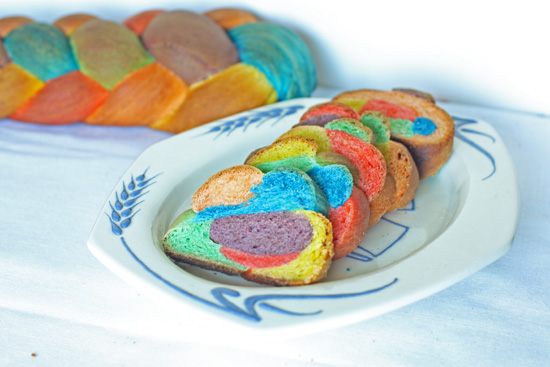 This week in the weekly cycle of the Torah readings we read the story of Noach. God plans to destroy the earth with a flood and instructs Noah to take his family and a least two of each animal onto the ark to save them. After the flood God designates the rainbow as a symbol of the promise never to destroy the earth again. Since the rainbow is such a beautiful symbol I like to make something rainbow to highlight the story with my kids. These beautiful cookies are high on my list of things I want to make some year but this year I decided to make rainbow challah. A six strand braid is the perfect way to make the challah since each color of the rainbow is represented. Because of the braiding, each slice looks a bit different which only adds to the appeal. We are a family that tears our challah but this is a challah made for slicing. If you tear it the colors won't have the same dramatic effect.
I tested it out a few weeks ago to make sure it would work and ever since then my son has been begging me to make every challah a rainbow challah. Since I generally try to avoid artifical food colorings this isn't going to become a weekly staple in our house, but once in a while it makes for a great treat.
Whether making this for Parshat Noach or just to put a smile on your kids faces the bottom line is that this challah is just a whole lot of fun.
Recipe Updates – Delivered Fresh!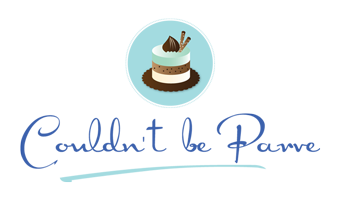 Ingredients & Instructions
Ingredients & Quantities
2 tablespoons instant yeast*
6 cups unbleached white flour (more, if necessary) [substitute up to half of the flour for whole wheat or other grain flour]
1 ½ teaspoon salt
3 eggs
2/3 cup vegetable oil
11/4 cup water
½-3/4 cup honey (I recommend using the larger amount for whole wheat)
gel food coloring in the colors of the rainbow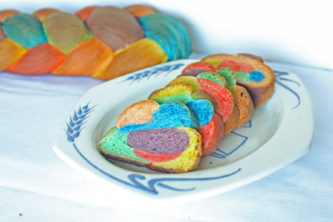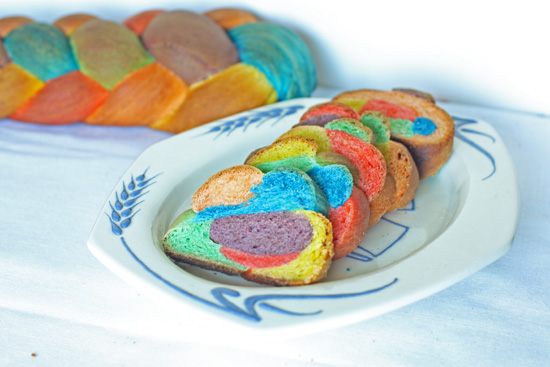 Cooking Instructions
Preheat oven to 325
Divide each color of dough into two. Roll out all the dough into long ropes. Arrange one strand of each color in rainbow order and braid them together. Repeat with the remaining dough.
Place on a lightly greased baking sheet or a baking sheet lined with parchment paper. Bake for about 30 to 40 minutes.
Challah is done when both top and bottom are slightly browned and it makes a hollow sound when tapped. Because of the slight browning the colors will not be so dramatic on the outside of the challah, but the inside will stay bright and beautiful.
!*I like using instant yeast because it can just be mixed in with the other ingredients, but regular active yeast can be used instead by following these steps. Mix together the 2 tablespoons yeast (3 packets) with 3/4 cup of the water from the recipe (it should be quite warm but not hot) and 1 tablespoon brown sugar. Set the mixture aside for 5 minutes. After 5 minutes it should be quite bubbly. Add this mixture to the flour and salt and mix well.
**The dough can be refrigerated at this point for up to 24 hours. (Ziplock bags work great) Make sure to bring it back to room temperature before braiding.
Preparation Instructions
Mix the yeast, flour and salt in the bowl of an electric mixer (this can also be done in a large bowl). Set aside. In another bowl, mix eggs, oil, water and honey.
Add egg mixture to the flour mixture and mix until the dough has come together. If using an electric mixer use the paddle attachment for this, not the bread hook. If necessary, add unbleached white flour as you're mixing. The dough will remain fairly soft, but it shouldn't be sticky. Turn the dough out onto a counter or a board, and knead it a few times just to smooth it out. This "kneading" should not take more than one minute.
Using a scale, divide the dough into six equal portions. Working with one portion at a time flatten the dough into a circle on a well floured counter or board. Add several drops of food coloring to the middle. Fold the dough over and knead it until the color is evenly distributed. Form the dough into a ball. Place the ball of dough in a small, well-oiled bowl, turning the dough to oil all the surfaces. Repeat with the remaining pieces of dough. Cover all the dough with a towel and let rise in a warm, non-drafty place for about two hours, or until doubled in size.**
Recipe Yield
2 Large Challahs
Thank You For Printing This Recipe! Visit Us Again Soon!
Recipe Page: http://www.couldntbeparve.com/recipe/rainbow-challah/