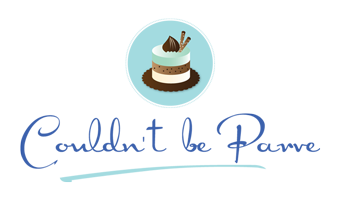 Quick Candied Nuts
August 5, 2008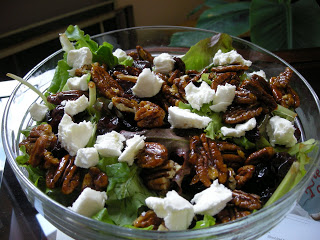 In my mind candied nuts are a cross between a snack food and a junk food. They are sweet and sugary, but at the same time are chock full of the wholesomeness of nuts. Easy to make yet impressive looking, they add quick elegance to a simple salad.
My favorite nuts to candy are pecans, their flat shape is perfect for the sugar coating. 
Here is how I make them:
Pour sugar into a heavy saucepan (at least enough to cover the bottom, but more is good too). Cook over medium high heat, stirring constantly, until the sugar is melted and has caramelized. (It should be a nice amber color.)
Add the pecans (Don't fill the pan more than 1/2 full). If the sugar crystalizes stir over heat until it remelts. If it doesn't crystalize, cook for a minute or two until the nuts are lightly toasted (they will continue to toast off the heat). Add about a tablespoon of margarine, stir to combine.
Pour the nuts out onto a silpat and separate them as much as possible (forks are good tools for this).
When cool, break up nuts and store in an airtight container.
I honestly have no idea how long they will keep, because in my house they are always gone within a day or so. If you are planning on using them another day I would recommend making more than you think you will need to ensure there will be enough left when you need them.
Recipe Updates – Delivered Fresh!
Thank You For Printing This Recipe! Visit Us Again Soon!
Recipe Page: http://www.couldntbeparve.com/recipe/quick-candied-nuts/