Pumpkin Pie Sufganiot
October 27, 2013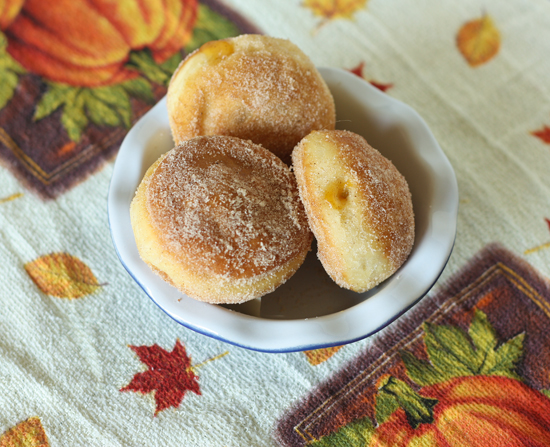 Now that I've started making Thanksgivukkah recipes my mind keeps spinning with fun possibilities. These pumpkin pie filled sufganiot are my latest idea for a dessert to enjoy while celebrating the onec in a lifetime confluence of Thanksgiving and Chanukkah. Classic sufganiot are my favorite Chanukkah food, and I don't even really like doughnuts all that much. I like the fact that sufganiot tend to be a bit breadier and less sweet than the classic jelly doughnut, which makes the contrast with the sweet filling just about perfect. I have seen a bunch of people making sufganiot stuffed with cranberry in honor of Thanksgivukkah this year, but I wanted to make something a bit different. These sufganiot are filled with pumpkin pastry cream that tastes just like pumpkin pie. The contrast of the cool pastry cream and the warm doughnuts are wonderful, and a coating of pumpkin pie spiced sugar makes these sufganiot utterly addictive. I don't fry things very often, usually just for Chanukkah, but I have to admit that it is a little bit alarming how fast a batch of homemade doughnuts will disappear. Warm and inviting, all that will be left on the plate is a bit of spiced sugar. I am planning on making these for Thanksgiving this year, that is for sure.
After many frustrating attempts over the years at getting the jelly filling into my sufganiot without making a huge mess I finally bit the bullet and bought a Bismark metal tip to use on my pastry bag. It made filling the doughnuts super easy and mess free. I probably won't use it all that much during the year, but every Chanukkah I am going to be happy to have it, that is for sure. It was $6 well spent, I highly recommend it for making these (or any sufganiot).
Recipe Updates – Delivered Fresh!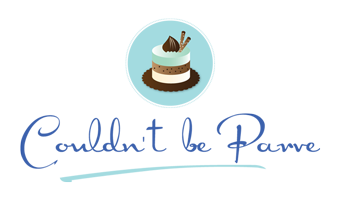 Ingredients & Instructions
Ingredients & Quantities
Pumpkin Pie Sufganiot
2 1/2 to 2 3/4 cups (11.25-11.75 oz) all-purpose flour, plus more for rolling out the dough
scant 1/2 teaspoon fine salt (increase to 1/2 tsp if using unsalted margarine)
vegetable oil, for coating the bowl
1 (1/4-ounce) packet active dry yeast (2 1/4 teaspoons)
1/4 cup (2 oz) plus 1 teaspoon granulated sugar
1/2 cup (4 oz) warm water (105°F to 115°F)
2 large egg yolks
1/3 cup (2.7 oz) almond or coconut milk
1/2 teaspoon vanilla extract
2 tablespoons margarine (1/4 stick), cut into 8 pieces and at room temperature
2 quarts peanut or vegetable oil for frying
pumpkin pastry cream (see below)
1/2 cup (3.75 oz) granulated sugar
1 1/2 tablespoons pumpkin pie spice
*Sufganiot recipe adapted from
chow.com
Pumpkin Pastry Cream
5 oz egg yolks (approximately 6 large egg yolks)
pinch salt
¾ cup (5.6 oz) sugar
3 tablespoons (24 g or .8 oz) corn starch
1 cup (8 oz) almond milk
½ cup (4 oz) canned coconut milk
1 tablespoon pumpkin pie spice
2/3 cup (5.8 oz or 163 g) pumpkin puree
1 teaspoon (5 g) vanilla
1 tablespoon (.5 oz or 14 g) refined coconut oil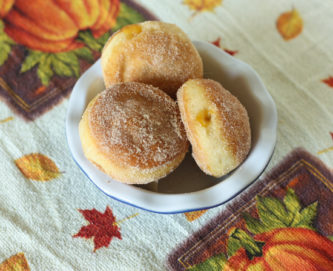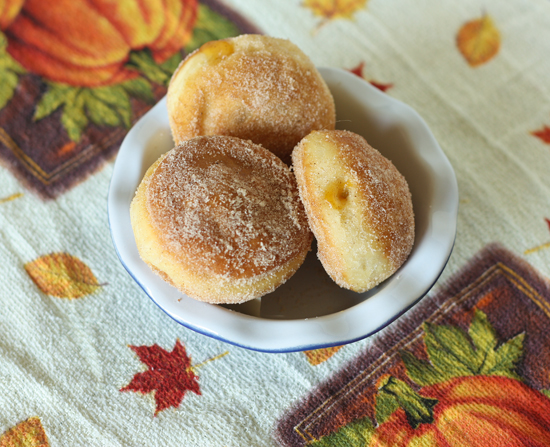 Preparation Instructions
Pumpkin Pie Sufganiot
Place 2 1/2 cups of flour and the salt in a large bowl and whisk to aerate and combine; set aside. Coat a second large bowl with vegetable oil; set aside.
Place the yeast and 1 teaspoon of the sugar in the bowl of an electric mixer. Add the water, stir to combine, and let sit until the mixture is foaming, about 5 minutes.
Add the remaining 1/4 cup sugar, the egg yolks, almond milk, and vanilla and mix to combine. Add this the flour mixture and stir with the paddle attachment until the dough comes together and begins to form a ball. Change to the dough hook.
Add the margarine to the dough and knead until the margarine is fully incorporated and the dough is smooth, shiny, and elastic, about 6 to 8 minutes. Add up to 1/4 cup of additional flour as needed if the dough is sticky. It should be soft to the touch but should not stick to your fingers. Form the dough into a ball, place it in the oiled bowl, and turn it to coat it in the oil. Cover the bowl with plastic wrap or a damp towel and let the dough rise in a warm place until doubled in size, about 1 1/2 to 2 hours.
Line a baking sheet with parchment paper; set aside. Punch down the dough, transfer it to a lightly floured work surface, and roll it out until it's about 1/4 inch thick. Using a 2-1/2-inch round cutter, stamp out as many dough rounds as possible and place them on the prepared baking sheet about 1/4 inch apart. Gather the dough scraps into a ball and roll out and cut again. Discard any remaining dough scraps.
Cover the dough rounds loosely with plastic wrap or a damp towel. Let them rise in a warm place until puffy and about 1/2 inch thick, about 30 minutes.
Place the oil in a Dutch oven or a large, heavy-bottomed pot and set it over medium heat until the temperature reaches 365°F on a candy/fat thermometer. Meanwhile, fit a wire rack over a second baking sheet; set aside. Combine the remaining sugar and pumpkin pie spice in a large bowl; set aside. Transfer the pumpkin pastry cream to a piping bag fitted with a bismark tip; set aside.
When the oil is ready, add 4 of the dough rounds and fry until golden brown, flipping halfway through, about 2 minutes total. (If air bubbles appear in the donuts, pierce them with the tip of a paring knife.) Using a slotted spoon, remove the donuts to the wire rack. Add 4 more dough rounds to the oil. While these dough rounds are frying, use tongs to transfer the first 4 (still-hot) donuts into the bowl of sugar. Toss to coat in the sugar, then return to the wire rack. Repeat frying and sugarcoating the remaining dough rounds.
When the donuts are cool enough to handle, stick the bismark tip into the center of the doughnut and squeeze out about a tablespoon of pastry cream. Serve warm or at room temperature.
Pumpkin Pastry Cream
Prep Time: 5 minutes
Cook Time: 15 minutes
Yield: 2 1/2 cups
Whisk the egg yolks and salt together in a large bowl. Set aside. Set a fine mesh strainer over a large clean bowl and set aside.
Place the sugar, cornstarch, almond milk, coconut milk and pumpkin pie spice in a medium sauce pan and whisk to combine. Bring the mixture to a simmer, whisking to make sure it is smooth.
Gradually pour the hot mixture into the eggs, whisking continuously to make sure the eggs don't scramble. Whisk in the pumpkin.
Transfer the mixture back to the pan and cook, stirring constantly, until the mixture thickens. Immediately pour the mixture through the strainer and use a strainer to push the mixture through. Whisk in the vanilla and oil and refrigerate until cool. (Can be made one day ahead.)
Recipe Yield
Approximately 2 dozen
Thank You For Printing This Recipe! Visit Us Again Soon!
Recipe Page: http://www.couldntbeparve.com/recipe/pumpkin-pie-sufganiot/