Pumpkin Doughnuts
November 6, 2012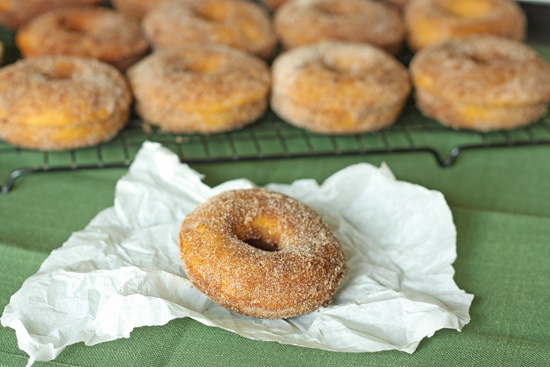 This time of year pumpkins are everywhere! A couple of weeks ago we took the kids to the local pumpkin patch. While they busied themselves painting silly faces on their pumpkins I walked around and picked out one of each variety pumpkin that was good for eating. Needless to say we have been eating a lot of pumpkin! That being said, I tend to use the fresh pumpkins for things like soup or caramelized roasted pumpkin and still use canned pumpkin for baking. It has a thicker consistency than the homemade puree which makes for better baked goods. Homemade puree needs to be drained before using to get a similar texture. One year I did a test making several pumpkin pies, some using canned pumpkin and some using fresh and we all liked the canned better. (We also couldn't tell the difference between the parve one and the dairy one, which I must say surprised most people).  Since I use canned pumpkin for baking there is no reason I couldn't make pumpkin baked goods and desserts all year round, but it is the fall that has me craving pumpkin and spice.
Last year I bought a baked doughnut pan on a whim and it has been sitting in my cabinet ever since. When I started seeing pictures of baked pumpkin doughnuts popping up on pinterest I immediately knew it was time to break in the doughnut pan. I have to admit I was a bit skeptical about baked doughnuts. The batter is very similar to a muffin or quick bread batter so I couldn't imagine that baking it in a pan like a doughnut would make it taste like a doughnut. Well, I was wrong. These doughnuts are outstanding. I used the King Arthur Flour recipe for Pumpkin Doughnuts, and I thought the recipe was virtually perfect. The only change I made was brushing the baked doughnuts with melted margarine so that the cinnamon sugar would stick better. The coating is the key to these doughnuts.  It is the coating of cinnamon sugar on all the surfaces make the doughnuts taste more doughnut-like than muffin-like. These don't have quite the denseness that a fried cake doughnut does but these definitely taste like doughnuts. Even better, they were still delicious the next day and even made a great breakfast heated in the toaster on the third day. That is something a fried doughnut could never do! I will say I am sold on the pan, I am going to be using it a lot more often. Apple cider doughnuts are going to be next!
Recipe Updates – Delivered Fresh!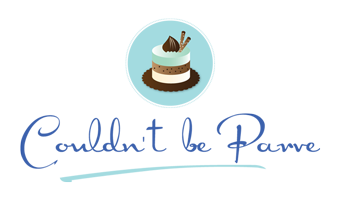 Ingredients & Instructions
Ingredients & Quantities
1/2 cup (4 oz) vegetable oil
3 large eggs
1 1/2 cups (11.25 oz) granulated sugar
1 1/2 cups (12 oz) pumpkin purée
1 1/2 teaspoons pumpkin pie spice, or 3/4 teaspoon ground cinnamon plus heaping 1/4 teaspoon each ground nutmeg and ground ginger
1 1/2 teaspoons salt
1 1/2 teaspoons baking powder
1 3/4 cups + 2 tablespoons(8 oz) All-Purpose Flour*
3 tablespoons (1.5 oz) melted margarine
3 tablespoons sugar
2 teaspoons pumpkin pie spice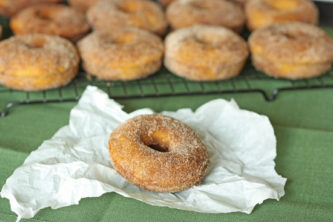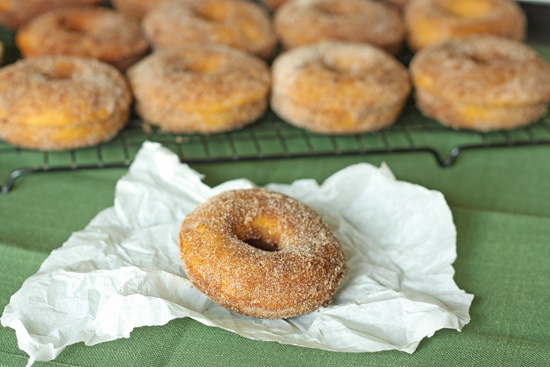 Preparation Instructions
Preheat the oven to 350°F. Lightly grease two standard doughnut pans. If you don't have doughnut pans, you can bake these in a standard muffin tin; they just won't be doughnuts.
Beat together the oil, eggs, sugar, pumpkin, spices, salt, and baking powder until smooth.
Add the flour, stirring just until smooth.
Fill the wells of the doughnut pans about 3/4 full; use a scant 1/4 cup of batter in each well.
Bake the doughnuts for 15 to 18 minutes, or until a cake tester inserted into the center of one comes out clean. If you're making muffins, they'll need to bake for 23 to 25 minutes.
Remove the doughnuts from the oven, and after about 5 minutes, loosen their edges, and transfer them to a rack to cool.
Combine the remaining 3 tablespoons sugar and pumpkin pie spice in a resealabel bag. While the doughnuts are still warm (but no longer fragile), brush the doughnuts top and bottom with the melted margarine. Gently shake them in a bag with the spiced sugar. If you've made muffins, sprinkle their tops heavily with cinnamon-sugar.
Cool completely, and wrap airtight; store at room temperature for several days.
Recipe Yield
12 Doughnuts
Thank You For Printing This Recipe! Visit Us Again Soon!
Recipe Page: http://www.couldntbeparve.com/recipe/pumpkin-doughnuts/