Pumpkin Cream Puffs
November 19, 2012
This month the theme for the Kosher Connection recipes is stuffing. While my turkey stuffing has no place on a parve blog, given that it is made with schmaltz and chicken stock, I still wanted to participate in the theme so I started thinking about stuffing related desserts. My first thought was a bread pudding, since it is made with chunks of slightly stale bread just like stuffing. I made a delicious pumpkin bread pudding that I would have been happy to share, but I misplaced the scrap of paper I wrote the recipe down on as I was making it. (I need a better system than random scribbles on the back of any scratch paper I find in the kitchen. I wish I could say this is the first time this has happened, but sadly that is far from the truth.) Not wanting to make the same thing again right away (I will return to the bread pudding later, it was worth recreating) I decided to turn to a stuffed dessert. Wanting to keep with the Thanksgiving theme I decided to make cream puffs stuffed with a pumpkin cream.
This was my first time trying to make pareve pate a choux and I was happy with how they came out. It may seem intimidating to make cream puffs or eclairs but it is actually a very easy dough to make. The oven does all the work to make them puff, there is nothing difficult about it. It is important not to undercook dough or the centers will be a eggy and the finished cream puffs will collapse (as I learned the hard way). The pumpkin pastry cream tastes like a creamier version of pumpkin pie filling. I keep thinking of other ways to use the cream, I am sure I will be making it again to use not only in cream puffs but in other recipes as well. The pumpkin pastry cream is quite moist so it is best to fill the cream puffs right before serving. If you are looking for a fun and different pumpkin dessert for Thanksgiving, this is it. For more great stuffing ideas be sure to check out all the rest of these great recipes, I'm not the only one making dessert, that's for sure.
Recipe Updates – Delivered Fresh!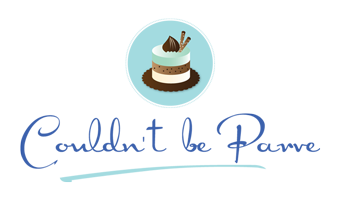 Ingredients & Instructions
Ingredients & Quantities
Pumpkin Cream Puffs
Pate a Choux (adapted from Michael Ruhlman)
1 cup water
1/2 cup (4 oz) margarine
1 cup (4.5 oz) flour
pinch salt (omit if using salted margarine)
2 tablespoons (.75 oz) sugar
1 cup eggs (approximately 4 large eggs)
Pumpkin Pastry Cream (see below)
1/2 cup confectioners sugar
1/2 teaspoon vanilla
Pumpkin Pastry Cream
5 oz egg yolks (approximately 6 large egg yolks)
pinch salt
¾ cup (5.6 oz) sugar
3 tablespoons (24 g or .8 oz) corn starch
1 cup (8 oz) almond milk
½ cup (4 oz) canned coconut milk
1 tablespoon pumpkin pie spice
2/3 cup (5.8 oz or 163 g) pumpkin puree
1 teaspoon (5 g) vanilla
1 tablespoon (.5 oz or 14 g) refined coconut oil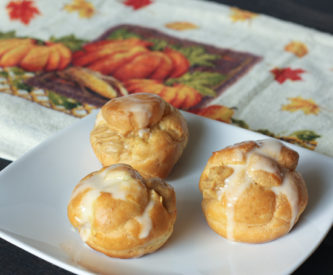 Preparation Instructions
Pumpkin Cream Puffs
Place the water and margarine in s sauce pan and bring to a simmer over high heat. Reduce the heat to medium, add the flour, sugar and salt and stir rapidly. A dough will form and pull away from the sides of the pot. Continue stirring and cooking the flour tp cook off some of the water, another minute or two. Transfer the dough to the bowl of a standing mixer fitted with the paddle attachment or to a bowl if you're using a hand mixer.
Add the eggs one at a time mixing rapidly until each is combined into the paste. The pâte a choux can be cooked immediately at this point or refrigerated for up to a day until ready to use.
Preheat the oven to 425.
Pipe or spoon the dough onto 1 1/2 inch mounds on a cookie sheet lined with parchment paper. Press down any peaks a moistened finger, they can burn. Bake for 10 minutes. Turn the oven down to 350 and bake for an another 25-30 minutes.Test one cream puff to make sure it is cooked inside. It not, bake another few minutes.
Remove the cream puffs from the oven and let cool before filling with pastry cream.
Once the cream puffs are filled combine the confectioners sugar, vanilla and two tablespoons of water. Stir to combine. Continue adding a bit of water at a time until the glaze reaches the desired consistency.
Spoon glaze over each of the cream puffs and let sit for a few minutes before serving.
Pumpkin Pastry Cream
Whisk the egg yolks and salt together in a large bowl. Set aside. Set a fine mesh strainer over a large clean bowl and set aside.
Place the sugar, cornstarch, almond milk, coconut milk and pumpkin pie spice in a medium sauce pan and whisk to combine. Bring the mixture to a simmer, whisking to make sure it is smooth.
Gradually pour the hot mixture into the eggs, whisking continuously to make sure the eggs don't scramble. Whisk in the pumpkin.
Transfer the mixture back to the pan and cook, stirring constantly, until the mixture thickens. Immediately pour the mixture through the strainer and use a strainer to push the mixture through. Whisk in the vanilla and oil and refrigerate until cool. (Can be made one day ahead)
Thank You For Printing This Recipe! Visit Us Again Soon!
Recipe Page: http://www.couldntbeparve.com/recipe/pumpkin-cream-puffs/