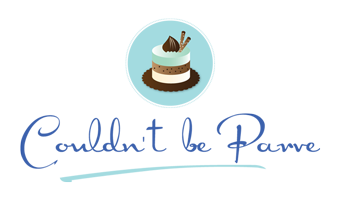 Pumpkin Cake with Chocolate Chunk Streusel
November 24, 2009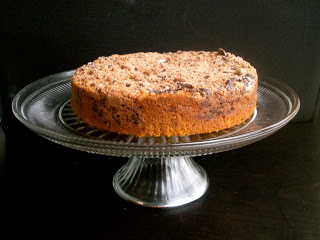 Sometimes it is nice to make a dessert that is knock-your-socks-off delicious without being much work at all. The kind of cake where you can just dump the ingredients into the mixer and turn it on without worrying about adding things in the right order a little bit at a time. This pumpkin cake is just that kind of dessert. I adapted my
favorite banana cake
to highlight the flavors of fall and am very happy with the results. Moist and delicious with just the right amount of spice, this cake makes a wonderful fall ending to a meal. Or afternoon snack. Or (don't tell anyone) breakfast. The chocolate streusel makes it a bit more complicated (you need an extra bowl) but takes the cake to another level of deliciousness. And it looks pretty coming out of the oven so you don't need to decorate it. I also made some as individual muffin sized cakes and loved the way they came out.
If you don't want pie for Thanksgiving but still want something pumpkin this is the cake to make.
Pumpkin Cake with Chocolate Chunk Streusel
2 cups pumpkin puree (from a 28 oz can)
1 cup (2 sticks) margarine, melted
1/2 cup low-fat mayonnaise
2 teaspoons pumpkin pie spice
1 1/4 cups all purpose flour
2 tablespoons ground cinnamon
1/2 cup margarine, melted
7 ounces good quality bittersweet chocolate, roughly chopped with a knife
Preheat oven to 350.  Grease a 13 X 9 inch pan.
Place the pumpkin in the bowl of an electric mixer. Add all the rest of the cake ingredients and beat until combined.
In a separate bowl combine the streusel ingredients.
Pour half of the batter into the prepared pan. Sprinkle with half of the streusel. Top with remaining batter and sprinkle remaining streusel over the top.
Bake for 1 hour or until a tester comes out with a few moist crumbs.
Note: This cake freezes very well so I always make the full amount, but a half recipe fits nicely in an 8 inch square pan or an 8 inch round pan with 3 inch sides.
Recipe Updates – Delivered Fresh!
Thank You For Printing This Recipe! Visit Us Again Soon!
Recipe Page: http://www.couldntbeparve.com/recipe/pumpkin-cake-with-chocolate-chunk/