Pumpkin butter
October 19, 2013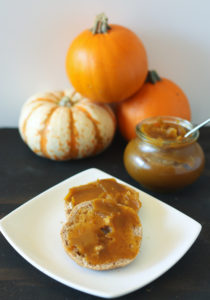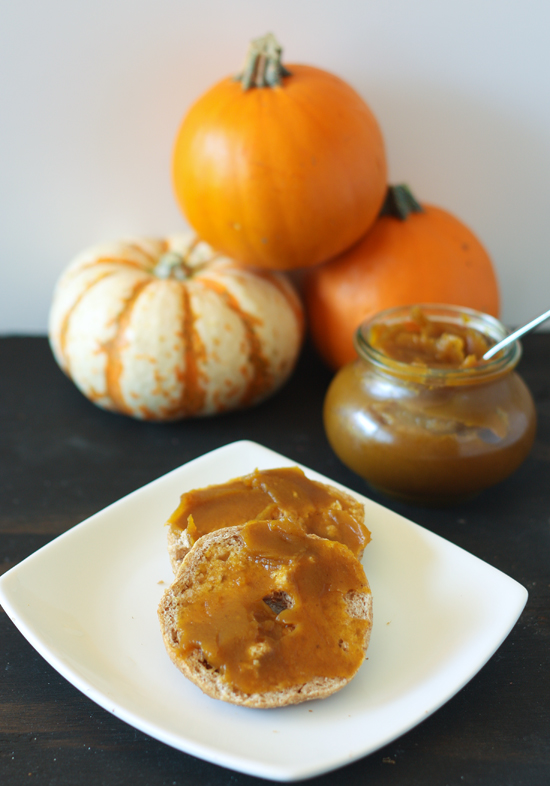 October is pumpkin month. They are everywhere and in everything, and to tell you the truth I am thrilled. I have been eating pumpkin with almost every meal and am loving it. (In case anyone was wondering, pumpkin slices sprinkled with a bit of pumpkin pie spice and salt and roasted at high temperature until caramelized are amazing.) Since I have already eaten through most of our four large pumpkins (mostly by myself) it seemed like I should make something out of the one remaining one that I could actually save to use later. Although in the interest of full disclosure,this is not the last of the pumpkins for the year. I am going back to the pumpkin patch to get more pumpkins later this week.
This pumpkin butter is a great way to preserve this fabulous fall flavor past when the pumpkin patches turn to christmas tree lots, not to mention that it makes your kitchen smell amazing. (Although it is not safe to can pumpkin butter it does last very well in the fridge or freezer.) Similar to apple butter in consistency, this pumpkin spread is sweet, warmly spiced, and utterly delicious. It is wonderful spread on toast, over yogurt, or baked into your favorite bar cooke. I like to make it with fresh pumpkin puree, but canned would work too. The nice thing about making homemade pumpkin butter is that you can adjust the spices or sweetness to taste. I like to make it with the lower amount of sugar if I am eating it as a spread or with yogurt, and I use the larger amount if I am using it in a recipe where it functions like jam. Different pumpkins also vary in sweetness (canned pumpkin tends to be less sweet) so adjust accordingly. Simply cook the pumpkin butter to the desired consistency, taste it and adjust the spices/sweetness accordingly.
I have big plans for this delicious pumpkin butter,so stay tuned for recipes using it. That is if I can keep my family from eating it all first.
Recipe Updates – Delivered Fresh!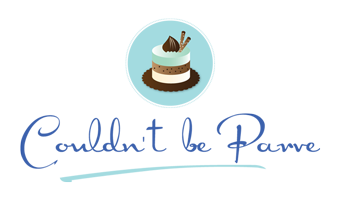 Ingredients & Instructions
Ingredients & Quantities
15 oz pumpkin puree, fresh or canned
1 teaspoon pumpkin pie spice
1/4-1/3 cup (2-2.5 oz) brown sugar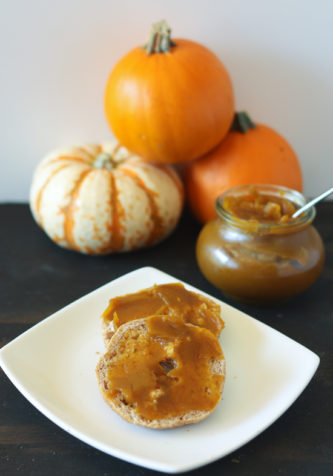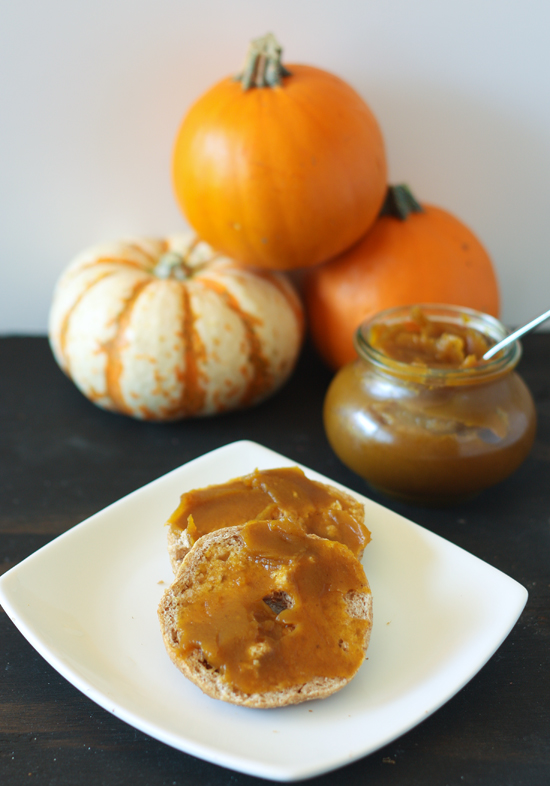 Preparation Instructions
Combine all the ingredients in a nonstick skillet, using the smaller amount of sugar. Cook over medium heat, stirring very frequently to keep it from burning, until the pumpkin butter has darkened and thickened to the desired consistency. Taste the butter and adjust the sweetness if desired. Store in an airtight container in the refrigerator or freeze for later use.
Thank You For Printing This Recipe! Visit Us Again Soon!
Recipe Page: http://www.couldntbeparve.com/recipe/pumpkin-butter/