Potato Chip Bark
April 20, 2014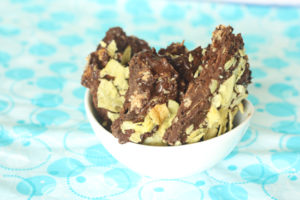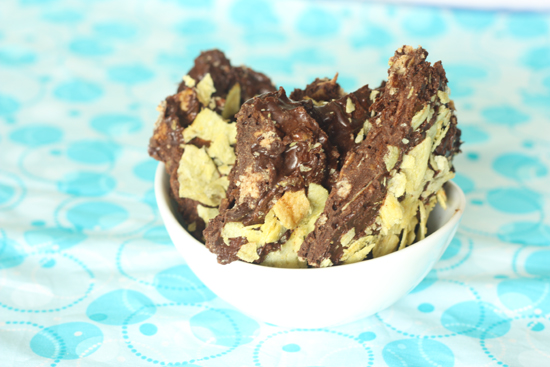 It has been busy around here this week with all of the Passover cooking. We have hosted over 100 people so far for meals and we still have a few more days of the holiday left to go. In order to try to make things a bit easier I didn't make any of the big complicated desserts I have in years past (like baked Alaska) and instead made an assortment of my favorite cookies and chocolate barks that I could mix and match for all the meals. People enjoyed all the cookies in the assortment but this potato chip bark was the runaway favorite by far.
The thin cut potato chips blend into the chocolate giving it a flaky crispy texture that is utterly addictive. The sweet almond butter candy, similar in texture to the filling of a peanut butter cup, adds another layer flavor and the salt from the chips ties it all together. Every time I served this there was not a piece left on the plate. I wanted to share it today because if you have some chocolate and potato chips on hand it is totally worth whipping up a batch of this delicious bark. Quick, easy and sure to be a huge hit, it is the perfect treat to jazz up the end of Passover when people are tired of the same old same old. It would also be great made with peanut butter any time of year. This is going to be one of my go to treats for all occasions.
Recipe Updates – Delivered Fresh!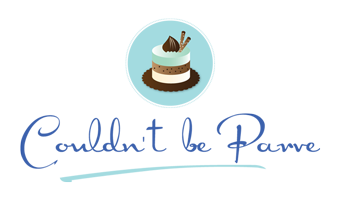 Ingredients & Instructions
Ingredients & Quantities
6 tablespoons (3 oz or 84 g) almond butter
3/4 cup (3 oz or 84 g) confectioners sugar
4.5 ounces thin cut salted potato chips (approximately 75 chips), divided
12 ounces finely chopped bittersweet chocolate, divided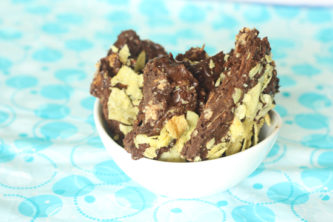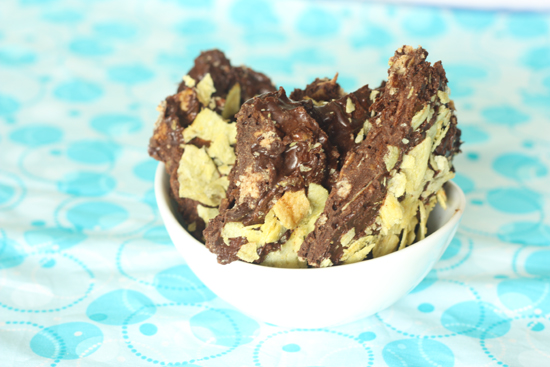 Preparation Instructions
Line a large jelly roll pan with parchment paper and set it aside.
In a small bowl combine the almond butter and confectioners sugar. Stir until the almond butter is no longer sticky and then knead the remaining sugar into the almond butter dough using your hands. It will seem like there is too much sugar but keep kneading and you will be able to work it all in. Place the almond butter dough on a cutting board dusted with additional confectioners sugar. Press the dough down into a disk approximately 1/2 inch thick. Cut the dough into bite sized pieces and set aside.
Place 3 ounces of the chips in a small bowl and crush them lightly. Set aside.
Place 8 ounces of the chocolate in a microwave safe bowl. Melt the chocolate on 50% power for 90 seconds. Stir well. Continue microwaving at 50% power in 20 second intervals, stirring each time, until the chocolate is completely melted and feels warm to the touch (if using a thermometer it should be around 115 degrees). Add the remaining chocolate and stir until it is completely melted. The chocolate should feel cool to the touch (approximately 90 degrees). Stir in the crushed chips and the almond butter candy dough. Spread the chocolate mixture onto the prepared baking sheet. It will not cover the entire sheet but try to spread it as thin as possible. Crush the remaining potato chips and sprinkle them on top of the bark. Press down gently to make sure they adhere.
Let the bark set, then break into small pieces. The chocolate should set at room temperature but if it does not refrigerate it for a few minutes to firm it up.
Store the bark in an airtight container and serve the bark within a day or two because the chips will start to get soggy.
Recipe Yield
Approximately 1 pound
Thank You For Printing This Recipe! Visit Us Again Soon!
Recipe Page: http://www.couldntbeparve.com/recipe/potato-chip-bark/