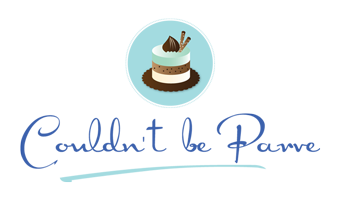 Pumpkin Marshmallows
December 10, 2008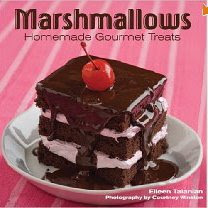 I recently acquired a new cook book (and by acquired, I mean somehow I clicked the button the placed it in my Amazon cart. It is amazing how often that happens with cookbooks, I just can't explain it). I am in love. It is an entire book dedicated to marshmallows. Now I happen to be obsessed with marshmallows, particularly the homemade variety, so imagine my excitement when I learned this book existed. Marshmallows: Homemade Gourmet Treats by Eileen Talanian. 
After reading through the entire book cover to cover on three separate Shabbat evenings I finally had an opportunity to try out a recipe from this book. I love the fact that the recipes call for homemade invert syrup (very simple to make) instead of corn syrup, both because I try to limit my corn syrup use and because now I can make them for Passover. However, I didn't have enough sugar to make the syrup and have enough left for the recipe, so this time I used corn syrup instead and it worked out fine.
I happened to have some leftover pumpkin puree from making pumpkin cheesecake bars so pumpkin marshmallows seemed like the perfect way to use it up. They came out tasting phenomenal! I had tried to make pumpkin marshmallows by adapting a basic fruit marshmallow recipe and they were a total failure, so I was very excited that this recipe worked so well. I have noticed that for other marshmallow recipes I make the texture seems to get significantly worse after only a few days, even though the recipes say they will keep for a few weeks. With the pumpkin marshmallows they seem to be holding up well. I put some aside to test their longevity, and have been trying a little piece each day. So far, on day four they are just as good as fresh. Very exciting for the possibilities of mailing them as gifts. I can't wait to try all the other recipes in this book. The next one I have my eye on is a honey lavender marshmallow. As soon as I get some lavender I will be whipping up the magic that is marshmallows in this tantalizing flavor.
Pumpkin-Spice Marshmallows
Adapted from Marshmallows: Homemade Gourmet Treats by Eileen Talanian
Ingredients 
1 cup pumpkin puree, fresh or canned 
½ cup cold water 
¼ cup powdered gelatin
½ cup cold water 
¼ cups corn syrup 
¼ teaspoon salt 
2 cups granulated sugar
½ teaspoon ground ginger 
½ teaspoon ground cinnamon 
¼ teaspoon ground cloves
2 tablespoons + 2 teaspoons cornstarch 
½ cup confectioners' sugar 
additional sprinkling of cinnamon and ginger to taste
Preparation
1. Lightly spray a standard baking sheet with non-stick cooking spray, then rub gently with a paper towel to distribute the spray and leave just the merest sheen of oil on the sheet. Similarly, lightly spray a large offset spatula and set beside the prepared tray.
2. Combine the first three ingredients in a medium bowl and mix until well blended and smooth. Set aside.
3. Combine second quantity of water, corn syrup, salt and sugar in a 4-quart saucepan and place over medium heat. When mixture boils, brush down the sides of the pan above the upper surface of the syrup with a clean, moistened pastry brush, or cover the pot with a lid for two minutes to allow the condensation to dissolve any lingering crystals.
4. Place a candy or instant read thermometer into the syrup and continue to cook, without stirring, until syrup reaches 255F (hard ball). Remove pan from heat and carefully stir in pumpkin-gelatin mixture.
5. Pour this mixture into the bowl of an electric stand mixer fitted with the whisk attachment. Quickly cover bowl with loosely draped plastic wrap or a clean kitchen towel in order to avoid splatters, and gradually increase the mixer speed to "high".
6. Whip mixture for 10 minutes. At the beginning of the final minute of whipping, sprinkle in ginger, cinnamon and cloves and continue to whip.
7. Scrap mixture into prepared pan and spread out smooth with oiled offset. Set marshmallow aside, uncovered, at room temperature for at least 4 hours or over night before cutting.
8. Before cutting the marshmallow, sift the corn starch, confectioners sugar and the remaining spices together into a medium mixing bowl. Cut marshmallows with a lightly oiled knife or pizza cutter and break into individual pieces. Toss with cornstarch mixture to completely coat, shaking off excess as much as possible. Store in an airtight container with the lid slightly ajar for up to two weeks. (this is what the recipe says, I can only vouch for four days so far)
Sorry no pictures of the finished marshmallows, I don't have the charger to my camera's battery and it is dead until I find it or get a new one.
Recipe Updates – Delivered Fresh!
Thank You For Printing This Recipe! Visit Us Again Soon!
Recipe Page: http://www.couldntbeparve.com/recipe/perfect-book-for-me/