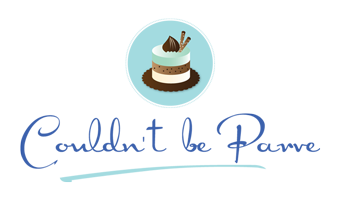 Peppermint Ice Cream
December 10, 2009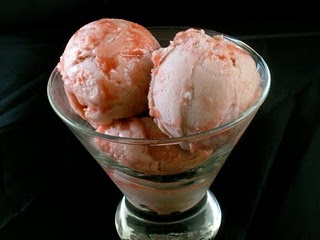 One of my favorite holiday treats is peppermint ice cream. Okay, I admit that it might be one of my favorite treats year round, but there is something about the limited edition peppermint ice cream appearing on the supermarket shelves that makes it feel like the holidays. The cooling taste of peppermint in a creamy base with a bit of crunch from the candy always makes me smile. A true love of peppermint ice cream is something I share with my sister, even though we often have different preferences when it comes to dessert. When she was having a bad day and her boyfriend brought her peppermint ice cream instead of flowers we knew he was a keeper.
This homemade parve version means that not only can I enjoy this treat after any meal, it is not limited to December. Trust me, it is as welcome on a hot summer day as it is after a holiday meal.
This ice cream is great on its own (and it makes a deliciously refreshing milkshake), but a bit of hot fudge sauce on top would be a truly decadent addition.
Peppermint Ice Cream
Makes 1 quart
3 cups almond milk (I used Almond Breeze unsweetened original)
1 cup soy milk powder
1/2 cup vegetable oil
3/4 cup sugar
small pinch of salt
6 large egg yolks
1/2 teaspoon vanilla
1 1/4 teaspoons peppermint extract
a few drops red food coloring (optional, I use these natural ones)
1 cup crushed peppermint candy (about 8 regular sized candy canes. To crush place them in a sealable bag and hit with a rolling pin)
Place the egg yolks in a medium bowl and whisk to combine. In another medium bowl combine one cup of almond milk, the vanilla extract, and the peppermint extract. Set a fine mesh strainer on top. In a medium saucepan whisk together remaining two cups of almond milk, soy milk powder, oil, sugar and salt. Heat the mixture until quite warm but not quite boiling.
Slowly stream the warm mixture into the egg yolks while whisking constantly. Scrape the warmed yolk mixture back into the pan and cook over medium heat stirring constantly with a heatproof spatula. Make sure to scrape the bottom of the pan with the spatula while stirring. Cook until the mixture thickens and coats the back of the spatula (160 degrees). Pour the custard through the strainer into the almond milk mixture. Add food coloring, if desired, and stir to combine. Place the bowl over an ice bath and stir until cool.
Chill the mixture thoroughly in the refrigerator and then freeze in a ice cream maker according to the manufacturers instructions. Transfer the ice cream to a freezer container and fold in the peppermint candy. Place ice cream in freezer until firm.
Note: The ice cream will get harder as it sits in the freezer so if not serving it freshly churned let it sit out for 10-15 minutes to soften it before serving for the best texture.
Recipe Updates – Delivered Fresh!
Thank You For Printing This Recipe! Visit Us Again Soon!
Recipe Page: http://www.couldntbeparve.com/recipe/peppermint-ice-cream/