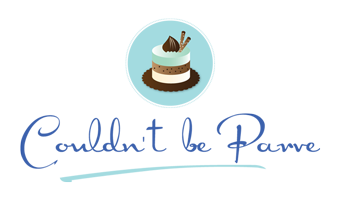 Peppermint Cookie Bark
December 22, 2011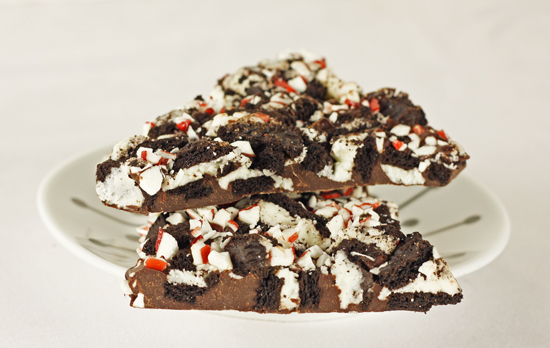 [donotprint] Even though I don't celebrate Christmas I wholeheartedly look forward to the sweets of the season. Gingerbread, eggnog, and peppermint flavored cookies and candy, I love it all. My absolute favorite, though, is peppermint bark. While in theory there isn't really a season for peppermint, it just doesn't quite feel right to make peppermint bark in July. (Peppermint ice cream, however, is a whole different story.) Every year I vary the candy I make to give out as holiday gifts, but the one thing that is constant from year to year is the peppermint bark.
This bark is a variation on the traditionally peppermint bark I usually make. Instead of a layer of white chocolate this bark gets its creaminess from chopped chocolate sandwich cookies instead. It doesn't look like much in the pictures, but this bark is absolutely delicious. Even better it is super quick to whip up a batch, which is a good thing given how quickly it disappears.
This year I was very thrilled to find bags of this crushed peppermint candy made by Atkinsons in one of the local grocery stores. Certified kosher, not only does it save all the time of unwrapping and crushing candy canes myself, it is made with natural food coloring instead of the artificial one in the candy canes. Since I try to avoid artificial colors as much as possible needless to say I was very excited. I bought six bags so I would have mint bits on hand for the rest of the year. Perhaps that was overkill, but with barks like this one just begging to be made I think I will find plenty of ways to use them up.
[/donotprint]
[print_link]
Peppermint Cookie Bark
Makes approximately one pound
12 cream-filled chocolate sandwich cookies, coarsely chopped*
1/2 cup (60g) crushed peppermint candy
10 oz bittersweet chocolate
a few drops peppermint oil, optional
*if making the bark gluten-free use gluten-free sandwich cookies
Tape a piece of parchment paper to a large cookie sheet (this will keep the bark from curling as it hardens). Melt or temper the chocolate. (Here is a great tutorial on how to temper chocolate) With tempered chocolate the bark will have more of a snap and can be kept at room temperature. If using untempered chocoalate the bark will need to be stored in the refrigerator.
If using the peppermint oil stir it into the chocolate. (It should taste slightly minty but not overly so. Different peppermint oils have different strengths so start with just a drop and add more until it minty enough.) Pour the melted chocolate onto the parchment paper. Using an offset spatula spread the chocolate until it is about a quarter inch thick. Sprinkle the chopped cookies and peppermint candy. Press down gently on top of the cookies and candy to make sure they stick to the chocolate. If using tempered chocolate, let it set at room temperature. If untempered refrigerate until set.
Once the chocolate is set break the bark into pieces. Store in an airtight container.
Recipe Updates – Delivered Fresh!
Thank You For Printing This Recipe! Visit Us Again Soon!
Recipe Page: http://www.couldntbeparve.com/recipe/peppermint-cookie-bark/