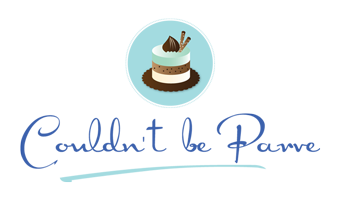 Peppermint Brownie Ice Cream Sandwiches
July 15, 2012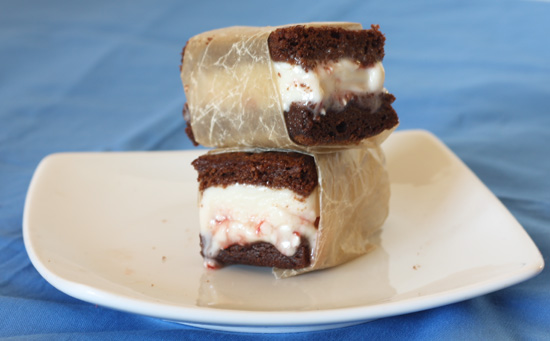 There is something about ice cream sandwiches that always makes me smile. While ice cream served in a dish with cookies on the side is delicious, there is something about spreading those same cookies with the ice cream and turning them into a sandwich that makes it so much more fun. Not surprisingly my children love ice cream sandwiches, but I actually find that when I serve homemade ice cream sandwiches the adults are more excited than the kids. Since they are so much fun I knew I wanted to post an ice cream sandwich recipe for the first Kosher Recipe Link Up,
I am very excited to be a part of this first Kosher Recipe Link Up. Once a month a bunch of Kosher bloggers will all be posting recipes on the same day as a way of learning and sharing from one another. The links to all the recipes will be included in the post so that you can check out all the great recipes.
This month the topic was frozen desserts, something right up my alley. Since things have been insanely busy for that last month I wanted to make something quick and easy, so I took some shortcuts by using store bought ice cream and a brownie mix. Even with the shortcuts everyone thought these were some of the most delicious ice cream sandwiches they had ever had. With summer only half way over I am sure there will be a lot more ice cream sandwiches in our future, but I am sure that these will make a reappearance.
While I am tinkering around with more delicious ice cream sandwich recipes check out these great recipes for frozen treats by everyone else in the Kosher Connection.


Peppermint Brownie Ice Cream Sandwiches
These refreshing peppermint ice cream sandwiches used boxed brownie mix and store bought ice cream to make the preparation quick and easy. Feel free to substitute your favorite homemade cake style brownies and/or homemade peppermint ice cream instead*. For this recipe you will need a brownie recipe that makes a 9 x 13 pan.
1 box fudgy brownie mix, 9 x 13 pan size
3 eggs
¼ cup coffee liqueur
½ cup oil
1 quart vanilla parve ice cream
½ teaspoon peppermint extract
1 ½ c (180g) crushed peppermint candy
Preheat the oven to 350. Line a half sheet pan with parchment leaving a one inch overhang on each end and spray the sides well with cooking oil. Combine the brownie mix, eggs, coffee liqueur and oil and mix well. Pour into the prepared pan and spread evenly. Bake for 18-22 minutes, or until a tester comes out with moist crumbs. Let the brownie cool completely then place the pan with the brownie in the freezer. Freeze until firm, approximately 20 minutes.
Soften the parve vanilla ice cream slightly. The easiest way is to place it in the bowl of a stand mixer and use the paddle attachment to mix it for a minute or so. Once the ice cream is slightly soft add the peppermint extract and mix until thoroughly combined. Stir in the crushed peppermint candy.
Remove the brownie from the freezer and cut in half. Place one half of the brownie on a large piece of plastic wrap (it should be at least twice as big as the brownie piece). Spread the ice cream evenly on the brownie. Top with the remaining brownie half and press down well. Wrap tightly with plastic wrap and return the brownie ice cream sandwich to the freezer. Freeze until solid, at least two hours.
Remove the frozen ice cream from the freezer and cut into individual ice cream sandwiches. Wrap each one tightly in saran wrap and return them to the freezer until serving.
*If using homemade peppermint ice cream in the recipe omit the peppermint extract and reduce the peppermint candy to 1/2 cup (60 g)
Recipe Updates – Delivered Fresh!
Thank You For Printing This Recipe! Visit Us Again Soon!
Recipe Page: http://www.couldntbeparve.com/recipe/peppermint-brownie-ice-cream-sandwiches/