Pecan Pie Hamentashen
February 14, 2013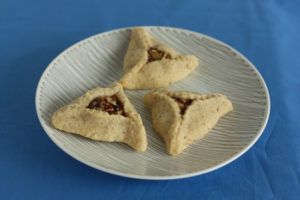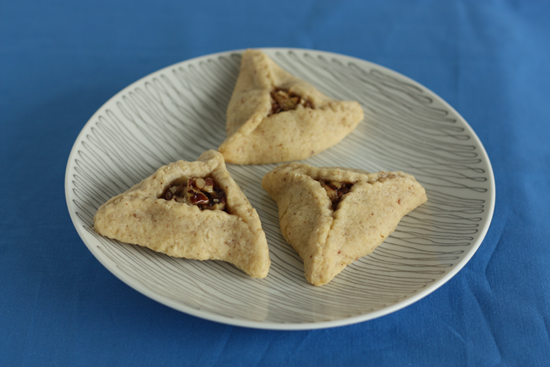 Pecan Pie is one of my favorite desserts. I love the sweet buttery custard and the crunch of the pecans offset by a perfectly flaky crust. In fact I love all forms of sticky pecan desserts. Pecan bars, pecan tarts, sticky bun french toast, the sweet sugar and crunch nuts get me every time. That is why when thinking about creative hamentashen ideas pecan pie was one of the first things that came to mind.
These hamentashen perfectly capture all the wonderful characteristics of pecan pie in an easy to eat triangular cookie. They are a welcome variation on the standard hamentashen flavors. I like to add a few interesting hamentashen to the assortment I give away just to keep people guessing. These are some of the most popular. I posted these hamentashen last year on Joy of Kosher but I wanted to make sure to post them here as well. I have been playing with all kinds of different fillings this year but these are definitely one of my favorites.
Recipe Updates – Delivered Fresh!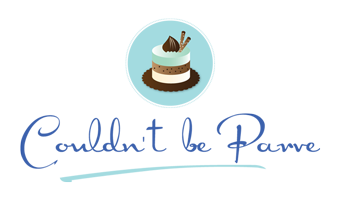 Ingredients & Instructions
Ingredients & Quantities
For Dough*
1/2 cup (4 oz) margarine, cut into 8 pieces
1/2 cup (4 oz )shortening, cut into 8 pieces
3 cups(13.5 oz, 380 g) flour
1 1/2 teaspoons baking powder
1/2 teaspoon salt (scant 1/2 teaspoon if using salted margarine
1 cup (7.5 oz) sugar
1/2 cup (2 oz) chopped pecans
2 beaten eggs
1 teaspoon vanilla extract
2-4 tablespoons ice water
1 egg + 1 tablespoon water, lightly beaten
Pecan Pie Filling
6 tablespoons margarine
3/4 cup (3 oz) powdered sugar
4 1/2 tablespoons corn syrup
pinch salt (omit if using salted margarine)
1 1/2 teaspoons vanilla extract
1 1/2 teaspoons bourbon
1 cup plus 2 tablespoons (4.5 oz) finely chopped pecans
*to make these hamentashen gluten free use this dough instead, omitting the orange from the dough.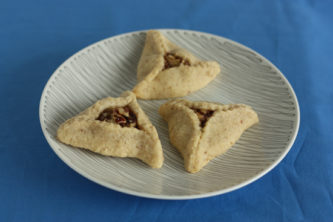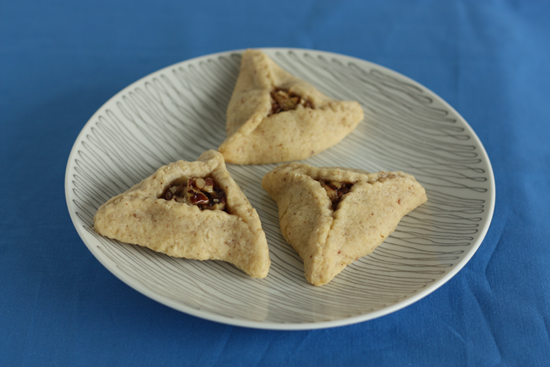 Preparation Instructions
To make the dough
Pulse the dry ingredients in the food processor until well combined. Add the margarine and shortening and pulse until mixture resembles a coarse meal. Add the beaten eggs and pulse until combined.
Remove the mixture from the food processor and pour into a large bowl. Sprinkle with two tablespoons of ice water and mix until it comes together into a ball. If the dough seems too dry add the remaining water one tablespoon at a time until the dough just comes together.
Divide the dough into two disks, wrap each disk in plastic wrap and refrigerate for one hour.
While the dough is chilling make the filling.
Place the margarine a small saucepan and melt over medium-high heat. Once the margarine is melted strain in the powdered sugar, corn syrup, and salt. Bring to a rolling boil and remove from the heat. Stir in the vanilla, bourbon and pecans and chill until firm.
Working with one disk of dough at a time roll out the dough. It is easiest to roll the dough out between two pieces of parchment paper. If the dough gets sticky while working with it place the parchment paper on a cookie sheet in the freezer for a few minutes. Cut the dough into circles, using a round cutter. Fill each circle with a small amount of filling. (For 2 inch circles use about a teaspoon of filling).
Be careful not to overfill the hamentashen or they will burst open in the oven. Also, if there are any holes in the dough the filling will leak out in the oven so patch any cracks in the side of the hamentashen before baking. Brush each circle with the egg wash and fold two sides together, pinching tight to make a corner. Fold up the remaining side to make a triangle with the filling showing in the middle and pinch the other two corners well. It is important that they are well pinched, so that they do not come open in the oven.
Bake at 350 until they are slightly firm to the touch, about 11 minutes. Transfer to cooling rack and let cool completely.
Thank You For Printing This Recipe! Visit Us Again Soon!

Recipe Page: http://www.couldntbeparve.com/recipe/pecan-pie-hamentashen/