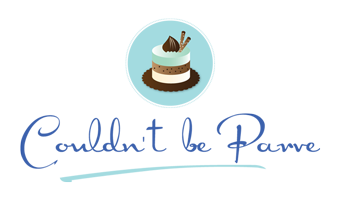 Peanut Butter Blondies with Chocolate Ganache
August 2, 2010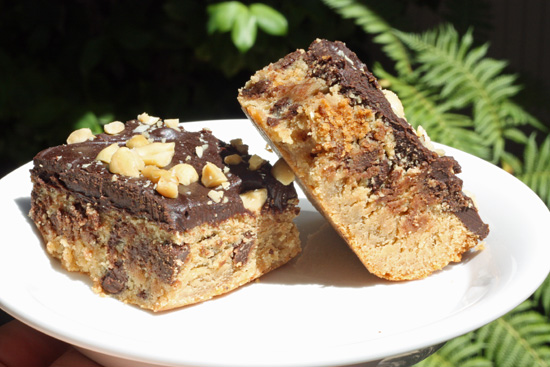 Chocolate and peanut butter are two flavors that are meant to go together. Not that they aren't great individually, or combined with lots of other things, but together they are something special indeed. I always like the combination, but my husband's deep love of anything peanut butter has made me appreciate it even more. I have even been known to sprinkle a few chocolate chips on a peanut butter sandwich for a late night treat.
Last week when I needed to make a dessert to bring to a shiva house I couldn't get the idea of peanut butter blondies out of my head. In the past the peanut butter blondies I had made were somewhat disappointing, but I knew there had to be some good recipes out there. A quick google search lead me to these blondies and knew I had a winner. With chocolate chips mixed into the batter and a chocolate ganache topping, these were the peanut butter blondies I had been thinking about. Since I like a moist, chewy blondie I substituted some of the white sugar in the original recipe for dark brown sugar and was quite happy with the results. The real secret of these blondies is not to overcook them, so it is important to start checking them before the suggested time is up.
Peanut Butter Blondies with Chocolate Ganache
Adapted from Smitten Kitchen
Yield approximately 32
For blondies
2 sticks (1/2 pound) unsalted margarine
1 cup sugar
3/4 dark brown sugar
1 cup creamy peanut butter
2 large eggs plus 1 large yolk
2 teaspoons pure vanilla extract
2 cups all-purpose flour
1 1/2 cups semisweet chocolate chips (9 ounces)
1/2 teaspoon salt
For ganache
1 1/2 cups semisweet chocolate chips (9 ounces)
1/2 cup unsweetened mimiccream
1 tablespoon unsalted margarine, softened
chopped roasted peanuts for topping (optional)
Make blondies: Preheat oven to 350 degrees F with rack in middle. Grease a 13- by 9- by 2-inch baking pan, then line bottom of pan with parchment paper and grease parchment.
Beat together margarine and both sugars with an electric mixer at medium-high speed until mixture is light and fluffy. Add the peanut butter and beat until incorporated. Beat in whole eggs, egg yolk, and vanilla. Reduce mixer sped to low, then mix in flour until just combined.
Mix in chocolate chips (1 1/2 cups) then spread batter in baking pan, smoothing top. (It will be thick, almost like cookie batter.)
Bake until brownies are deep golden, puffed on top and a wooden pick inserted in center come out with some crumbs adhering, 40 to 45 minutes. (Start checking early, it is important that they are not over-cooked. Mine were done in 32 minutes)
Cool completely in pan on a rack, about 1 1/2 hours.
Make ganache: Put remaining chocolate chips in a heatproof bowl. Bring mimiccream to a boil in a small saucepan. This can also be done in the microwave. Pour the hot mimiccreme over chocolate chips and let mixture stand for one minute.
Gently whisk in margarine until it is incorporated, chocolate is melted, and a smooth mixture forms. If there are still lumps of unmelted chocolate heat the mixture in 15 second intervals in a 50% power microwave, whisking after every 15 seconds until smooth and melted.
Spread ganache on cooled brownies and let stand until set, about 15 minutes. (If it is warm out, stick them in the fridge for a few minutes to set the ganache)
Recipe Updates – Delivered Fresh!
Thank You For Printing This Recipe! Visit Us Again Soon!
Recipe Page: http://www.couldntbeparve.com/recipe/peanut-butter-blondies-with-chocolate-ganache/