Peanut Butter and Jelly Sandwich Cookies
January 27, 2011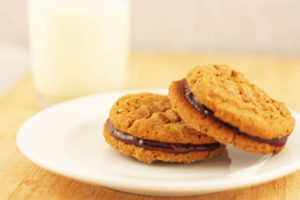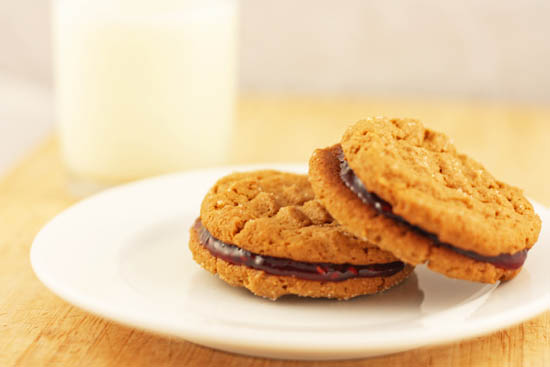 Few flavor combinations are as classically comforting as peanut butter and jelly. There is something about a peanut butter and jelly sandwich that is nourishing and delicious at the same time. These cookies take that classic lunchbox standby and turn it into the perfect afternoon/late night snack to serve with a nice glass of milk. They are quick and easy to make and are sure to bring a smile to the face of any peanut butter loving kid or adult.
I made these cookies using a quick five ingredient peanut butter cookie, but any peanut butter cookie recipe would work. For this recipe it is very important not to overcook the cookies so check on them a bit before they are done. The peanut flavor of the cookies is not super intense so the peanut flavor of the cookies is enhanced by adding a bit more peanut butter in between the cookies.
Recipe Updates – Delivered Fresh!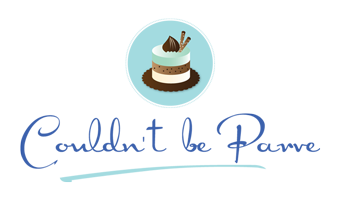 Peanut Butter and Jelly Sandwich Cookies
Ingredients & Instructions
Ingredients & Quantities
1 cup peanut butter, plus additional for making the sandwiches 1 cup brown sugar (a combination of white and brown works well too) 1 egg, lightly beaten 1 teaspoon baking soda 1 teaspoon vanilla
Filling
peanut butter strawberry or raspberry jam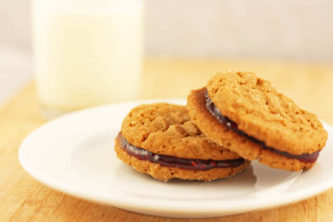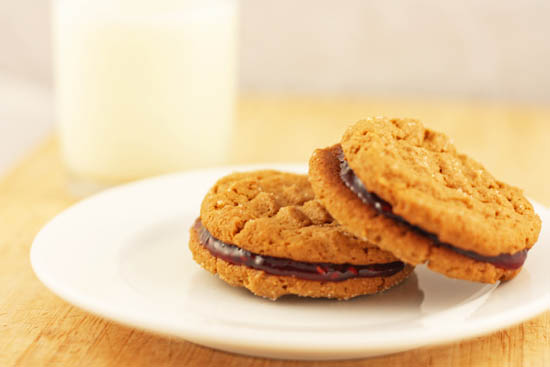 Cooking Instructions
Combine all of the cookie ingredients in a large bowl and stir well. Scoop out teaspoon sized balls of cookie dough and space them two inches apart on the cookie sheets. Using a fork dipped in sugar gently press the cookies down. Rotate the fork and press again to make the classic peanut butter cookie pattern. The dough is quite sticky so it is important to keep re-sugaring the fork to keep it from sticking. Bake the cookies for 10-12 minutes, or until lightly set and browning around the edges. The tops should still be light.
Remove pans from the oven and let cool for a couple of minutes. Transfer cookies to a cooling rack and let cool completely.
Turn half of the cookies over and spread the bottoms with a thin layer of peanut butter. Top with a teaspoon of jam and spread almost to the edges of the cookie. Top with remaining cookies.
Preparation Instructions
Preheat the oven to 350. Line two large cookie sheets with parchment paper.
Recipe Yield
Approximately 13 cookies
Thank You For Printing This Recipe! Visit Us Again Soon!
Recipe Page: http://www.couldntbeparve.com/recipe/peanut-butter-and-jelly-sandwich-cookies/