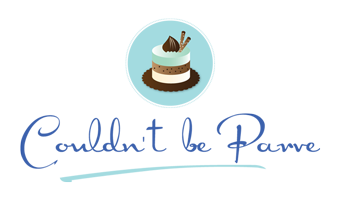 Peanut Brittle
December 19, 2010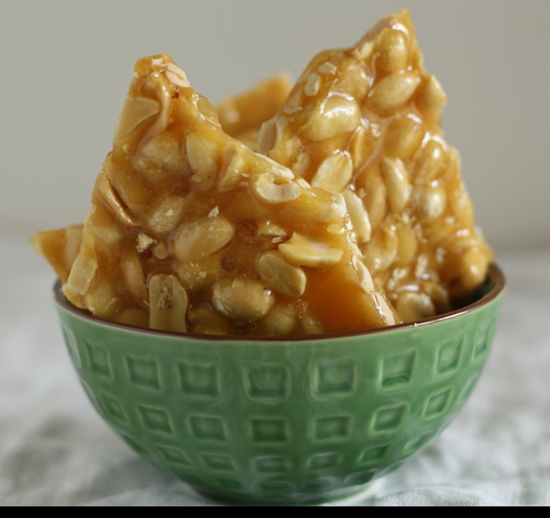 Since my kitchen could be mistaken for a candy factory this time of year it takes very little prodding to get me to make "just one more" kind of candy. There is nothing I like making more than candy, which means I often end up with more candy than people to give it to. In fact, I have so much candy right now that I have decided to serve an assortment of candies along with small panna cottas this Shabbat rather than making a larger dessert like a cake. This peanut brittle will be among the assortment I am serving. When I saw the beautiful pictures of it on the Brown Eyed Baker I knew I had to make some.
Peanut brittle is not something I used to pick out of a selection of candies. I tend to lean towards caramels or mints or fudge, and would always pick those if given a choice. However my husband loves peanut brittle, and enough stolen bites of his candy selections has changed my mind. There is something satisfyingly addictive about crunchy nuts surrounded by the sweetness of caramelized sugar. Lightened with a bit of baking soda, this recipe for peanut brittle has the perfect texture and is one of the best I have tasted. The original recipe said that the candy would keep in an airtight container for several weeks. If you want it to last that long I would recommend hiding that container somewhere harder to get to than the kitchen counter, or a piece may disappear every time someone walks by.
I didn't have the salted peanuts called for in the recipe, and used unsalted ones instead. To compensate I added 1/2 teaspoon of fleur de sel along with the margarine and the baking soda and thought the brittle had the perfect balance of sweet and salt, so feel free to use whatever peanuts you have in making the brittle.
Homemade Peanut Brittle
(adapted from Brown Eyed Baker)
Yield: About 1½ pounds
2 cups granulated sugar
1 cup water
½ cup light corn syrup
½ teaspoon coarse salt
2 tablespoons margarine
½ teaspoon baking soda
3 cups salted dry-roasted peanuts (about 1 pound)
Line a rimmed baking sheet with a silpat mat or parchment paper lightly coated with cooking spray.
In a medium saucepan, combine sugar, water, corn syrup and salt. Bring to a rapid simmer over medium-high and cook until deep golden, about 20 to 25 minutes. Remove pan from heat. Stir in margarine, baking soda, and peanuts (mixture will foam). Stir until mixture is no longer bubbling and caramel is smooth, 1 minute.
Transfer to the prepared baking sheet and spread with a lightly greased spatula. Let cool until firm, 15 minutes. Break into pieces.
The brittle can be stored in an airtight container at room temperature for up to 3 weeks.
Recipe Updates – Delivered Fresh!
Thank You For Printing This Recipe! Visit Us Again Soon!
Recipe Page: http://www.couldntbeparve.com/recipe/peanut-brittle-2/