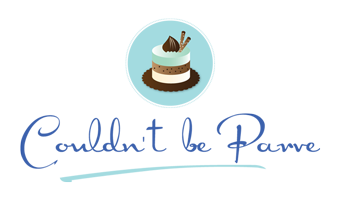 Peach Blueberry Cake
September 3, 2009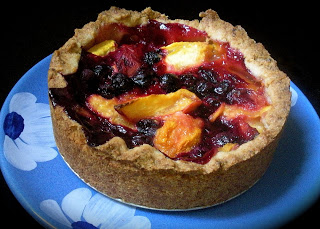 A little while ago, as I was looking up the recipe for
blueberry lemon jam
in my files, this recipe for peach blueberry cake caught my eye. Since I am making a real effort to try the recipes I have already saved rather than always searching for new ones I knew that I needed to make this before the bountiful berries and peaches of the summer disappeared into the apples of fall. I am glad I did. This recipe is definitely a keeper.
It is called a cake but I think that description is a bit dubious. It is simply crust that is pressed into a springform pan and then filled with a fresh fruit mixture. That seems more pie like to me, but it is made in a cake pan and comes out cake shaped so call it what you like. No matter what you call it, you should absolutely make it because it is delicious and much easier than rolling out pie crust. I added a bit of almond extract to the crust because I love the combination of stone fruit and almonds, but the original recipe did not have that so feel free to leave it out. Since we weren't having company for shabbat and it was just for us I cut the recipe in half and used a 6 inch springform which worked great. The baking time is shorter, so start checking at about 1 hour.
Peach Blueberry Cake (adapted from epicurious.com)
Serves 8
For crust:
1 1/2 cups all-purpose flour
1/2 cup sugar
1 teaspoon baking powder
1/4 teaspoon salt
1 stick (1/2 cup) frozen margarine, cut into 1/2 inch cubes
1 egg (if making half a recipe just use the yolk)
1 teaspoon vanilla
1 teaspoon almond extract
For Filling:
1/2 cup sugar
2 Tablespoons all-purpose flour
1 Tablespoon tapioca flour (or grind quick-cooking tapioca in a spice grinder with a bit of the sugar)
2 lbs firm-ripe large peaches (about 4), halved lengthwise, pitted and each half cut into fourths
1 cup blueberries
1 Tablespoon fresh lemon juice
Pulse together the flour, sugar, baking powder and salt in a food processor until combined. Add margarine and pulse just until mixture resembles coarse meal with some small butter lumps. Add egg, vanilla, and almond extract and pulse just until dough clumps and begins to form a ball, about 15 pulses.
Press dough onto bottom and evenly 3/4 of the way up the side of a 9 inch springform pan with floured fingertips. Chill until firm, about 10 minutes
Make the filling while the crust chills.
Put a rack in the middle of the oven and preheat to 375.
Combine sugar, flour and tapioca flour in a large bowl and stir to combine. Add peaches, blueberries and lemon juice and gently toss to coat. Spoon filling into crust and bake, loosely covered with a sheet of foil until the filling is bubbling in the center and the crust is golden, about 1 3/4 hours.
Transfer the pan to a cooling rack and cool uncovered for 20 minutes, then carefully remove the side of the pan. Cool the cake to barely warm or room temperature before serving.
Recipe Updates – Delivered Fresh!
Thank You For Printing This Recipe! Visit Us Again Soon!
Recipe Page: http://www.couldntbeparve.com/recipe/peach-blueberry-cake/