Passover Granola
March 21, 2012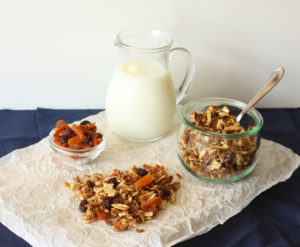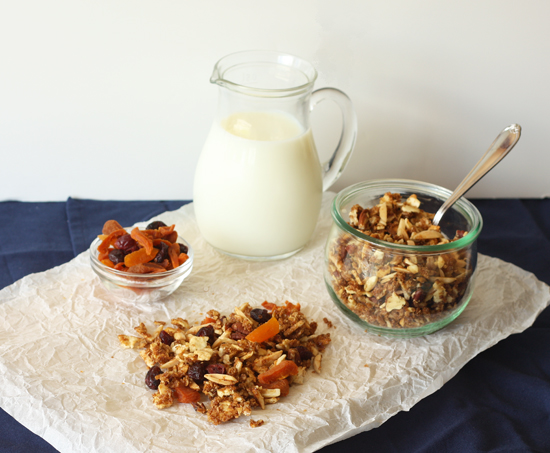 The holiday of Passover is called many things. It is Chag Ha'Aviv, the Spring Holiday, Z'man Cheiruteinu, the Time of our Freedom, and Chag Ha'Matzaot, the Holiday of Matzah. I think it should also be called the Holiday of Eggs, because the number of eggs we consume over Pesach is sheer insanity. Last year I purchased more than 14 dozen eggs and we ran out. And we are talking about an eight day holiday! (In our defense we did have 60 people for seders so we didn't eat all those eggs ourselves.) I once made a Passover chocolate cake that called for 17 eggs. And it made an 8 x 8 inch pan! Because of the overabundance of eggs on Pesach I often do not want to eat more eggs for breakfasts, even though most of the year that is one of our breakfast standbys. Sure, I will make Matzah brei a couple of times but for the most part we tend to stick to simpler breakfasts throughout the week.
Since my kids often want to eat cereal, and most packaged Passover cereal is truly awful, I have started making my own. While warm quinoa cereal is always a big hit (especially with extra honey drizzled on top) I also like to have something crunchy we can sprinkle on yogurt or just snack on throughout the week. This granola really hits the spot! It has a high proportion of nuts to matzah, which I like, but feel free to use less nuts if you want. It is highly adaptable. Throw in a few chocolate chips (after it has cooled if you want them to stay separate, right after taking it out of the oven if you want chocolatey clumps) and it makes a great trail-mix style snack to pack in lunches or take on the go throughout the week.
Recipe Updates – Delivered Fresh!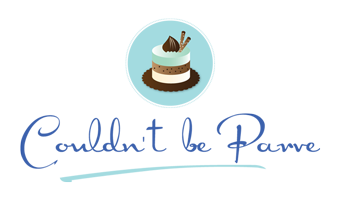 Ingredients & Instructions
Ingredients & Quantities
1 1/2 cups matzah farfel*
1/2 cup (60 grams) pecans, coarsely chopped
1/2 cup (60 grams) sliced almonds
1/2 cup (40 grams) unsweetened ground or shredded coconut
2 teaspoons cinnamon
pinch salt (omit the salt if using gluten-free matzah since it is salted)
3 tablespoons (60 grams) honey
1/4 cup (56 grams) dark brown sugar
2 tablespoons (28 grams) oil
1 cup assorted dried fruit, cut into small pieces
*For gluten-free and non-gebrotz granola use
Yehudah Gluten-Free Matzah-Style Squares
broken into farfel sized pieces. 1 1/2 cups is approximately 3 sheets.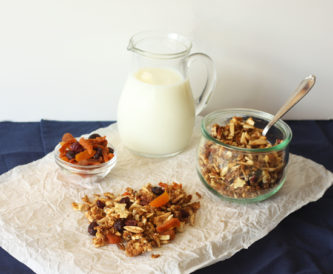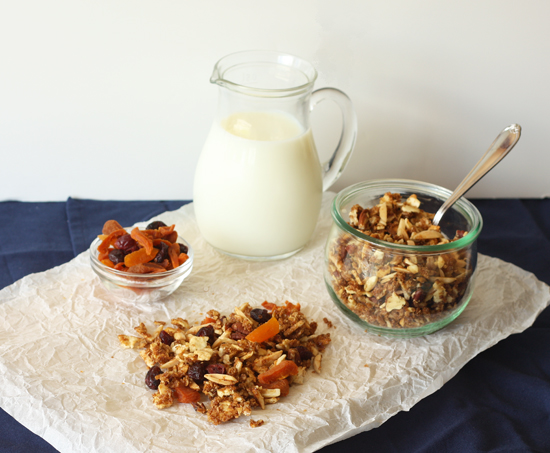 Preparation Instructions
Preheat the oven to 325.
Combine the matzah farfel, nuts, coconut, cinnamon and salt in a large bowl. Stir until well mixed. Combine the honey and brown sugar in a small pan and gently heat until the honey is very liquidy. Whisk until the sugar is dissolved. (This can also be done in the microwave. Microwave on high for 30 seconds then whisk well.) Whisk in the oil. Pour the honey mixture over the farfel mixture and stir until well combined.
Pour the mixture onto a parchment lined baking sheet and bake for 15 minutes, stirring frequently to keep it from burning. It will be slightly golden when it is done but not yet crispy. (It crisps as it cools) Remove from the oven and stir in the dried fruit.
Thank You For Printing This Recipe! Visit Us Again Soon!
Recipe Page: http://www.couldntbeparve.com/recipe/passover-granola/