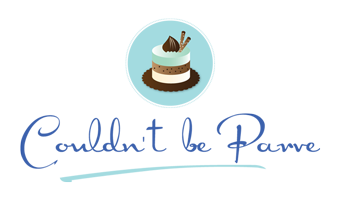 Passion Fruit Ganache Tarts
February 25, 2012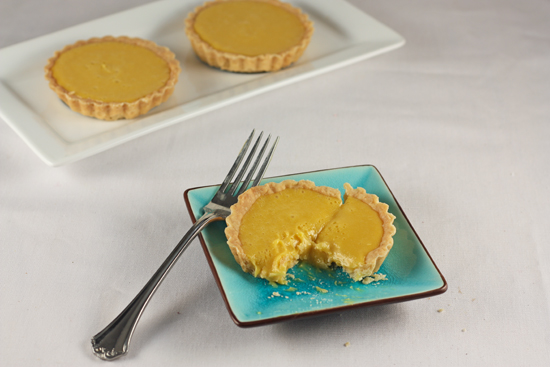 One of my favorite flavors is passion fruit. It is tart, refreshing and positively bursting with flavor. If passion fruit is an option in a dessert lineup there is a high probability that is what I will choose. I always have passion fruit puree in my freezer since I serve these marshmallows as part of my candy assortment almost every Shabbat. It is a great way to add a bit of sunshine to dessert even in the midst of winter (although this year I have to admit we haven't gotten much of a winter to speak of).
White chocolate goes really well with passion fruit because the sweetness of the chocolate tempers the tartness of the passionfruit leaving a deliciously balanced dessert. Generally I don't like to use parve white chocolate (especially ones labeled "decorating chips") since they taste pretty much like sweet wax, but when used judicially the Oppenheimer white chocolate chips can yield delicious results. These luscious tarts have a shatteringly crisp tart shell filled with a soft creamy passion fruit ganache that is utterly delicious. Better than the sum of its parts this is a dessert to remember. No one will ever believe that not only are these tarts dairy-free, they are vegan too!
Passion Fruit Ganache Tarts
Makes 6 4-inch tarts
Tart Crusts
½ c refined coconut oil
, melted
6 tbs sugar
pinch salt
1 oz coconut milk or other non-dairy milk
1 tsp vanilla
1 ½ cup (7 oz) flour
six 4-inch tart pans with removable bottoms
Preheat the oven to 350.
Whisk everything together except flour. Gently whisk in flour until just combined. Roll out the dough between two sheets parchment to approximately 1/4 inch thick. Make sure the dough is no thicker than that or the finished crust will be tough. Cut five inch circles in the dough (if using different sized tart pans cut circles 1-1 1/2 inches bigger than the pans) Carefully place each circle in a tartlet pan with a removable bottom. Gently fit the dough into the pan and trim the excess. If the dough breaks or tears simply press it back together or patch it with extra dough. Roll out the scraps and cut additional circles until all six the pans are lined. (There may be some extra dough, it makes delicious cookies*)
Place all the tart pans on a cookie sheet. Prick the bottoms with a fork and line with foil. Place some pie weights on each pan (dry beans work great). Bake for ten minutes. Remove the foil and return to the oven until the crust is golden brown, another 15-18 minutes. Let cool completely before filling.
*To make cookies from the scraps roll them out and cut shapes using a cookie cutter. Place the cookies on a parchment lined cookie sheet. Brush them with a bit of coconut milk and sprinkle generously with coarse sugar. Bake for 10-12 minutes or until they are starting to brown around the edges and the tops have set. Cool on a cookie rack.
Passion Fruit Ganache (adapted from Sticky Gooey Creamy Chewy)
8 oz Oppenheimer White Chocolate Chips (the brand is important, no other parve white chocolate chips will work the same way)
1/2 cup passion fruit puree
1/4 cup thai style coconut milk
2 tablespoons margarine, room temperature
Place the white chocolate chips in a large bowl. Combine the passion fruit puree and coconut milk and bring them to a boil. Pour the passion fruit mixture over the chocolate chips and let stand for five minutes. Whisk to combine. Add the margarine and, using an immersion blender, mix until smooth and the ingredients are completely combined. Pour into the prepared crusts and chill completely, at least two hours.
Recipe Updates – Delivered Fresh!
Thank You For Printing This Recipe! Visit Us Again Soon!
Recipe Page: https://www.couldntbeparve.com/recipe/passion-fruit-ganache-tarts/