No Stress Challah
November 17, 2009
When people ask me for my challah recipe I don't have a quick easy answer. I have my favorite challah recipe which is the one my family made when I was growing up. That is the recipe I always have to use for my holiday challah. It is a bit of a timing challenge because it needs to rise three times, and it uses margarine which I don't love. Because of that I rarely make it. Instead, I most often use this no stress challah recipe. I still call the other one my favorite for nostalgic reasons, but frankly I'm not sure I wouldn't pick the no stress challah recipe in a taste test instead of my "favorite". It is a great challah recipe, not just because of its convenience, but also because of the wonderful texture and flavor. It is the one I always use in my challah baking classes and the one I recommend to friends.
Quite honestly I am not sure exactly why the recipe works. It is barely kneaded but doesn't require the long overnight rising that other no-knead doughs tend to need. It only rises once, it doesn't need to proof again once the challah is braided. The dough is also extremely quick to throw together, especially if using instant yeast. This Friday, when my little one told me before school that he wanted to "make challah at home", we were able to get the dough made, have breakfast, and still make it to school on time. We put the dough in the refrigerator, and I took it out three hours before we wanted to braid it so that it could come to room temperature and then rise for two hours. I often make the dough the night before and let it rise for just shy of two hours before refrigerating it overnight. This is absolutely the challah to fit into a busy schedule. I hadn't made it in a while but now that I am reminded of it I know I will be making challah more and buying it less. My favorite is the whole wheat version, made with half whole wheat flour and extra honey.
Recipe Updates – Delivered Fresh!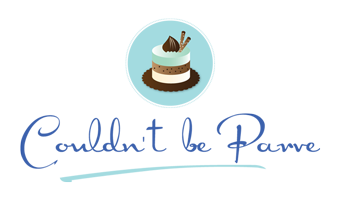 2 Medium Loaves, 2 Small Loaves
Ingredients & Instructions
Ingredients & Quantities
2 tablespoons instant yeast*
6 cups unbleached white flour (more, if necessary) [substitute up to half of the flour for whole wheat or other grain flour]
1 ½ teaspoon salt
3 eggs
2/3 cup vegetable oil
11/4 cup water
½-3/4 cup honey (I recommend using the larger amount for whole wheat)
1 cup raisins or chocolate chips (optional)
1 egg beaten with 1-2 tsp water
sesame seeds, poppy seeds (optional)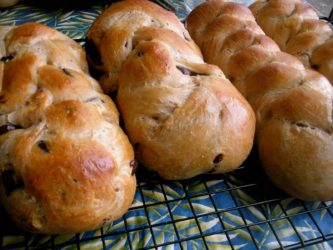 Preparation Instructions
Mix the yeast, flour and salt in the bowl of an electric mixer (this can also be done in a large bowl). Set aside. In another bowl, mix eggs, oil, water and honey.
Add egg mixture to the flour mixture and mix until the dough has come together. If using an electric mixer use the paddle attachment for this, not the bread hook. If necessary, add unbleached white flour as you're mixing. The dough will remain fairly soft, but it shouldn't be sticky.
Turn the dough out onto a counter or a board, and knead it a few times just to smooth it out. Form it into a ball. This "kneading" should not take more than one minute. Place the ball of dough in a large, well-oiled bowl, turning the dough to oil all the surfaces. Cover with a towel and let rise in a warm, non-drafty place for about two hours, or until doubled in size.**
**The dough can be refrigerated at this point for up to 24 hours. Make sure to bring it back to room temperature before braiding.
Cooking Instructions
Preheat oven to 325
Punch down the dough. If raisins or chocolate chips are desired, add them at this point, working them into the dough. To make two medium and two small challah divide the dough into three pieces. Use one piece to make each medium challah and divide the third piece in half to make the two small challot.
Divide each piece of dough into three, roll out into long ropes and braid them together.
Place on a lightly greased baking sheet. Brush the tops of the loaves with the egg and water glaze, then sprinkle with sesame or poppy seeds.
Bake for about 30 to 40 minutes.
Challah is done when both top and bottom are browned and it makes a hollow sound when tapped.
*I like using instant yeast because it can just be mixed in with the other ingredients, but regular active yeast can be used instead by following these steps. Mix together the 2 tablespoons yeast (3 packets) with 3/4 cup of the water from the recipe (it should be quite warm but not hot) and 1 tablespoon brown sugar. Set the mixture aside for 5 minutes. After 5 minutes it should be quite bubbly. Add this mixture to the flour and salt and mix well.
Recipe Yield
2 Medium Loaves, 2 Small Loaves
Thank You For Printing This Recipe! Visit Us Again Soon!
Recipe Page: http://www.couldntbeparve.com/recipe/no-stress-challah/