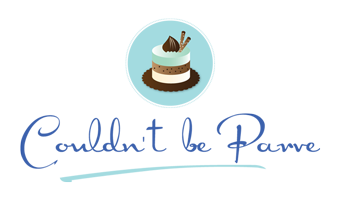 No-No Nanaimo Bars
March 28, 2011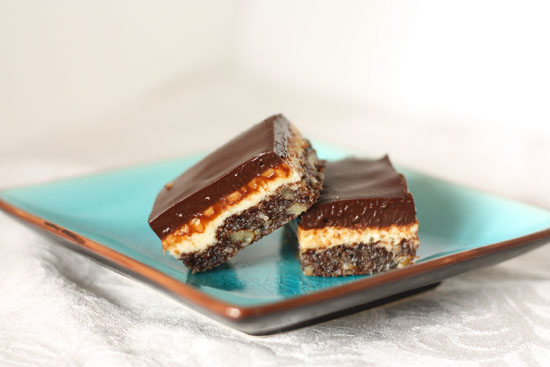 A little more than a year ago I made Nanaimo bars for a Daring Bakers Challenge. I liked the combination of flavors but with the thick layer of buttercream filling they were just a bit too sweet for me. That is why I was intrigued when I came across this recipe by Alice Medrich. Since I absolutely love Alice Medrich and every recipe of hers I have ever tried has been wonderful I knew I had to try them. She describes them as a more grown-up version of traditional Nanaimo bars. This version has a baked cheesecake like layer on top of a crust made with chocolate cookie crumbs, nuts and coconut. The whole thing is topped with a luscious layer of chocolate ganache. The final result is still quite rich, but not quite as cloyingly sweet as the original. The fact that they are baked is sure to offend Nainamo bar purists, but they are so tasty I'm sure they will be won over with just one bite. I prefer them chilled, straight out of the fridge, but they are good at room temperature as well.
I generally try to post only Passover recipes in the month between Purim and Passover in keeping with the tradition of teaching the laws of Passover for those four weeks. These bars are not a Passover recipe, but they were so good I couldn't resist posting them. Besides, these are great for using up the dribs and drabs of things left in the pantry, like that half box of chocolate graham crackers or a partially used bag of coconut or chocolate chips.
Maya's No-No Nanaimo Bars
adapted from Chewy Gooey Crispy Crunchy Melt-in-Your-Mouth Cookies by Alice Medrich (Artisan Books, 2010).
Ingredients
1 1/2 cups (5 ounces) chocolate cookie crumbs (from 9 chocolate graham crackers)*
1/2 cup (1.5 ounces) unsweetened dried shredded coconut
1/2 cup (2 ounces) finely chopped pecans
8 tablespoons (1 stick) unsalted margarine, melted
1/2 cup plus 2 tablespoons (4.375 ounces) granulated sugar
8 ounces tofutti cream cheese, at room temperature
2 tablespoons (0.875 ounce) packed brown sugar
1/2 teaspoon pure vanilla extract
1 teaspoon lemon juice
1 large egg
1/2 cup Thai style coconut milk
7.5 ounces semisweet or bittersweet chocolate with 55% to 60% cacao
*to make this recipe gluten-free use this recipe for the cookie crumbs, substituting margarine for the butter
Equipment
A 9-inch square metal baking pan, the bottom and all 4 sides lined with foil
Preheat the oven to 350°F.
Mix the crumbs, coconut, pecans, margarine, and 1/4 cup of the granulated sugar and pat it very firmly into the lined pan. Bake the crust for 10 to 12 minutes, or until it looks slightly darker at the edges and smells toasted.
While the crust is baking, mix the filling. In a large bowl, beat the softened cream cheese, brown sugar, and 1/4 cup of the remaining granulated sugar until smooth. Beat in the vanilla and lemon juice and then the egg. When the crust is baked, dollop the filling onto the hot crust and spread gently with the back of a spoon. Bake the bars until the edges are slightly puffed, about 10 minutes. Cool on a rack for 30 minutes. Chill for at least 2 hours.
Dissolve the remaining 2 tablespoons granulated sugar in the coconut milk. Bring 1/2 inch water to a simmer in a medium skillet. Coarsely chop the chocolate and combine with the coconut milk in a medium metal bowl. Place the bowl directly in the skillet of hot water and turn off the heat. Let rest for 5 minutes and whisk until smooth. Set aside until needed.
Pour the warm ganache onto the bars, spread, and chill for at least 30 minutes before serving. Lift the bars out of the pan by using the edges of the foil liner. Cut into 16 or 25 squares, wiping the knife between cuts. May be stored in an airtight container in the refrigerator for 3 to 4 days.
Makes 16 large (2 1/4—inch) bars or 25 smaller bars.
Recipe Updates – Delivered Fresh!
Thank You For Printing This Recipe! Visit Us Again Soon!
Recipe Page: http://www.couldntbeparve.com/recipe/no-no-nanaimo-bars/