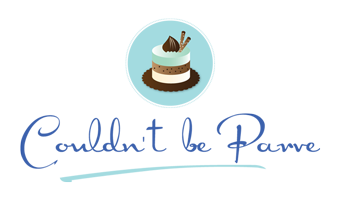 Cranberry and White Chocolate Hamentashen
February 24, 2010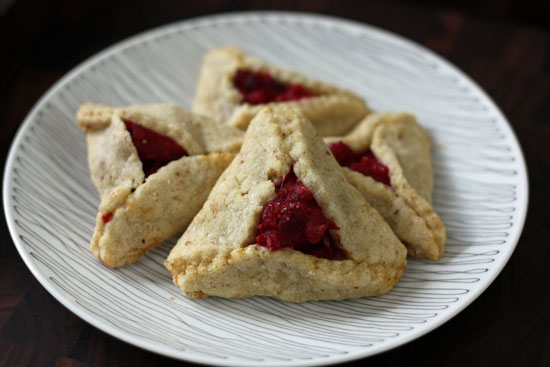 The fall of my senior year of college my roommate went to a New England Cranberry festival and returned with a ten pound crate of cranberries. We, of course, took one look at that huge crate, decided it was not enough, and ordered two more. Then we spent the rest of the year coming up with new and interesting ways to use up the 30 pounds of cranberries in our freezer. All kinds of cranberry sauces and breads. A surprisingly delicious cranberry coconut kugel that became a fast favorite.
We found ways of putting cranberries in everything, so it is not surprising that when purim rolled around we found a home for the cranberries in the middle of a batch of hamentashen.
These hamentashen are quite tasty and I have made them several times since then. The tart cranberry pairs nicely with the sweetness of the cookie and the white chocolate adds a bit of creamy richness. I prefer mixing the white chocolate chips into the filling while it is hot so they melt, but they can also be added after it has cooled so that they stay whole.
Cranberry and White Chocolate Hamentashen
For Dough
1/2 cup margarine, cut into 8 pieces
1/2 cup shortening, cut into 8 pieces
3 cups flour
1  teaspoon baking powder
1/2 teaspoon salt
1 cup sugar
1/2 cup chopped nuts
1 teaspoon orange zest
1 beaten egg
2-4 tablespoons orange juice
1 egg + 1 tablespoon water, lightly beaten
Cranberry White Chocolate Filling
1 12 oz bag cranberries, fresh or frozen
1/2 cup orange juice
6 tablespoons sugar
4 oz white chocolate chips (the only parve ones I will use are Oppenheimer)
Pulse the dry ingredients in the food processor until well combined. Add the margarine and shortening and pulse until mixture resembles a coarse meal. Add the beaten eggs and pulse until combined.
Remove the mixture from the food processor and pour into a large bowl. Sprinkle with two tablespoons of orange juice and mix until it comes together into a ball. If the dough seems dry add the remaining orange juice.
Divide the dough into two disks, wrap each disk in plastic wrap and refrigerate for one hour.
While the dough is chilling make the filling. Place the cranberries, orange juice and sugar in a medium saucepan. Bring to a boil and then reduce the heat and simmer, stirring frequently, until all the cranberries have popped. Remove from heat and add chocolate chips. Stir until they are melted. Let the filling cool to room temperature.
Roll out the dough and using a round cutter, cut into circles. (It is easiest to roll it out between two pieces of parchment paper) Fill each circle with a small amount of filling. (For 2 inch circles use about a teaspoon of filling). Brush each circle with the egg wash and fold two sides together, pinching tight to make a corner. Fold up the remaining side to make a triangle with the filling showing in the middle and pinch the other two corners well. It is important that they are well pinched, so that they do not come open in the oven.
Bake at 350 until they are slightly firm to the touch, about 11 minutes.
Recipe Updates – Delivered Fresh!
Thank You For Printing This Recipe! Visit Us Again Soon!
Recipe Page: http://www.couldntbeparve.com/recipe/more-non-traditional-hamentashen/