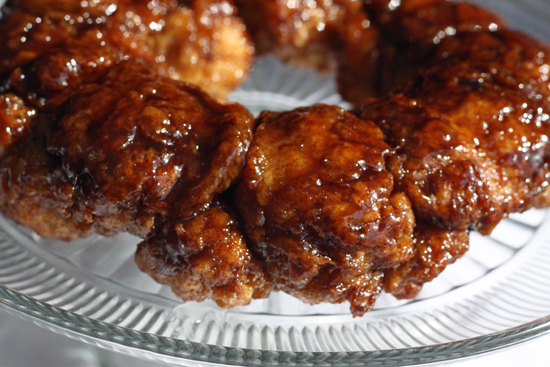 Last week I attempted to make gluten-free challah using the brioche recipe from Healthy Bread in 5 Minutes a Day. Being new to gluten-free baking I didn't realize the difference substituting white rice flour for brown rice flour would have in the end results. I ended up with a huge vat of very sticky dough that baked up into a somewhat flavorless bread. I had also substituted almond milk for the dairy milk called for in the recipe, so perhaps that was part of the problem. Never one to throw food away, I decided to see if I could salvage the dough by turning it into dessert. So I made monkey bread.
For those unfamiliar with monkey bread, it is a sweet bread made by rolling balls of dough in melted butter/margarine and the coating them in cinnamon sugar before baking them in a tube pan. The version I used to make growing up, probably from the Fanny Farmer cookbook, used a biscuit dough. I had seen recipes that used a brioche dough (like this one), and in my opinion that makes an even richer more delicious treat. Really, what could be bad about brioche rolled in butter and sugar and baked until everything is gooey and caramel-y? I had never tried a parve version before, but I have to admit I was quite happy with the results. Everyone at dinner devoured it, and no one even had an inkling that it might be gluten-free to boot!
Because the dough I had was so sticky I just scooped the dough out with a spoon and dropped it into the margarine. I am putting the original recipe for the dough here, without my mistake, so it may be more possible to roll it into a ball. If you do not want to make the monkey bread gluten-free, feel free to use your favorite brioche or challah dough recipe instead.
Recipe Updates – Delivered Fresh!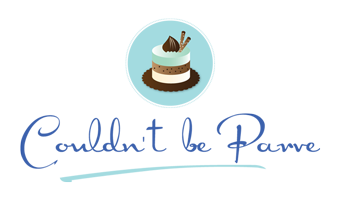 Ingredients & Instructions
Ingredients & Quantities
For Dough
1/2 recipe Gluten-Free Brioche dough (see below)
For Sugar Coating
1 cup packed brown sugar
2 teaspoons ground cinnamon
8 tablespoons unsalted margarine (1 stick or 4 ounces), melted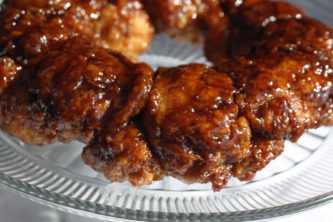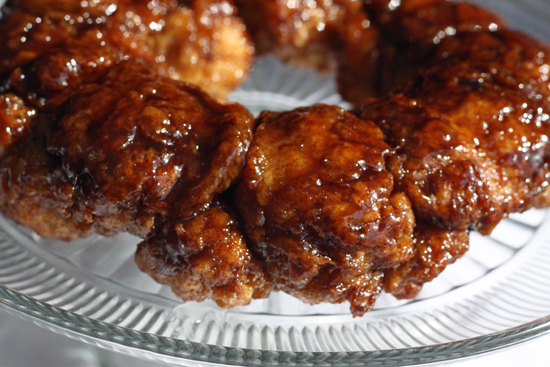 Preparation Instructions
Gluten-Free Brioche Recipe
(From "Healthy Bread in 5 Minutes a Day" by Zoe François and Jeff Hertzberg)
Makes enough dough for three 1.5 pound loaves
I have included the directions for making the bread into loaves of brioche since the monkey bread only uses 1/2 a recipe. If only making the monkey bread you can simply make a half recipe of the dough and skip the final shaping and baking steps. Or make all the dough and make two monkey breads, I won't tell.
1 cup brown rice flour
1 cup tapioca starch (tapioca flour)
3 3/4 cups corn starch
2 tablespoons granulated yeast
1 tablespoon kosher salt
2 tablespoons xanthan gum
2 1/2 cups milk (I used almond milk)
1 cup honey
4 large eggs
1 cup neutral flavor oil, such as canola or vegetable oil
1 tablespoon pure vanilla extract
Egg wash (1 beaten egg with 1 tablespoon water) for brushing on loaf
Raw sugar for sprinkling on top crust
Whisk together the brown rice flour, tapioca starch, cornstarch, yeast, salt and xanthan gum in a 5-quart bowl, or a lidded (not airtight) food container. Combine the liquid ingredients and gradually mix them into the dry ingredients using one of the following: a spoon, a 14-cup food processor (with dough attachment) or a stand mixer with a paddle attachment. Mix just until there are no dry bits of flour. You might need to use wet hands to get the last bits of flour to incorporate if you are not using a machine.
Cover (not airtight!) and allow the dough to rest at room temperature for 2 hours. The dough can be used now, after this initial rise, or it can be refrigerated for up to 5 days – do not store in an airtight container!
On baking day, grease a 8.5″x4.5″ nonstick loaf pan. Use wet hands to break a 1.5 pound piece of refrigerated dough and shape it into a ball. Note: the dough isn't stretched because there's no gluten in it – just gently press it into shape. You might need to wet your hands to keep the dough from sticking and to create a smooth surface. Do not make the dough soggy.
Elongate the dough into an oval and put it in the loaf pan, smoothing the surface with your fingers. Cover loosely and allow to rest for 90 minutes (40 minutes if you are using fresh, unrefrigerated dough).
Preheat the oven to 350°F. Just before putting it in the oven, use a pastry brush to gently paint the top of the loaf with egg wash and sprinkle raw sugar. Bake in the center of the oven for about 40-45 minutes. The loaf is done once it is caramel brown and firm to the touch. Smaller or larger loaves will require adjustments in resting and baking times.
Remove brioche from the pan and allow it to cool on a rack before slicing and eating. If it will not come out of the pan, let it sit for five minutes to allow the loaf time to steam itself loose from the pan. To firm up the outer crust again, place it back in the oven for three minutes to dry out the damp sides.
Cooking Instructions
Spray a tube or bundt pan with non-stick spray and set aside.
Mix together the sugar and cinnamon in a small bowl. Place the melted margarine in another small bowl. Grabbing a small bit of dough at a time (about the size of a golf ball) roll each piece of dough into ball. If the dough is too sticky to roll use a spoon to scoop pieces that are roughly ball shaped and drop them into the margarine. Working one at a time, dip balls in melted margarine, allowing excess butter to drip back into bowl. Using a fork, remove the dough balls from the margarine and drop them into the brown sugar mixture. Layer the balls in the pan, staggering seams where dough balls meet as you build layers. Once all the dough is in the pan press down lightly to make sure they will stick together after baking. (This step is only necessary if using gluten-free dough.)
Cover pan tightly with plastic wrap and place in a warm draft-free place (like a turned-off oven) until dough balls are puffy 50 to 70 minutes.
Preheat oven to 350°F. Unwrap pan and bake until top is deep brown and caramel begins to bubble around edges, 30 to 35 minutes. Cool in pan for 5 minutes then turn out on platter and allow to cool slightly, about 10 minutes.
Monkey bread is best served warm, but it can be made a few hours ahead and then reheated in the oven for a few minutes before serving.
Thank You For Printing This Recipe! Visit Us Again Soon!
Recipe Page: http://www.couldntbeparve.com/recipe/monkey-bread/