Mixed Berry Chia Jam
March 5, 2014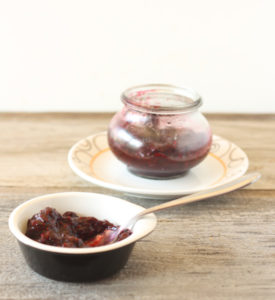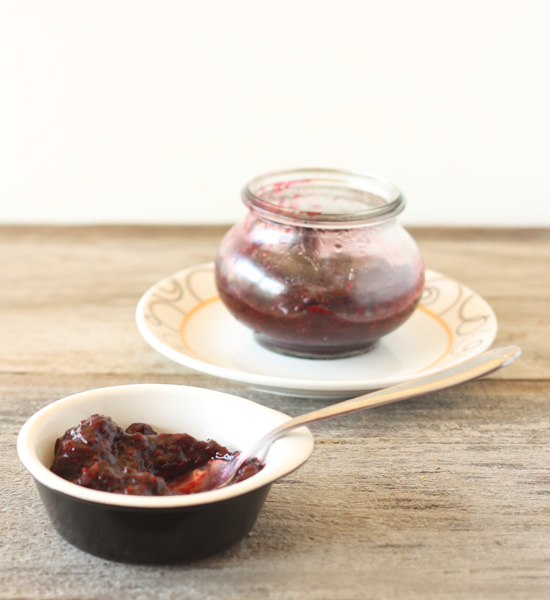 I read a lot of food blogs. I am constantly bookmarking recipes I want to try, things that look delicious, or things that inspire me to create new recipes. Occasionally, though, I come across a recipe that I am not content to just bookmark for later. It just grabs me and I have to make it right now! That is what happened with this jam. When the uber talented Sodium Girl posted a link to this chia jam a few weeks back I knew I had to make it right away. If she loved it, I knew I would too. Fortunately I always have frozen berries in my freezer so less than 30 minutes later I was tasting my jam off a spoon. And it is delicious. It is the perfect low sugar way to add all kind of fruity goodness to anything, from yogurt to toast to grain-and-refined-sugar-free hamentashen (coming later this week).
It is so simple to make and that is part of what makes it so wonderful. The honey flavor compliments the berries and the chia thickens the whole thing to the perfect consistency. The chia seeds are a brilliant way of making a thick jam without having to add a lot of sugar. Traditional jams require a good amount of sugar, or a very long cooking time, to thicken up to the correct consistency. In this recipe the chia provides a good amount of the thickening. This results in a low-sugar jam that still has a fresh fruit flavor that just isn't possible with the long cook time that traditional low sugar fruit preserves require.
Quick, easy, and healthy too, I envision lots of variations of this jam in our future.
Recipe Updates – Delivered Fresh!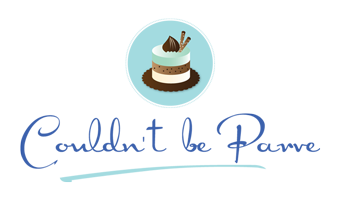 Ingredients & Instructions
Ingredients & Quantities
12 oz mixed frozen berries
3 tablespoons (2.25 oz) honey or maple syrup
1 tablespoon (.5 oz) chia seeds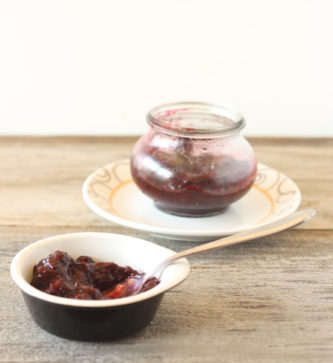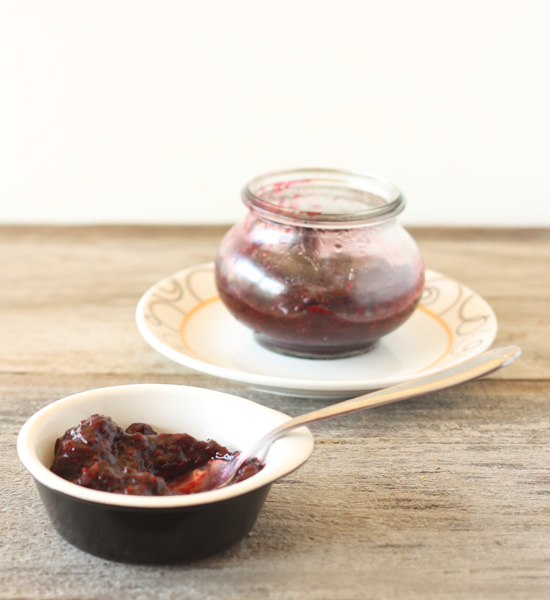 Preparation Instructions
In a medium saucepan, combine the mixed berries and sweetener. Bring to a simmer over medium heat, stirring frequently. Once the berries have thawed and are a bit soft lightly mash the berries with the back of a spoon.
Reduce the heat to medium low. Stir in the chia seeds and cook, stirring frequently, until the jam has thickened to your desired consistency, about 15 to 20 minutes. Once the jam has thickened, remove the pan from heat. Taste the jam and add more sweetener if desired.
Recipe adapted from Cookie and Kate
Thank You For Printing This Recipe! Visit Us Again Soon!
Recipe Page: http://www.couldntbeparve.com/recipe/mixed-berry-chia-jam/