Meyer Lemon, Almond, and Blueberry Bundt Cake
March 8, 2013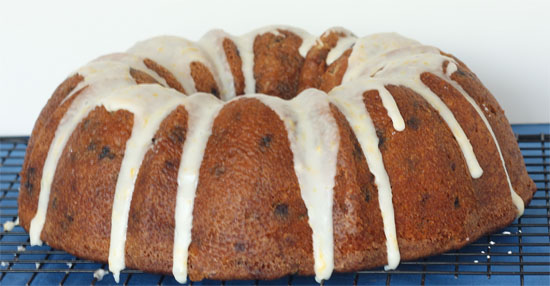 Almond paste is one of my favorite things. I love the sweet almond flavor and use it in as many things as I can. It can get expensive to buy the tiny cans of almond paste they sell in the store so I buy the huge industrial sized can and keep the almond paste in my freezer so that I always have it on hand. Last week when I was cleaning out my freezer to inventory what needed to be used up before Passover I realized that I had some almond paste left and immediately decided to turn it into a cake. Since I also found an open bag of wild blueberries in the freezer I decided to play around with the flavors of my favorite blueberry almond cake and turn them into a bundt cake instead.
This cake is utterly delicious (and much more attractive than the cake that inspired it). The almond flavor is balanced out by the blueberries and lemon to make a cake that tastes like spring. It is great for dessert any time but I think it would be perfect for something like a Mothers' Day brunch or afternoon tea party. I used meyer lemons for this cake because I had a huge bag from a friends tree and I loved what they brought to the cake but it would be delicious with standard lemons as well.
Recipe Updates – Delivered Fresh!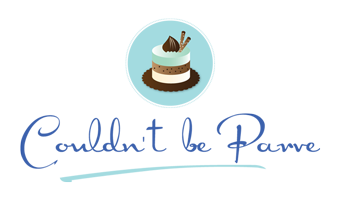 Meyer Lemon, Almond, and Blueberry Bundt Cake
Ingredients & Instructions
Ingredients & Quantities
1 pound almond paste
2 cups (15 oz) sugar
1 1/3 cups (5.75 oz) cake flour + 2 tablespoons, divided
1/2 teaspoon baking powder
1/4 teaspoon salt (omit if using salted margarine)
8 eggs
1 1/4 cup (10 oz) margarine
2 packed tablespoons finely grated Meyer lemon zest
1 1/2 cups (7.5 oz) wild blueberries (frozen is fine, do not defrost)
2 tablespoons Meyer Lemon Juice
1 tablespoon finely grated Meyer lemon zest
1 1/3 c (5.3 oz) confectioners sugar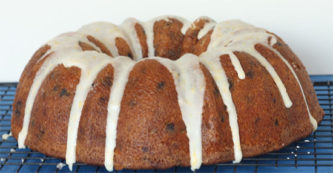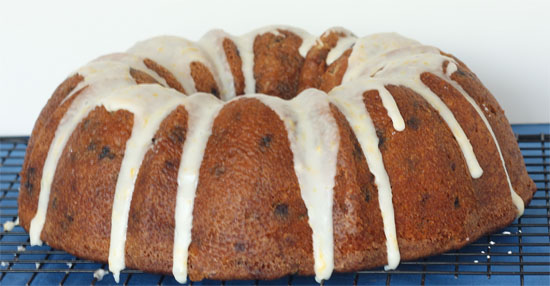 Preparation Instructions
Grease, then flour an 11 cup bundt pan generously and carefully. Preheat oven to 350-degrees and place rack in lower third of the oven.
Sift together 1 1/3 cake flour, baking powder and salt. Set aside.In a small bowl, whisk the eggs together just to combine yolks and whites.
Place almond paste in the bowl of a heavy-duty mixer. With the flat paddle, beat it on low for 30 seconds. Add sugar in a steady stream and beat until incorporated — about a minute.
Add margarine one tablespoon at a time. Increase mixer speed to medium and cream until mixture is smooth, light in color and fluffy –about 3-4 minutes. No lumps of almond paste should be visible.
With the mixer still on medium speed, pour in the eggs, cautiously at first, tablespoon by tablespoon, as if you were adding oil when making mayonnaise, and then slightly faster. Once all the eggs are incorporated, add the lemon zest. Continue beating until the mixture again attains a light color and fluffy texture.
With a spatula, stir in the flour mixture and mix until smooth. Place the blueberries in medium bowl and toss them with the remaning two tablespoons of flour. Carefully fold the blueberries into the batter.
Pour the batter into the prepared pan and bake for 50-60 minutes, or until the top is golden brown and a toothpick inserted near the center comes out dry. Place the cake on a rack to cool for about 5 minutes and then turn it out onto the rack to cool completely.
Once the cake is completely cool make the glaze. Combine the lemon juice, zest and confectioners sugar in a medium bowl and stir until smooth. It will look like there is not enough liquid but keep stirring and the glaze will come together. Pour the glaze over the cake and let it harden.
(Recipe adapted from this cake)
Thank You For Printing This Recipe! Visit Us Again Soon!

Recipe Page: http://www.couldntbeparve.com/recipe/meyer-lemon-almond-and-blueberry-bundt-cake/