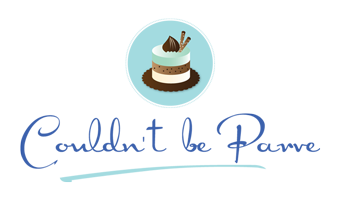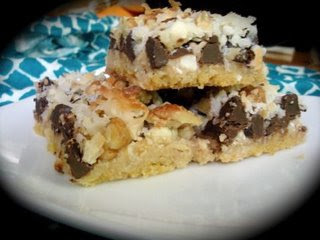 Magic bars, also known as six layer bars, were one of my favorite things to make in college. Until my senior year, when I moved into an apartment with a kitchen, I lived in dorms and had to do all my baking in the communal kitchens on the hall. Once a month I attended a potluck shabbat dinner and I was always in charge of bringing dessert. Because I didn't have the storage space for ingredients I always picked recipes that would be delicious but would not leave me with extra ingredients to store, such as boxes of baking powder or bags of flour. These gooey delicious bars loaded with a variety of chips, nuts and coconut were perfect for that, because every ingredient that wasn't used up (like the remainder of the bags of chocolate chips) made a good snack for middle of the night paper writing.
I love the sweet caramel-y decadence of these bars, and have continued to make them over the years even though I now have room for multiple bags of flour. The only problem is that they seemed impossible to make parve, given that they call for butterscotch chips and sweetened condensed milk. Because I love a challenge I have been working on this recipe on and off for a few months, and think I have finally succeeded. I actually think I like this version better than the original, even though it doesn't have butterscotch chips. Because the parve sweetened condensed milk doesn't set the bars as firmly as the dairy version I changed the graham cracker base to a graham cracker flavored shortbread crust, and added a bit of fleur de sel to offset the sweetness of the topping. The combination of the salty shortbread and the sweet topping is outstanding! They freeze well too, so make the full recipe and freeze any extra for a day that needs a bit of extra sweetness.
Magic Bars
Ingredients
1 1/2 cup all purpose flour
1/4 cup cornstarch
1/2 cup graham cracker crumbs
1/2-1 teaspoon fleur de sel (with the larger amount the salt flavor is quite pronounced, which I love. If you want it to be more subtle use the smaller amount)
2/3 cup sugar
2 sticks (8 oz) margarine
1 teaspoon vanilla extract
1 cup chocolate chip
1 cup white chocolate chips (Oppenheimer brand)
1 cup chopped pecans
1 cup shredded sweetened coconut
1 1/4 cups vegan sweetened condensed milk (recipe below)
Preheat oven to 375. Lightly grease a 9 x 13 pan and line with foil, leaving a two-inch overhang on each side. Lightly grease the foil.
Sift the flour, corn starch and graham cracker crumbs into a small bowl. Whisk in the fleur de sel. With an electric mixer cream together the sugar and the margarine on medium speed until the mixture is very smooth, about 3 minutes. Add the vanilla a mix to combine. Reduce the mixer speed to low and add the dry ingredients, mixing only until they the dry ingredients are no longer visible. Do not over mix. Scrape the dough into the prepared pan and gently spread it into a thin even layer. (Lightly moistened hands will help keep the dough from sticking)
Bake for 20-22 minutes until the base is set. Let cool for at least 15 minutes.
Reduce oven temperature to 350. Sprinkle chocolate chips evenly over the base, followed by the white chocolate chips, pecans and coconut. Drizzle the condensed milk evenly over the top. Bake for 25-30 minutes until the coconut is golden brown and the topping is bubbling. Let cool completely before cutting the bars.
Sweetened Condensed Milk (recipe from http://www.veganwolf.com/recipes/basics/swcondmilk.htm)
Dry soymilk powder equivalent to making 3 cups of milk (3/4 cup Better Then Milk brand)
3/4 cup water
6 Tablespoons margarine
1 1/2 cup sugar
pinch of salt
Mix soymilk powder and water until they reach the boiling point (I use the microwave)
Melt the margarine in a pain on the stove. Add the sugar. When the sugar begins to melt add the hot milk and salt. Bring to a gentle boil and cook for 5 minutes stiring constantly. Let cool and use in any recipe calling for sweetened condensed milk.
Note: One 14 ounce can of sweetened condensed milk is 1 1/4 cup. Any extra can be frozen for later use, so I usually double the recipe.
Recipe Updates – Delivered Fresh!
Thank You For Printing This Recipe! Visit Us Again Soon!
Recipe Page: http://www.couldntbeparve.com/recipe/magic-bars/