Limonana Marshmallows
April 11, 2013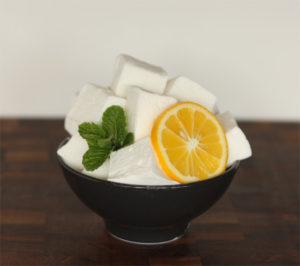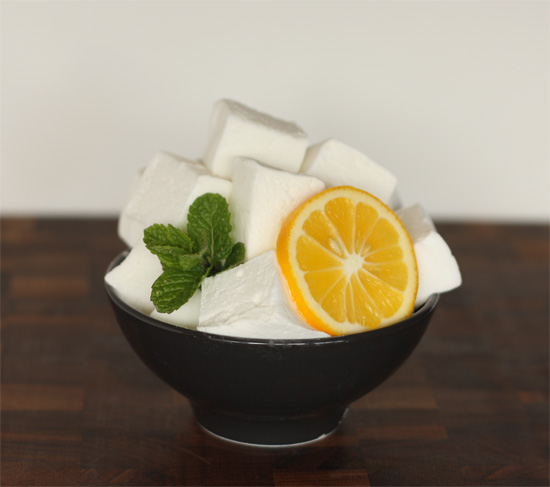 My husband is currently on a trip in Israel. Talking to him everyday about all the things he is seeing and experiencing has meant that Israel is very much on all of our minds (especially my older son who keeps reminding my husband that next time he wants to go too). With Yom Haatzmaut, Israel's Independence Day, coming up next week I wanted to make something to share at Shabbat dinner that captured the flavors of Israel. Since I am usually in charge of desserts when we are invited out I didn't think people would appreciate it if I showed up with sharwma flavored cookies so I decided to capture a another quintessential Israeli flavor that was better suited for dessert.
Limonana (a combination of the Hebrew words for lemon and mint) is one of my favorite treats to enjoy when I am in Israel. The combination of lemon and spearamint is the perfect way to cool off from the hot Middle Eastern sun. My favorite form of limonana when I am in Israel is the slushy frozen mint lemonade that is ubiquitous in Israeli cafes but when I am home I like to play around with the flavor combination in fun and different ways. (For a recipe for frozen limonana check out my post on JoyofKosher).
Last summer when we came home from Israel I made limonana bars so this year I wanted to make something else using the same flavor combination. It should come as no surprise to those who know me that the first thing I think of when combining flavors in new ways is the blank canvas of homemade marshmallows. They are the perfect medium to experiment with flavor and I make marshmallows every chance I get. In the past I have made both lemon and mint marshmallows but the combination of the two is outstanding. Everyone who tried these agreed that these were one of the top flavors of marshmallows I have made. There is something about the tartness of the lemon with the refreshing minty undertones that just works perfectly. These will be entering my regular marshmallow rotation for sure.
Recipe Updates – Delivered Fresh!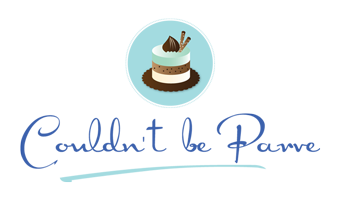 Ingredients & Instructions
Ingredients & Quantities
3 tablespoons (30 g) gelatin
2/3 cup (5.3 oz) freshly squeezed lemon juice
1/4 cup (2 oz) freshly squeezed lemon juice
1/2 cup (4 oz) water
1 cup (12 oz) corn syrup*
1 1/2 cups (11.25 oz) sugar
pinch of salt
1 cup (.7 oz) tightly packed fresh spearmint
1/2 cup corn starch
1/2 cup confectioners sugar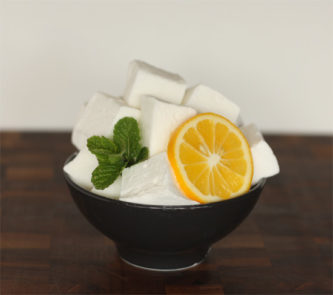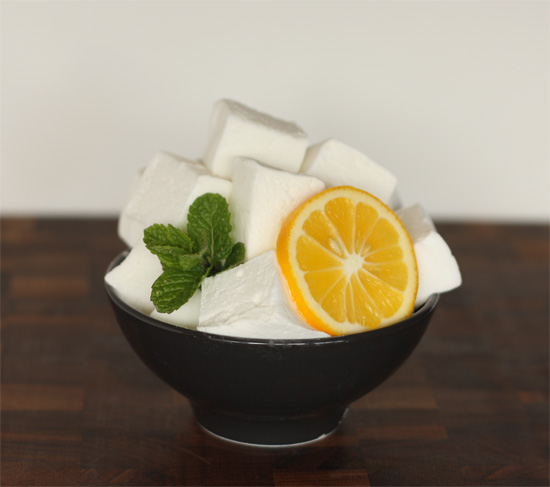 Cooking Instructions
Combine the first 2/3 cup of lemon juice and the gelatin in a medium bowl and whisk until well blended and smooth. Set aside.
Combine the remaining lemon juice, water, corn syrup, sugar and salt in a 6-quart saucepan. Coarsely chop the mint and add it to the pot. Place the pot on the stove over medium heat. When the mixture boils, brush down the sides of the pan above the upper surface of the syrup with a clean, moistened pastry brush, or cover the pot with a lid for two minutes to allow the condensation to dissolve any lingering crystals.
Place a candy or instant read thermometer into the syrup and continue to cook, without stirring, until syrup reaches 240F. Do not stir the mixture once you remove the lid. Once it reaches 240F remove the pan from heat and carefully stir in the gelatin mixture.
Pour the mixture thorough a fine mesh strainer into the bowl of an electric stand mixer fitted with the whisk attachment. Quickly cover bowl with loosely draped plastic wrap or a clean kitchen towel in order to avoid splatters, and gradually increase the mixer speed to "high". Whip mixture for 12 minutes.
Scrape mixture into prepared pan and spread out smooth with oiled offset spatula. (A wet spatula or wet hands work well too) Set marshmallow aside, uncovered, at room temperature for at least 4 hours or over night before cutting.
Before cutting the marshmallows, combine the cornstarch and confectioners sugar in a large bowl. Cut marshmallows with a lightly oiled knife or pizza cutter and break into individual pieces. It may be necessary to wash and re-oil the knife if it gets sticky. Alternatively, coat the knife with the cornstarch mixture before cutting and when it starts to get sticky re-coat it. Toss the cut marshmallows with the cornstarch mixture to completely coat. Transfer marshmallows to a fine mesh strainer and shake as much of the excess starch off as possible.
Preparation Instructions
Lightly spray an 11 x 15 jelly roll pan or 9×13 baking pan with non-stick cooking spray, then rub gently with a paper towel to distribute the spray and leave just the merest sheen of oil on the sheet. Similarly, lightly spray a large offset spatula and set beside the prepared tray.
Thank You For Printing This Recipe! Visit Us Again Soon!
Recipe Page: http://www.couldntbeparve.com/recipe/limonana-marshmallows/