Lemon Poppyseed Hamentashen
February 28, 2014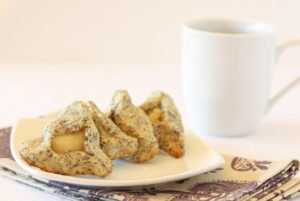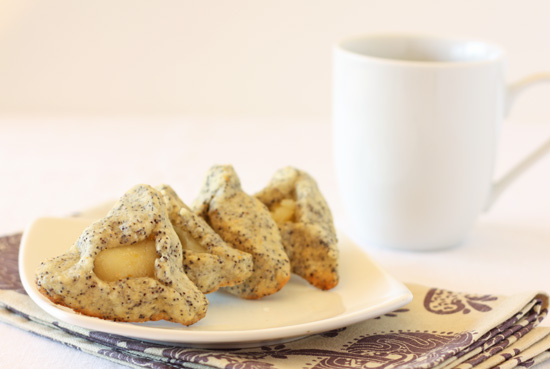 My oldest son is a great help when I am trying to brainstorm fun ideas for new recipes. He has a great sense of flavors and isn't shy about asking for crazy or over the top combinations. When I asked him what flavor hamentashen I should make this year his answer was a resounding "poppy". Once I assured him that I would be making poppyseed hamentashen I pressed a bit more to see what creative ideas he might have. His request was lemon "but not the sweet kind, the tart tangy kind." Perhaps it was the proximity of his two requests but I immediately knew that I needed to make lemon poppyseed hamentashen.
Traditional hamentashen are filled with a poppy seed filling but these hamentashen turn that tradition inside out, putting the poppy seeds in the dough instead. This is perfect for the holiday of Purim because one of the traditions on Purim (besides eating hamentashen) is to flip things around so that they are not what they seem. These are mohn-tashen (poppy seed hamentashen) but they are not what you would expect. And not only are they surprising, they are utterly delicious as well.
I happen to love the combination of almond paste and poppy seeds so I added a bit of almond paste to the hamentashen dough. A generous amount of poppy seeds provide a satisfying crunch and great flavor to the cookie, and the tangy lemon curd filling is the perfect compliment to the poppy seed cookies. I used meyer lemon curd in these, because I happen to have a bunch of ripe meyer lemons on my tree right now, but regular lemon curd would be wonderful as well. While no hamentashen will ever take the place of traditional poppy hamentashen as my all time favorite, this version will certainly be making an appearance year after year.
Recipe Updates – Delivered Fresh!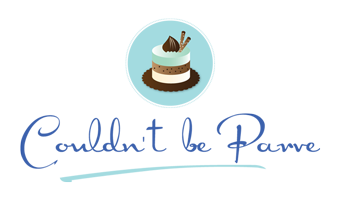 Lemon Poppyseed Hamentashen
Ingredients & Instructions
Ingredients & Quantities
Hamentashen
1/2 cup (4 oz) natural margarine, cut into 8 pieces
1/2 cup (4 oz) shortening, cut into 8 pieces
3 cups (13.5 oz, 380 g) flour
1 1/2 tsp baking powder
1/2 tsp salt
1 cup (7.5 oz) sugar
2 ounces almond paste, crumbled into small pieces
2 teaspoons lemon zest
3/4 cup poppy seeds
2 beaten eggs
2-4 Tablespoons ice water
1 egg + 1 Tablespoon water, lightly beaten
lemon curd for filling (see below for recipe)
Meyer Lemon Curd
grated zest of 4 meyer lemons
3/4 cup fresh meyer lemon juice
3 yolks and 3 whole eggs
1 1/2 tablespoons cornstarch
1 1/4 cup (9.5 oz) sugar
1 1/2 tablespoons neutral vegetable oil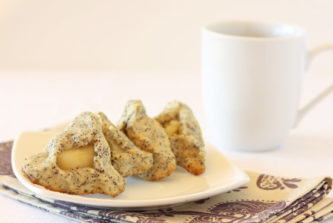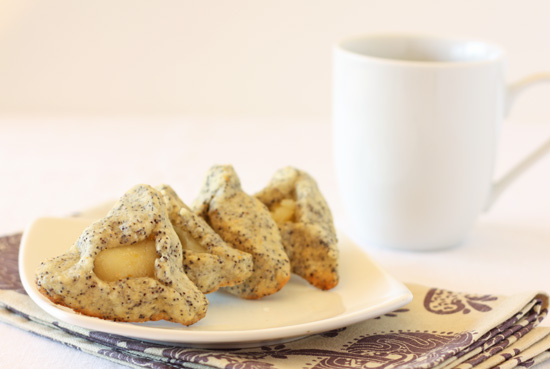 Preparation Instructions
Hamentashen
Pulse the flour, baking powder, salt, sugar, almond paste and lemon zest in the food processor until well combined. Add the poppy seeds and pulse to combine. Add the margarine and shortening and pulse until mixture resembles a coarse meal. Add the beaten eggs and pulse until combined.
Remove the mixture from the food processor and pour it into a large bowl. Sprinkle with two tablespoons of ice water and mix until it comes together into a ball. If the dough seems dry add the remaining water juice.
Divide the dough in half and roll each piece out between two sheets of lightly floured parchment paper. Stack the dough, with parchment attached, on a large cookie sheet and chill for at least 30 minutes, or until firm.
Remove dough from the refrigerator and cut into circles using a round cutter or the mouth of a drinking glass. Fill each circle with a small amount of filling. (For 2 inch circles use about a teaspoon of filling). Brush each circle with the egg wash and fold two sides together, pinching tight to make a corner. Fold up the remaining side to make a triangle with the filling showing in the middle and pinch the other two corners well. It is important that they are well pinched, so that they do not come open in the oven.
Bake at 350 until they are slightly firm to the touch, about 11 minutes.
Meyer Lemon Curd
Combine all the ingredients except oil in a saucepan. Whisk to combine. Cook, stirring constantly over medium-heat, until the curd thickens enough to coat the back of a spoon. Strain the mixture and stir in the oil. Place in the refrigerator to chill for 1-2 hours or until set. (Can be made up to 3 days ahead. Keep covered in the refrigerator.)
Thank You For Printing This Recipe! Visit Us Again Soon!
Recipe Page: http://www.couldntbeparve.com/recipe/lemon-poppyseed-hamentashen/