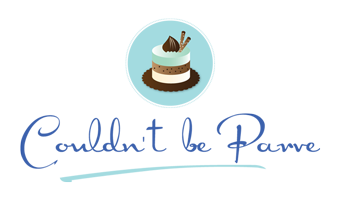 Lemon Poppy Seed Cupcakes with Cream Cheese Frosting
July 14, 2010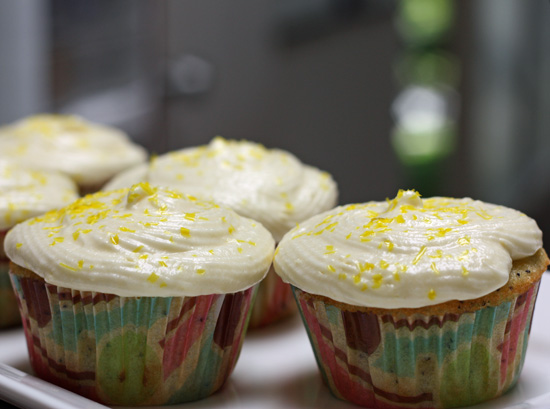 I have always loved the combination of lemon and poppy seeds. Especially in the summer. While I love lemon all by itself, there is something about the slight nuttiness and crunch of the poppy seeds that makes me feel like I am having an extra special treat. In my house growing up the lemon poppy seed muffins were always the first to disappear out of the variety pack from costco. While it has been many years since I had a costco muffin these cupcakes evoke the memory of those muffins in a more elegant and less dense form. They are light and satisfying with an intense lemon flavor that is enhanced by the tang of the cream cheese frosting.
The recipe can also be made into a layer cake (divide the batter between three 8-inch pans). In the middle of summer when the weather is so beautiful, I find myself without the time or patience for careful cake decorating so I made cupcakes instead. Either way it the cake is sure to be hit.
Lemon poppy seed cupcake with cream cheese frosting
Yield 25 cupcakes
3 cups cake flour
2 teaspoons baking powder
1/2 teaspoon baking soda
1/2 teaspoon salt
2 cups sugar
1 cup (2 sticks) unsalted margarine, room temperature
1 tablespoon plus 1 teaspoon grated lemon peel
4 large eggs
2 tablespoons fresh lemon juice
1 1/2 teaspoons vanilla extract
1 cup soymilk, room temperature
2 tablespoons poppy seeds
Preheat oven to 375°F. Stir together soymilk and 1 tablespoon lemon
juice and set aside. Line muffin tins with cupcake papers.
Combine the first 4 ingredients in a medium bowl. Using electric mixer, beat the sugar, margarine and lemon peel until smooth. Add the eggs 1
at a time, beating well after each addition. Beat in the remaining lemon juice and vanilla. Add dry ingredients alternately with soymilk mixture in 3 additions each, beating just until blended. Stir in poppy seeds.
Transfer batter to prepared pans, filling them just over 2/3 full. (An ice cream scoop is the easiest way to do this). Place the pans in the over and immediately reduce the oven temperature to 350. Bake until the cupcakes are golden and tester comes out clean, 22-24 minutes. Transfer pan to rack. Let cool for a few minutes and then remove the cupcakes from the pan. Cool completely on rack.
Cream Cheese Frosting

1 cup margarine
2 oz solid vegetable shortening
10 oz toffuti cream cheese
1.5 lbs 10X confectioners' sugar
1 teaspoon vanilla
2 tablespoon lemon juice (more to taste)
1 tablespoon meringue powder
Cream margarine, shortening, and cream cheese together until well mixed. Stop and scrape the bowl.
Sift the sugar. Beat sugar 1 cup at a time into the margarine mixture.Add the lemon juice, vanilla and meringue powder. Beat for a minute or two making sure the ingredients are throughly incorporated.
Add more lemon juice to taste to give the frosting the desired level of tanginess.
Note: Any leftover frosting can be frozen for up to three months. Defrost it and re-beat to soften it before using.
Recipe Updates – Delivered Fresh!
Thank You For Printing This Recipe! Visit Us Again Soon!
Recipe Page: http://www.couldntbeparve.com/recipe/lemon-poppy-seed-cupcakes-with-cream-cheese-frosting/