Lemon Cheesecake Truffles
June 13, 2013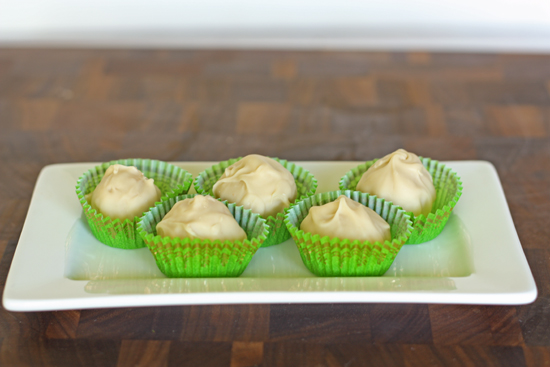 As a food blogger I often find myself with assorted dribs and drabs of leftover frostings, fillings or other ingredients in my refrigerator just waiting to be turned into something new. When making desserts to post on the blog I will often make partial recipes so that we don't end up with quite so much food to give away, but there are some things that are hard to make in small quantities. If they are things that keep well or freeze (like lemon curd) I am happy to make the full recipe because having extra on hand makes it easy to throw a quick dessert together on short notice. That is how these truffles came about.
I had some leftover lemon curd (from this trifle) and was playing around in the kitchen experimenting with various ideas. I love the combination of lemon and white chocolate so a creamy truffle seemed like the way to go. I wanted to incorporate more lemon curd than would be possible in a standard ganache so decided to make cream cheese truffles. I have to say I am very pleased with the result. The tanginess of the lemon offsets the sweetness of the white chocolate perfectly. Parve white chocolate is not as delicious to eat out of hand as good quality dairy white chocolate but for this recipe there are enough other flavors to more than make up for it. The white chocolate gives the truffles a sweet creaminess and the crunch of a chocolate shell while the lemon curd really is the star.
The only problem with these truffles (besides the fact that they are alarmingly easy to pop in your mouth one after the other) is that the filling needs to be dipped cold which means the outer chocolate coating sets very quickly. This makes it difficult to get an elegant perfectly smooth exterior shell. I kind of like the way that the swirls look so I decided not to let that bother me and just went with it, but be forewarned that if you make these they will not look like they came from a fancy chocolate shop. (If you want them to look more perfect you could try them as molded chocolates. If you do please share a picture and let us know how it goes.) Sometimes the flavor is more important than the finished look and in my opinion this is one of those cases. I am sure I will be making these again next time I find myself with extra lemon curd on hand.
Recipe Updates – Delivered Fresh!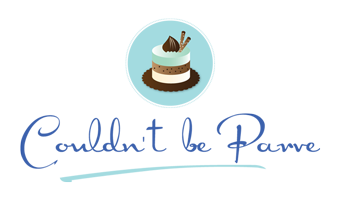 Lemon Cheesecake Truffles
Lemon Cheesecake Truffles
Ingredients & Instructions
Ingredients & Quantities
4 ounces parve cream cheese, room temperature
3 ounces Oppenheimer white chocolate chips
1/4 cup (2.5 ounces) lemon curd, room temperature
1/2 tablespoon finely grated lemon zest
1/3 cup graham cracker crumbs*
*To make these gluten free, use gluten-free graham-style crumbs
For dipping:
8 ounces Oppenheimer white chocolate chips
1 teaspoon vegetable oil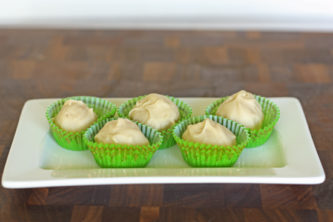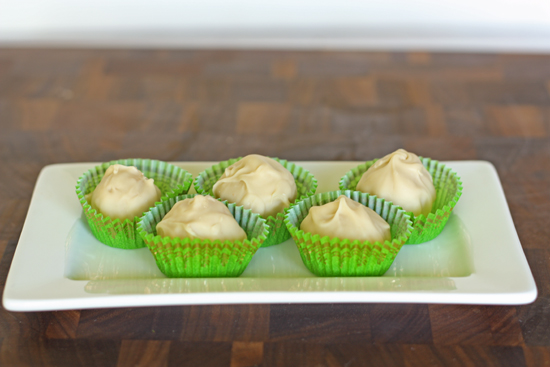 Preparation Instructions
Make the centers:
Melt the three ounces of white chocolate and stir until smooth. (The easiest way to do this is in a microwave on 30% power. Stir every 30 seconds until melted). Set aside. Place the cream cheese in the bowl of an electric mixer and beat until smooth. Add the lemon curd, lemon zest, graham crackers and melted chocolate and beat until well combined. Chill until firm, at least one hour.
When the mixture is firm enough roll it into tablespoon sized balls. (If it gets too soft while rolling return it to the refrigerator to firm up again.) Refrigerate the balls until firm, at least 15 minutes.
Finish the Truffles:
Melt the white chocolate chips and oil in a medium bowl. (I like to do this in the microwave but it can also be done over a double boiler.) Remove the truffle centers from the refrigerator. Line a baking sheet with parchment paper. Place a small amount of the melted chocolate in the palm of your hand. Roll a truffle center in the chocolate, making sure it is completely coated. Transfer the coated truffle to the parchment lined baking sheet. Repeat with the remaining truffles.
Once they are set transfer them an airtight container and store in the refrigerator.
Thank You For Printing This Recipe! Visit Us Again Soon!
Recipe Page: http://www.couldntbeparve.com/recipe/lemon-cheesecake-truffles/