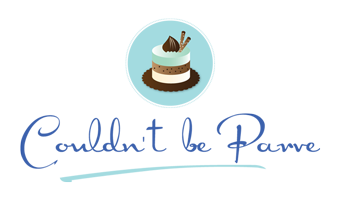 Lego Party
October 15, 2013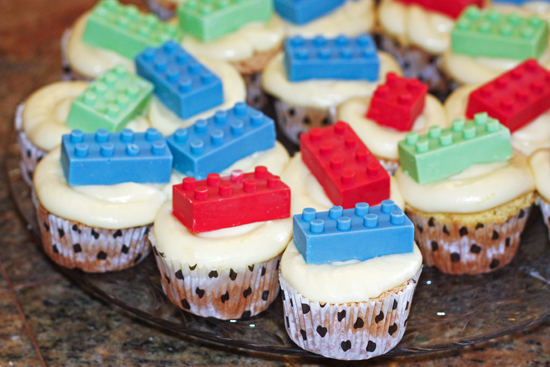 My oldest son is very into themed birthday parties. He had selected the theme he wanted for this year's party before he even had his party last year. Last year was an under the sea theme. This year it was lego. My son absolutely adores legos. He went to a lego engineering camp last summer where they built legos more than seven hours a day, and he loved it. With the holidays and the new baby I knew it would be tough for me to go all out for this party, so when I found out the same organization does birthday parties I knew that would be perfect for the party activity. They showed up with more than 100,000 legos and helped the kids make remote control cars. It was a huge success! Even though I didn't plan the activities for the party I did make a bunch of lego themed things to have at the party. I was too busy the day of the party to get great pictures of anything, but I decided to share them in case anyone else has a kid who likes legos as much as mine. (I found a lot of these ideas on pinterest, I spent way too much time looking at lego themed parties all over the web so I don't remember which idea came from what site). They are fun touches that don't take a lot of time but really enhanced the theme of the party.
For me, of course, the most important thing is the cake. My son wanted a white chocolate lemon cake, so that is what he got. The lego decorations are made out of colored white chocolate using this fun lego mold. Now that I have the mold I am going to use it to make healthy fruit juice jelly treats to pack in the kids lunches, it is too cute not to use more often. We also had plain vanilla cupcakes for the kids who might not like lemon and they were topped with the same lego chocolates.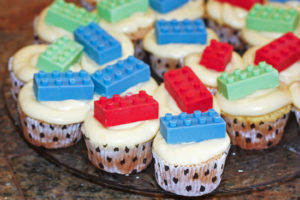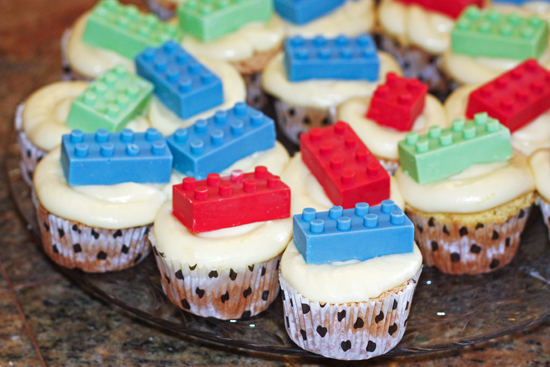 In terms of decor we made lego soap dispensers and put them by the sinks in the bathrooms and dining room. These are super easy to make. Take a clear soap dispenser with clear soap. Pour out a bit of the soap and add lego bricks to the dispensers. Shake it a bit to distribute the legos and they are done! I planned to pour them out after the party and return the bottles to regular soap dispensers but the kids like them so much they wanted to keep them!

We decorated the table with bunches of primary colored balloons tied onto mason jars full of legos, and built silverware holders out of duplos.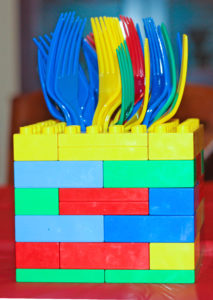 For the party favors I made small bags of building block candy with a tag that said "Thank you for coming to my party" and give them out from a giant lego head.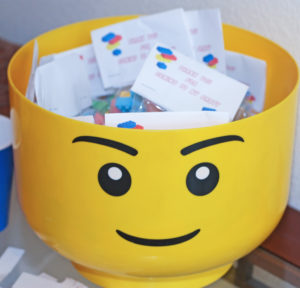 Overall the party was a huge success! My son loved it, and at the end of the day that is what matters the most.
Recipe Updates – Delivered Fresh!
Thank You For Printing This Recipe! Visit Us Again Soon!
Recipe Page: http://www.couldntbeparve.com/recipe/lego-party/