Kumquat Pate de Fruit
May 2, 2013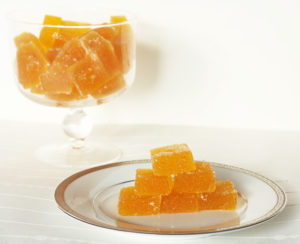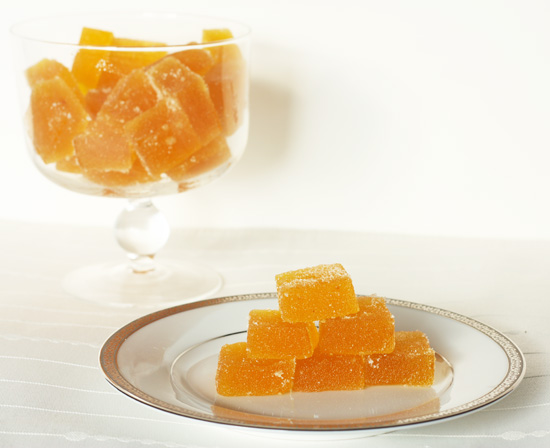 Whenever I walk into a fancy candy shop I am drawn to the display of Pate de Fruit. These glistening fruit jellies look like shining jewels lined up in the display and I always want to buy some. While sometimes they can be disappointingly bland, a well made Pate de Fruit is intensely flavorful, capturing the essence of the fruit in a tiny bite sized square. They are softly chewy and I find them irresistible. Since I don't frequent fancy candy shops all that much these days I haven't had a great pate de fruit in quite a while. Which is why, of course, I decided to make my own.
Over the years I have tried to make several different kinds of Pate de Fruit but they have only turned out ok. Either the flavor is too muted or the texture has been too soft, yielding a weepy mess. They are really not that hard to make but they require a delicate balance of the amount of fruit puree, pectin, acid and sugar. Since I can't help tinkering with recipes I keep having problems with the candy that I realize are entirely my own fault. This time, however, my tinkering with the recipe didn't cause trouble and instead yielded perfectly delicious treats.
Ever since I realized that you can capture the essence of a kumquat by juicing it whole (like I did in these marshmallows) I have been playing around with places to use the fragrant kumquat juice. (If anyone is interested it makes an amazing kumquat sour with bourbon and the syrup from making candied kumquats. I will post that recipe when I can drink again so that I can test out the perfect proportions, the first time I made it I just eyeballed everything.) Pate de fruit seemed like a great (non-alcoholic) way to highlight the flavor of the kumquat, especially since it is an intense enough flavor I knew the finished candy wouldn't come out bland.
I used Tish Boyle's recipe for tangerine pate de fruit and it came out perfectly. Sweet yet tangy with just the right chewy texture. These are perfect to give out for gifts (this week is teacher's appreciation week) or to serve as part of a dessert buffet on Mother's day. If you can't get a hold of fresh kumquats I imagine the original recipe that calls for tangerine juice would be just as tasty, so don't let a lack of kumquats keep you from making these edible jems.
Recipe Updates – Delivered Fresh!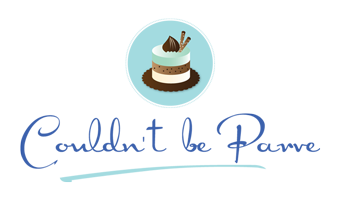 Ingredients & Instructions
Ingredients & Quantities
2/3 cup fresh kumquat juice
6 tablespoons apple sauce (smooth, not chunky, no sugar added)
1 3/4 cups granulated sugar, divided
1 3-ounce envelope liquid pectin
2 teaspoons lemon juice
(Recipe adapted from Tish Boyle)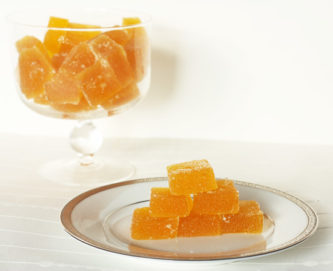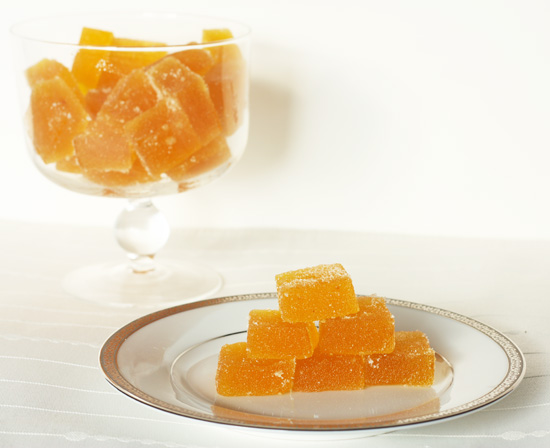 Preparation Instructions
Lightly oil a 9-by-5-inch loaf pan. Line the pan with plastic wrap, letting it extend several inches on each of the short ends of the pan. Lightly oil the plastic wrap.
In a medium, heavy saucepan, stir together the juice and apple sauce until well combined. Stir in 1½ cups of the sugar. Open the packet of liquid pectin and stand it up in a glass so it can be added quickly to the mixture when it's ready. Cook the juice mixture over medium-high heat, stirring constantly, until the mixture registers 238°F on a candy thermometer. Add the pectin and continue to boil for 1 minute. Remove the pan from the heat and stir in the lemon juice. Immediately pour the hot mixture into the prepared pan. Sprinkle the top of the candy with a thin layer of granulated sugar. Let stand until set, about 1½ hours.
Using the ends of the plastic wrap as handles, carefully lift the candy out of the pan. Cut the pâte de fruit into 1 inch squares (or any size or shape you like) and roll them in the remaining sugar until they are well coated on all sides. Store the pâte de fruit in an airtight container at room temperature for up to 1 month.
Thank You For Printing This Recipe! Visit Us Again Soon!
Recipe Page: http://www.couldntbeparve.com/recipe/kumquat-pate-de-fruit/