Hot Chocolate for a snow day
March 2, 2009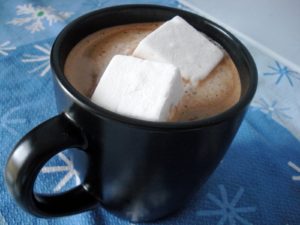 We have a snow day! I grew up in California and didn't experience the joy of the snow day as a kid, so now as an adult I am always extremely excited by the prospect. While watching the snow through the windows, nothing is more perfect than a steaming cup of hot chocolate, especially if it is topped with a homemade marshmallow or two.
I like my hot chocolate rich and creamy. If I am looking for a hot beverage I will have a cup of tea or coffee. For me, hot chocolate should be decadent enough to be a dessert in and of itself. Most store bought hot chocolate mixes contain dairy, and many also contain non dairy creamer which is highly suspect on a nutritional level. There are some non dairy hot chocolate mixes out there. However, the ones I have found are just a mixture of cocoa powder and sugar, and need to be mixed with hot milk of some kind. They are fine as a hot beverage, but are not a rich and satisfying dessert.
I wanted to make something better. A parve (non-dairy) hot chocolate mix that is rich and decadent and can be made by simply adding hot water so that it can be enjoyed on shabbat if an urn of hot water has been left on. After several months of experimentation and many cups of hot chocolate I am very happy with the final results. It is coziness in a cup, the perfect antidote to a cold day.
Recipe Updates – Delivered Fresh!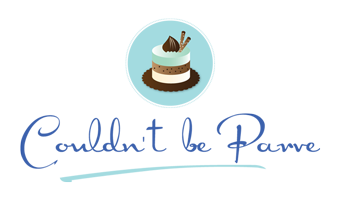 Hot Chocolate for a snow day
Ingredients & Instructions
Ingredients & Quantities
7.5 oz dark chocolate, finely chopped
1.5 oz non dairy white chocolate, finely chopped
3/4 cup soy milk powder
3 Tablespoons good quality cocoa powder (such as Scharffen Berger)
2 Tablespoons sugar
24 oz boiling water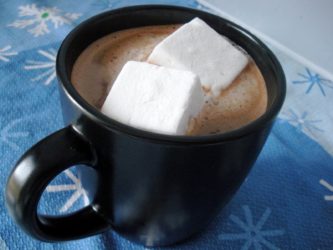 Preparation Instructions
Place all the ingredients except the water in a food processor and blend until everything is well mixed and finely ground.
Place a generous 1/2 cup of mix in each cup. (I know this seems like a lot, trust me it is the right amount. The soy powder dissolves into nothingness so quite a bit is needed.) Pour in boiling water and whisk until well combined and smooth.
Variations:
Peppermint Hot Chocolate: substitute finely ground peppermint hard candies (such as candy canes) for the sugar.
Mexican Style Hot Chocolate: substitute finely ground cinnamon hard candies for the sugar.
Mocha: substitute strongly brewed hot coffee for the water.
Recipe Yield
Four 6 oz. servings
Thank You For Printing This Recipe! Visit Us Again Soon!
Recipe Page: http://www.couldntbeparve.com/recipe/hot-chocolate-for-snow-day/