Holiday Challah
October 4, 2011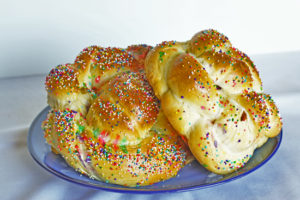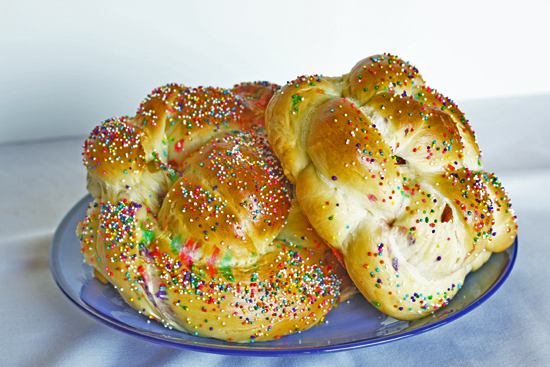 These are the challot I made for Rosh Hashanah this year. Because things were busy I didn't have a chance to post them until now, but since my family tradition is to eat these festive challot all the way from the New Year through the harvest holiday of Sukkot there is still plenty of time to enjoy them. I am making a bunch more tomorrow, in fact, that I am going to freeze for the rest of the holidays. In case you are wondering, yes those are sprinkles on the challah. Sweet, round, brightly colored sprinkles for a truly sweet New Year. It has always been my family's tradition to add sprinkles. I hope that my kids will grow up thinking that a challah is not properly dressed for Rosh Hashanah without sprinkles just like I did.
For my Rosh Hashanah challah I usually make some with a mixture of dried cranberries and apricots and some with candied fruit (like the kind you would use in fruitcake.) This year instead of using a fruitcake mix of candied fruit I used only lemon and citron and I really liked the way they came out. (It was what I had in my pantry) I might add the orange peel back in next year but will permanently be leaving out the artificially red cherries. Using good quality peels makes all the difference, the kind in the little tubs at the grocery store make the whole thing taste a little artificial.
The challah recipe itself is one of my favorites. It actually comes from a kids book about how the challah came to be called Poppy Seeds Too: A Twisted Tale for Shabbat. It is a great kids story and the challah recipe at the end is outstanding. I don't use it as my standard go to challah recipe because it has three rises and takes about six hours start to finish. Most of that time is unattended but since I am usually running around on a Friday I am rarely home long enough to make the timing work, but whenever I can this is the recipe I make. (For a shorter but still delicious recipe I use this one.)
This year I also tried something different with the braiding. Usually I just make a long rope and twist it up into a sprial, but this year I tried making a woven challah and loved how it came out. (Here is the link to a video and step by step photo tutorial I made of the method) It makes the top look almost braided. I will be using this technique for all my round challot from now on.
Recipe Updates – Delivered Fresh!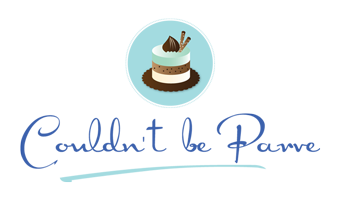 Ingredients & Instructions
Ingredients & Quantities
2 cups warm water
3 packages yeast
8-10 cups flour
1/3 cup sugar
1 tablespoon salt
2 sticks (1/2 lb) margarine
4 eggs
1/3 cup honey
mixed dried or candied fruit (optional)
1 egg beaten with tablespoon of water for glaze
sprinkles (optional, poppy seeds or sesame seeds can be used instead)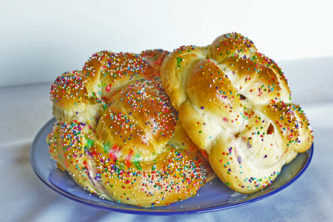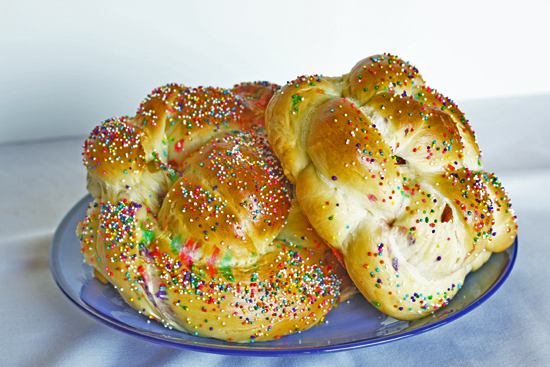 Preparation Instructions
Mix the water and yeast in a very large bowl. Add sugar and 3 cups of the flour. Stir well with a fork. Cover and let rise in a warm place for one hour.
Put 5 cups of flour and the salt in another bowl. Cut in the margarine as you would for pie crust, until the mixture resembles a coarse meal. (Or melt the margarine, let cool and combine with flour)
Add the honey and eggs to the yeast mixture, stir well. Then add the flour mixture. Work into a ball, adding more flour as needed.
Turn out onto floured board and knead well. Put the dough in an oiled bowl, cover, and let rise for 2 hours. Divide the dough into four parts, one for each challah. Working with one piece at a time flatten the dough and add the fruit if desired. Fold the dough over the fruit and work the dough into a long rope. Divide the rope into the number pieces needed for the style of braid (3 for a traditional braid, 4 for the woven kind, only 1 if making a spiral) Braid the dough. Place the finished braid on a parchment lined cookie sheet. Cover and let rise for one hour.
Brush tops with beaten egg. Sprinkle with colored sprinkles (or poppy or sesame seeds). Bake in 325 oven for 20-40 minutes.
Note: If making the challah ahead and freezing it the sprinkles will melt in the freezer and make a colored glaze-like coating on the challah. To avoid this do not add sprinkles when baking the challah. After the challah is defrosted from the freezer brush it with egg wash again, add the sprinkles and bake at 350 until the egg wash is set and the challah is warm (approximately 5 minutes).
Recipe adapted from Poppy Seeds Too: A Twisted Tale for Shabbat
Recipe Yield
2 large and 2 small challot
Thank You For Printing This Recipe! Visit Us Again Soon!
Recipe Page: http://www.couldntbeparve.com/recipe/holiday-challah/