Healthy Banana Honey Ice Cream Sandwiches
March 28, 2014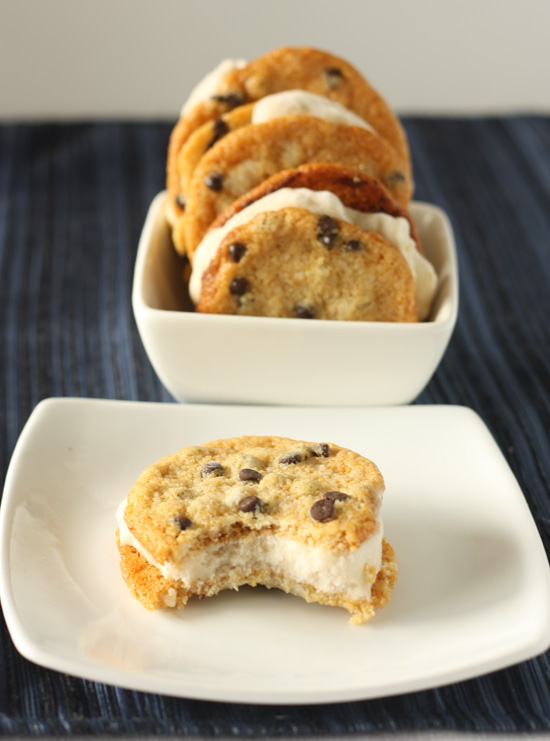 I have to admit that I have been a bit slow to jump on the one-ingredient banana ice cream bandwagon. I keep seeing recipes for creamy banana "ice cream" popping up everywhere but as someone who takes ice cream very seriously I was skeptical to say the least. That being said I am so glad I finally overcame my skepticism and tried it. It is seriously delicious. Sweet, creamy and refreshing just like ice cream should be. In the interest of total honesty I will say that banana ice cream will not replace real ice cream for me, but it does completely satisfy the desire for a sweet frozen treat in a much healthier way. Plus it is much quicker and easier to make and doesn't require an ice cream maker so that is an added bonus. My kids absolutely adore this, especially when I turn it into ice cream sandwiches, and I have sold them on the fact that it is a special treat. When they have these healthy (and delicious) ice cream sandwiches in their hands we all happy.
The cookie I used for these ice cream sandwiches is a honey sweetened almond-flour based cookie. To my taste the cookies are a bit too sweet by themselves but they are the perfect compliment to the creamy banana ice cream. Even better, since they are grain-free these ice cream sandwiches are perfect for Passover and are a nice change to the standard cakes and cookies.

Recipe Updates – Delivered Fresh!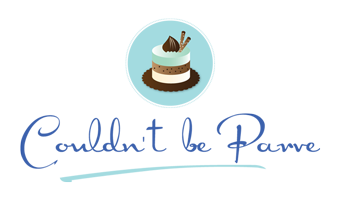 Healthy Banana Honey Ice Cream Sandwiches
Healthy Banana Honey Ice Cream Sandwiches
Ingredients & Instructions
Ingredients & Quantities
1 1/4 cup (5 oz) blanched almond flour
1/4 teaspoon salt
1/4 teaspoon baking soda
1/4 cup (2 oz) coconut oil
1/4 cup (3 oz) honey
1 cup (6 oz) mini chocolate chips
3 ripe bananas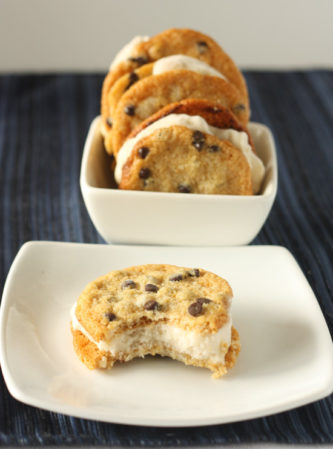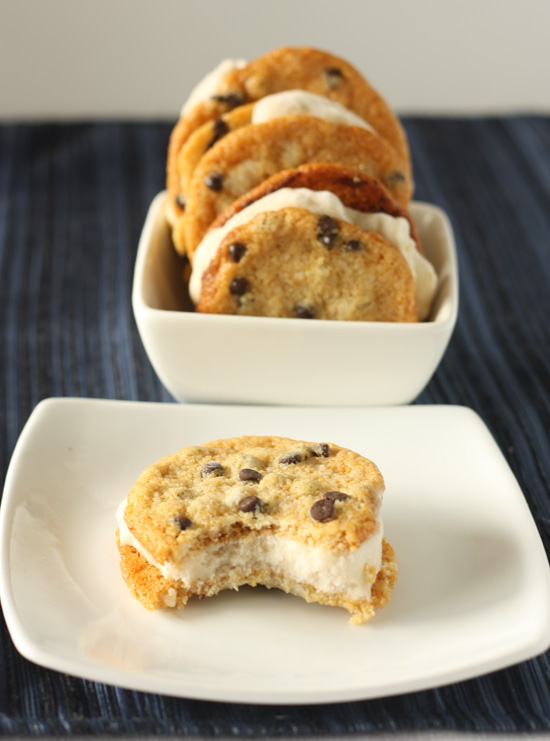 Cooking Instructions
Combine the almond flour, salt and baking soda in a large bowl. In another bowl stir together the oil and honey. Add the wet ingredients to the dry ingredients and stir to combine. Stir in the chocolate chips.
Form the mixture into 1/2 inch balls and press onto a parchment lined baking sheet. Bake for 7-10 minutes or until lightly browned and set.
Transfer the parchment with the cookies to a cooling rack and let cool completely.
Cut the bananas into one inch pieces and place them on a parchment lined plate or cookie sheet. Freeze until firm, 1-2 hours.
Place the cookies, still on the parchment, in the freezer and freeze until firm.
Remove the bananas from the freezer and process them in the food processor and blender until smooth and creamy. Depending on the size and power of your food processor it may be necessary to do this in batches.
Scoop a small amount of the banana ice cream onto the flat side of a cookie and top with the flat side of a second cookie. Repeat with the rest of the ice cream and cookies. Wrap each ice cream sandwich individually in plastic wrap, place in an airtight bag or container, and return the sandwiches to the freezer to firm up, at least 30 minutes.
Remove the ice cream sandwiches from the freezer and let them stand at room temperature for five minutes before serving so that the banana can return to the perfect creamy consistency.
These ice cream sandwiches are best the day they are made, because that is when there is the most contrast in texture between the cookie and the creamy filling. They can be made up to a week in advance (and I often do that just to have them on hand) but the cookie will become softer the longer they sit.
Thank You For Printing This Recipe! Visit Us Again Soon!
Recipe Page: http://www.couldntbeparve.com/recipe/healthy-banana-almond-ice-cream-sandwiches/