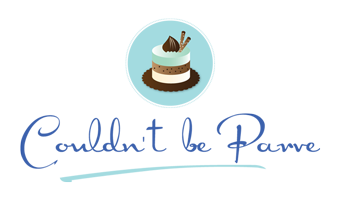 Hamentashen
March 10, 2009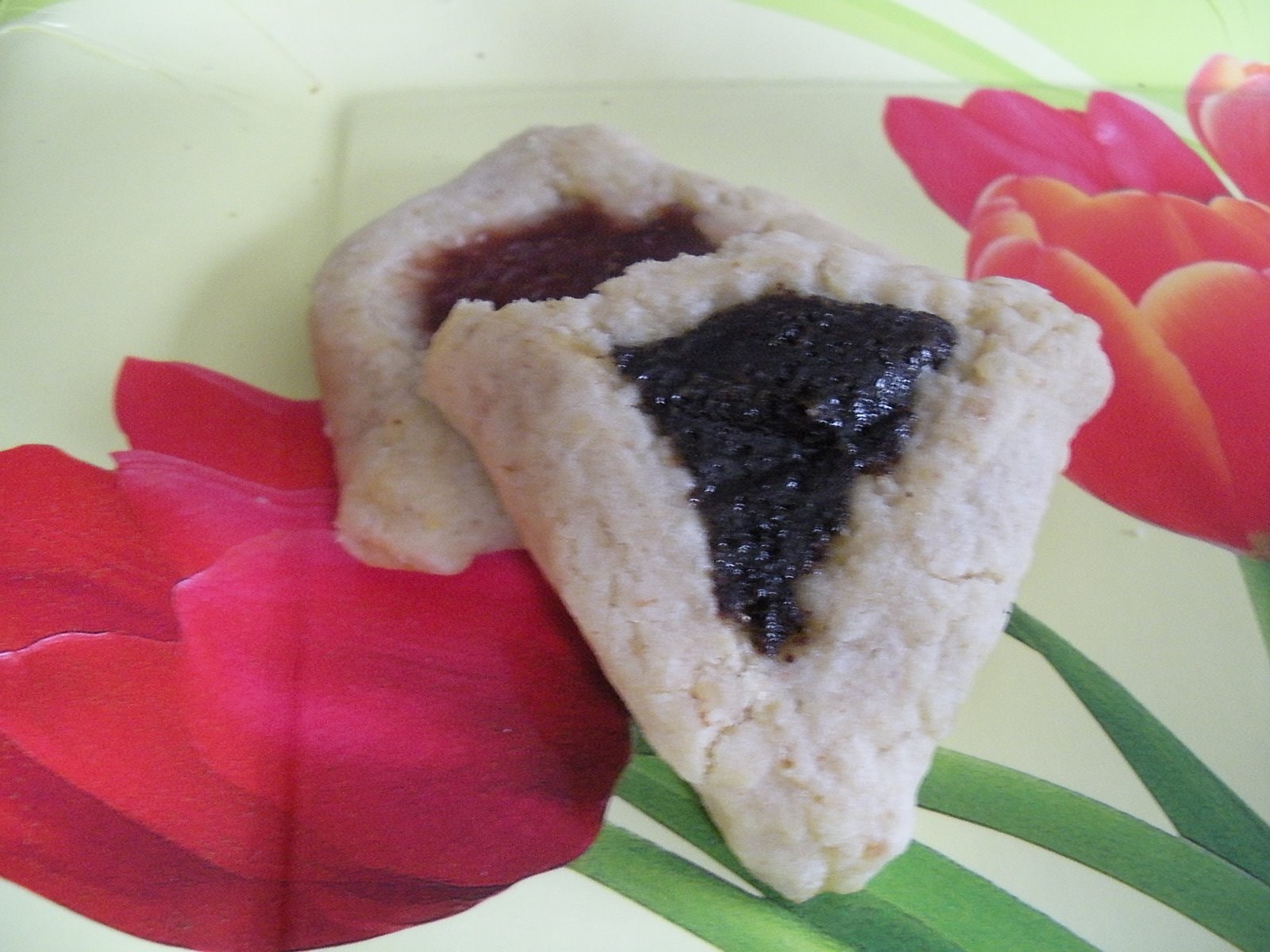 Happy Purim! I had every intention of making my hamentashen early this year so that I could post them on my blog in a timely fashion, but as usual time got away from me. I also didn't have time this year to make packages to mail. I figured that even though it is already late on Purim day I might as well still post about them, since there is always next year. 
The hamentashen recipe my family has always used comes from a synagogue Sisterhood cookbook that was my grandmother's. They taste absolutely delicious, but the dough is absolutely impossible to work with. I have tried many different ways of handling it, and last year came to the conclusion that the best way to work with this extremely sticky dough is to roll each piece out between two pieces of waxed paper and freeze it on a cookie sheet until firm. It then has to be cut and filled very quickly and the scraps refrozen before rolling them out again. Clearly, this process is long and tedious, and makes it very difficult to make hametashen in bulk. 
This year I didn't have the time or the freezer space for this process, so I looked at the recipe again trying to figure out a way to make the dough easier to work with. I realized that it was basically a piecrust dough, with added baking powder. The amount of liquid the original recipe called for was far more than I have ever seen in a pie crust, so I decided to try making essentially the same recipe with significantly less liquid. Also, because I always make pie crust in the food processor, I saw no reason not to make the hamentashen dough in the food processor as well. It worked fabulously! The hamentashen were easy to roll out, did not stick as I tried to fold them, and were full of flavor. Since I had added less orange juice than the original recipe I added some orange zest to boost the orange flavor. I firmly believe that the cookie part of the hamentashen should be worth eating on its own. It should not just be a dry flavorless vehicle for the filling. This recipe is my ideal in what hamentashen dough should taste like.
As for the filling we are partial to the traditional poppyseed, but I always give it a little something extra by blending some almond paste into the poppyseed filling to give it just a hint of almond. Jam also makes a good filling (this year I used homemade strawberry) but it needs to be thickened so that it does not run out of the hamentashen while they are baking. If using jam add enough cornstarch to make it look slightly milky/cloudy. I always bake one test hamentash using the filling to make sure it is the right consistency and then adjust as needed. This year I also made a few with a parve chocolate hazelnut spread, and while not traditional, they were delicious as well. 
Hamentashen
Ingredients:
1/2 cup margarine, cut into 8 pieces 
1/2 cup shortening, cut into 8 pieces 
3 cups flour 
1 teaspoon baking powder 
1/2 tsp salt 
1 cup sugar 
1/2 cup chopped nuts
1 teaspoon orange zest 
1 beaten egg 
2-4 Tablespoons orange juice 
1 egg + 1 Tablespoon water, lightly beaten 
Preparation: 
Pulse the flour, baking powder, salt, sugar, nuts and orange zest in the food processor until well combined. Add the margarine and shortening and pulse until mixture resembles a coarse meal.
Add the beaten eggs and pulse until combined. 
Remove the mixture from the food processor and pour it into a large bowl. Sprinkle with two tablespoons of orange juice and mix until it comes together into a ball. If the dough seems dry add the remaining orange juice. 
Divide the dough in half and roll each piece out between two sheets of parchment paper. Stack the dough, with parchment attached, on a large cookie sheet and chill for at least 30 minutes, or until firm. 
Remove dough from the refrigerator and cut into circles using a round cutter or the mouth of a drinking glass. Fill each circle with a small amount of filling. (For 2 inch circles use about a teaspoon of filling). Brush each circle with the egg wash and fold two sides together, pinching tight to make a corner. Fold up the remaining side to make a triangle with the filling showing in the middle and pinch the other two corners well. It is important that they are well pinched, so that they do not come open in the oven. 
Bake at 350 until they are slightly firm to the touch, about 11 minutes.
Recipe Updates – Delivered Fresh!
Thank You For Printing This Recipe! Visit Us Again Soon!
Recipe Page: http://www.couldntbeparve.com/recipe/happy-purim/