Grilled Peanut Butter S'more Sandwiches
August 20, 2012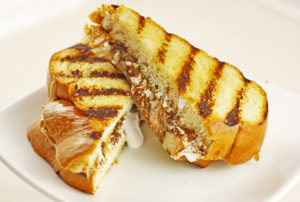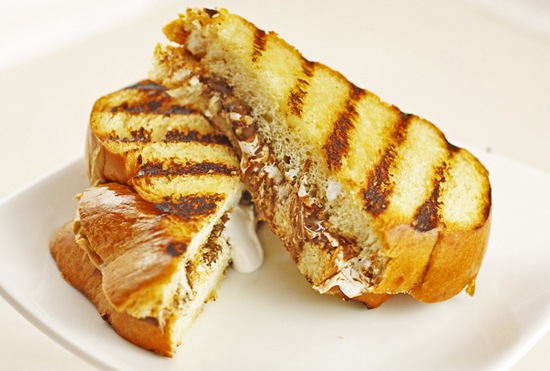 With school starting this week and summer coming to an end it seems fitting to try to squeeze in just one more summer barbecue. Sure I live in California where we can grill most of the year, but there is something about the long summer days that make me want to get the coals going and throw some meat on the grill. My problem with grilling is that I can never just make one thing. Once the grill is going I want to get full use out of it so I always try to think of as many things I can throw on the grill as possible. Why just make hamburers if I can make several types of saussages and some chicken too? And what about every vegetable in the fridge? They would all be good grilled, right? Needless to say we always end up with many many days of leftovers.This recipe takes that tendency even further by even throwing the dessert on the grill.
Barbecues make me think of campfires, which make me think of s'mores. This grilled sandwich version of the classic campfire treat is kicked up a notch with the addition of peanut butter, but it would also be delicious made plain for the s'more purists out there. If you don't have a grill it is also delicious made indoors on a grill pan (or in a real pinch even in a regular frying pan, it just won't have the cool looking grill lines). I originally developed this recipe for the Joy of Kosher website as part of a feature on grilled desserts. The recipe is so delicious and easy that I couldn't resist sharing it here as part of the August Kosher Recipe Linkup. Check out everyone else's great grilled recipes and send out the summer in style.
Recipe Updates – Delivered Fresh!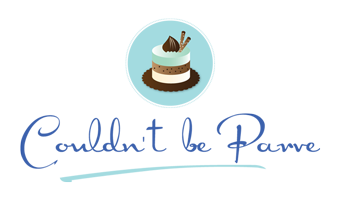 Grilled Peanut Butter S'more Sandwiches
Ingredients & Instructions
Ingredients & Quantities
1/4 cup margarine, melted
1/4 cup simple syrup (see recipe below)
1/4 cup peanut butter
1/4 cup marshmallow fluff
1/2 cup finely chopped chocolate
8 thin slices challah or brioche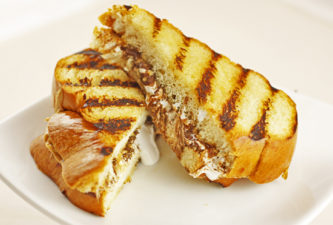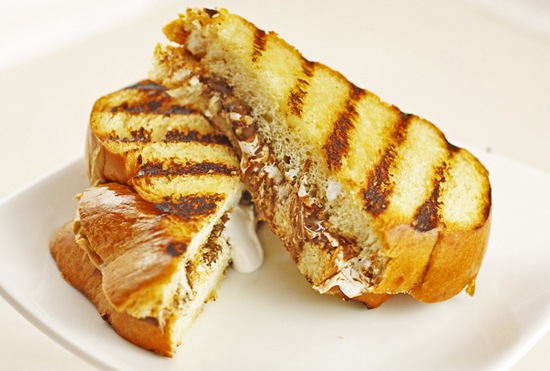 Cooking Instructions
Preheat the grill to medium-high.
Line a cookie sheet with waxed paper. Brush one side of each piece of challah with the margarine. Place bread, margarine side down, on the cookie sheet. Generously brush each slice with simple syrup. Spread peanut butter on four of the slices. Top with the chocolate. Spread the marshmallow fluff on the remaining slices of challah. Place the marshmallow covered slices on top of the peanut butter and chocolate pieces, marshmallow side in, to make four sandwiches.
Place the sandwiches on the grill and cook until toasted, about one minute. Flip and cook the other side until toasted. Remove from the grill and let stand for two minutes before serving to let the residual heat finish melting the chocolate.
Preparation Instructions
Simple Syrup
This recipe makes more than is needed for the S'more Sandwiches. Store extra syrup in the refrigerator for up to one month. It is great mixed with lemon juice and seltzer to make a refreshing sparkling lemonade.
Combine the water and sugar in a small saucepan. Bring to a boil, stirring occasionally to make sure the sugar dissolves. Once the mixture is boiling and the sugar is dissolved remove the pan from the heat and let the syrup cool.
Store in an airtight container in the refrigerator for up to one month.
Recipe Yield
4 sandwiches
Thank You For Printing This Recipe! Visit Us Again Soon!
Recipe Page: http://www.couldntbeparve.com/recipe/grilled-peanut-butter-smore-sandwiches/