Grain-Free Zucchini Bread
March 25, 2014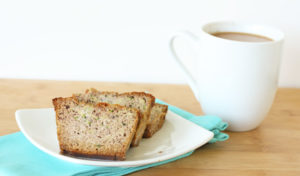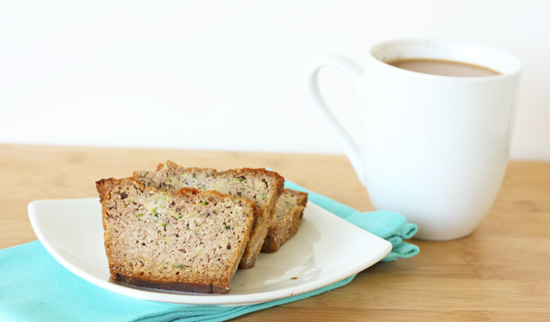 Over the past several months I have been experimenting quite a bit with Paleo and Grain-Free baking. I have  shifted how our family eats so that we eat a minimal amount of packaged, processed and refined foods. (I do all of the shopping and cooking so they just go along). I am always looking for nutrient dense foods that my kids will enjoy in their school lunches, and that is where the baking has come in. If something takes too long to eat, they simply won't eat it because they want to go play. Nutrient dense muffins and quick breads are a good way to sustain them throughout the rest of their day in a portable package they look forward to eating. They still think it is a treat (my middle one calls them cupcakes), but it actually gives them the energy they need to learn and play. And that makes me happy.
Grain-free baking is also perfect for Passover because it is naturally hametz free. In the weeks leading up to Passover I am going to share some of my favorite muffins and quick breads. Many Passover recipes replace the flour with potato starch, which nutritionally doesn't provide much substance. I prefer nut-based recipes because they provide more satiety, which is important if you are packing snacks to keep everyone full and happy for a day out and about.
But here is the thing. In my mind it isn't worth eating a baked good just because it is healthy. It also has to be delicious, or I would rather just eat vegetables instead. This zucchini bread from Against All Grain really is delicious. It is sweetened with bananas so the taste is a cross between a banana bread and a zucchini bread. I had an overload of zucchini so I made this the same day as I made a standard, white flour based, zucchini bread using the recipe from Smitten Kitchen (which is delicious). To my utter shock everyone in my family liked this one better, the combination of the banana and zucchini really makes this something special.
A few words about baking with almond flour, which is the primary nut flour I use. It is important to use blanched almond flour in these recipes. Almond meal is not the same thing and the results will not be as good. When it isn't pesach I use Honeyville Blanched Almond Flour Super Fine Grind, for pesach I use this one. Also, I find that smaller baked goods cook more reliably and come out better than larger ones. This recipe makes mini loaves or can be made into muffins. Do not attempt to make these as a single large loaf or the edges will be dry and crumbly and the inside mushy.

Recipe Updates – Delivered Fresh!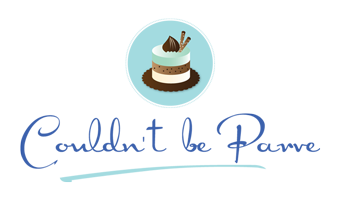 Grain-Free Zucchini Bread
Ingredients & Instructions
Ingredients & Quantities
1-1/2 cups (6 oz) blanched almond flour
2 teaspoons cinnamon
1 teaspoon baking soda
½ teaspoon salt
½ teaspoon nutmeg
3 eggs, beaten
¼ (3 oz) cup honey
1 ripe banana
1 cup (3.75 oz)shredded, unpeeled zucchini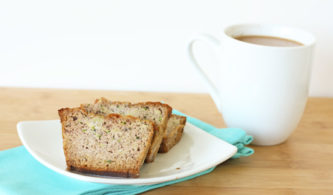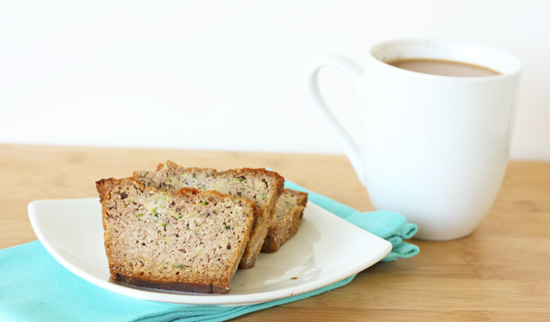 Preparation Instructions
Preheat oven to 350 degrees Farenheit.
Combine the almond flour, cinnamon, baking soda, salt and nutmeg in a small bowl.
Place the eggs, honey and bananas in the bowl of a stand mixer, then beat on medium for 1-2 minutes until frothy and fully combined. Add the zucchini and beat again just enough to incorporate.
Slowly add the dry ingredients with the mixer running, until all of the flour mixture has been incorporated.
Spoon the batter into 2 well greased mini loaf pans. You can also use this batter to make muffins.
Bake for 30-35 minutes until the middle is set and a toothpick comes out clean. (It should be really clean, moist crumbs mean it is not quite done and the end result will be soggy)
Cool completely before enjoying.
Recipe adapted from Against all Grain
Thank You For Printing This Recipe! Visit Us Again Soon!
Recipe Page: http://www.couldntbeparve.com/recipe/grain-free-zucchini-bread/